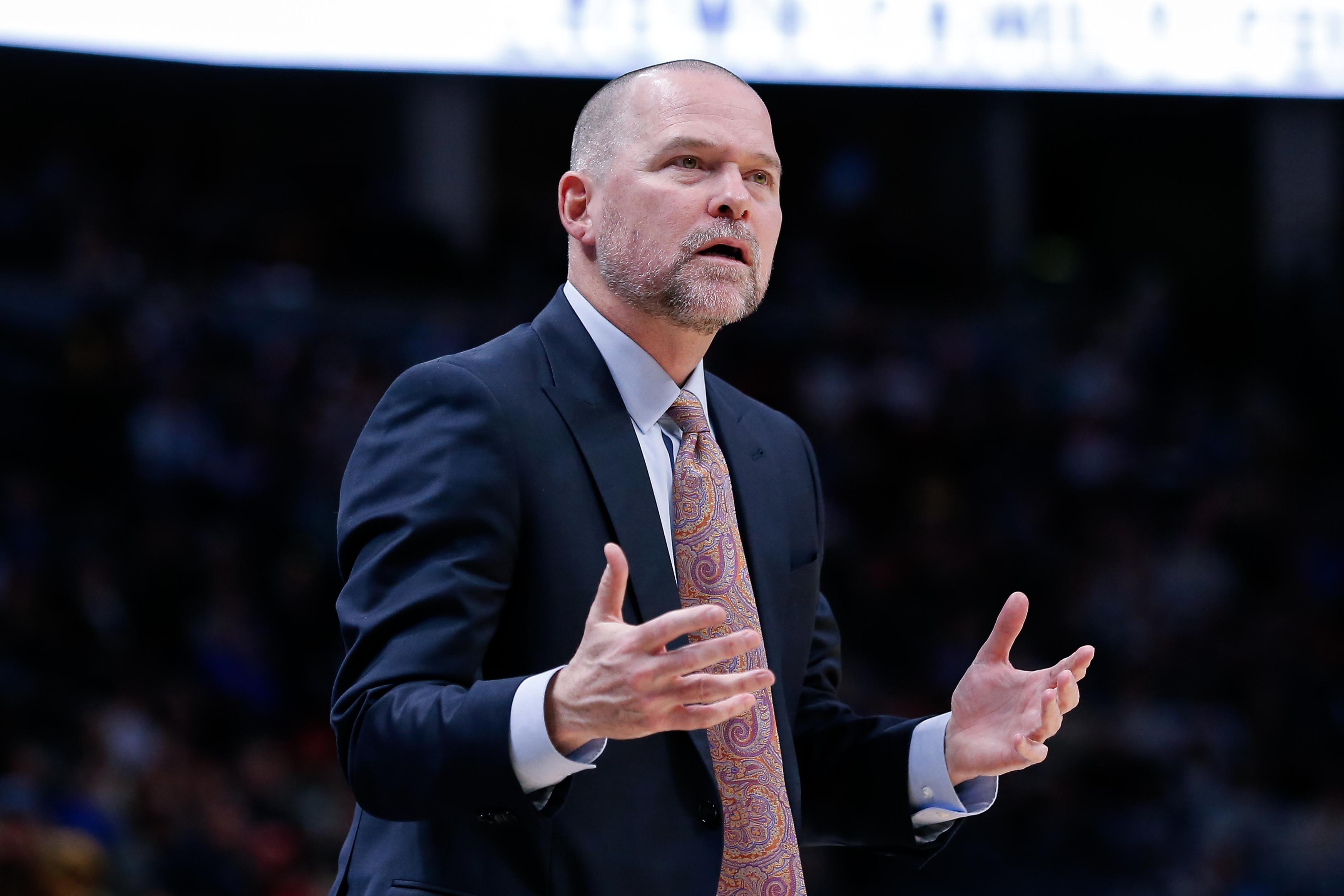 Throughout the entire 2017-18 season, the Denver Nuggets did not have a losing streak longer than three games. Now, just 14 games into the 2018-19 season, the Nuggets are in the midst of there first four-game losing streak in 666 days going back to the 2016-17 season.
So what is going on with this Nuggets squad?
"I really don't know the answer," Nikola Jokic explained after the loss to the Rockets. "I don't have the answer."
"We really don't know right now," Gary Harris explained.
There is not one specific issue that has led to Denver's struggles which has made he remedy even more difficult to locate. Denver has struggled to score offensively and their defense has slipped in a major way.
It is safe to say that anyone involved in the day-to-day operations of Denver Nuggets basketball is now searching for any kind of solution to cure all of the issues plaguing the Nuggets. After beginning the season with a 9-1 record, it seemed as if the Nuggets were finally emerging as one of the elite teams in the Western Conference, but now all of the positive momentum that Denver has gained is dissipating at a rapid pace on both ends of the floor.
Denver's disastrous defense
It seems that the biggest issue of the Nuggets four-game losing streak has been the collapse of their once dominant defense.
In the first 10 games of the season, Denver sported a defensive rating of 101.8 which had them ranked as the best defensive team in the entirety of the National Basketball Association. Now, over Denver's four-game losing streak, their defensive rating has spiked all the way up to 114.6, which would rank as dead last in the Association.
So what is different that has led to Denver's defense dissolving so quickly after beginning the season so strongly? Well, if you ask Malone, it is pretty simple what has changed.
"We are not getting stops," Malone explained. "That is different."
Jokic had a eerily similar answer to what has changed on the defensive end of the floor.
"We did not play good and they scored a lot." Jokic explained.
While those questions certainly illuminate the frustration that is festering within the Nuggets locker room, it does not provide any tangible reason for the drastic dip in defensive determination. Simply stated, when interviewing players and Malone, it seems that no one really knows why things have gotten so bad in such a hurry.
Statistically speaking, there are a few issues that Denver's defense is dealing with. The first issue is that opponents have been able to take — and make — more shots against the Nuggets in the past four games than in the first ten. Over the first ten games of the Nuggets season, teams shot just 45.3 percent from the field and a measly 32.7 percent from beyond the 3-point line against Denver. Now, over the Nuggets four-game losing streak, opponents are hitting 48.9 percent of their shots from the field and a scorching hot 40 percent from beyond the 3-point arc while also getting up even more shots as well.
The second issue is that Denver has failed to force their opponents into turnovers nearly as often as they were to begin the year. In the first 10 games of the season, Denver's opponents averaged 15.7 turnovers per contest which allowed Denver to get out in transition and created some easy buckets. Now, over the last four games, opponents are turning the ball over just 13.5 times.
The third — and most important — issue is that the Nuggets are putting their opposition on the foul line significantly more often. Over the first ten games of the year, Denver allowed opponents to take 21.9 free-throw attempts per game. Now, over the last four games, opponents are taking 26.5 shots from the charity stripe per matchup.
Between statistical analysis and the way that Denver is playing, it seems as if the Nuggets intensity, urgency, and aggression on defense has lessened over this four-game losing streak. That is why the defense has looked disinterested and that is a big reason why their effectinvess has fallen off so drastically.
"It is another loss and we have to get better," Malone said. "We did not defend well enough the whole night."
Lack of offensive production
Yes, Denver's defensive struggles are likely the larger reason for the Nuggets' four-game losing streak, but the more obscure issue within the Nuggets organization has to be the fact that their offense has been unrecognizable this season.
After being one of the most explosive offensive groups in the NBA for the past two seasons, Denver's offense is suddenly just average. No longer is Jokic throwing pin-point passes to cutters for easy baskets or throwing cross-court passes for open 3-points shots. Instead, the offense has looked clunky more often than not regardless of who has started at small forward. Even the Nuggets two best offensive players are at a loss for words when asked about the Nuggets suddenly stagnant offense.
"I don't know the answer," Jokic said. "I don't know."
"I don't know what to tell you," Harris explained. "We are going to watch film and we will see."
The largest disconnect from last season until now is how much worse Denver has shot the ball; especially from beyond the 3-point line. In 2017-18, Denver, as a team, took 30.9 3-point shots per game and were able to hit 37.1 percent of those shots. This year, Denver is taking 28.5 shots from deep and connecting on just 33.1 percent of those looks.
"Well, part of it is making shots," Malone explained after the Nuggets loss to the Rockets. "It is tough to get going when you are shooting below 30 percent."
The biggest reason for Denver's plummeting shooting percentages is because their best shooters have yet to hit shots. Harris, who hit just under 40 percent of his 3-point attempts last season, is shooting an abysmal 27.4 percent from deep this season. Murray, who hit 37.8 percent of his shots from beyond the 3-point arc last season, is only converting 29 percent of his attempts from three. Without Denver's two most lethal 3-point shooters hitting their shots, Denver's offense has taken a sizable step backwards.
While the math would suggest that Denver's shooting woes should fix itself with time, there is still frustration building as Denver's 3-point shooters continue to battle through their collective slump.
"We all need to be better." Harris said after losing to the Rockets.
---
The general consensus is that no one on the Nuggets roster quite knows how to fix all of these issues, but the one thing that Denver has to do above all else is stick together through adversity.
"I think the team is together. We are together," Harris said. "We will be alright."
"Right now, we just have to stay together." Hernangomez explained when asked about how to get back on track.
Even with the Nuggets losing four-straight games, there is a light at then end of the tunnel. Every team in the NBA goes through struggles at some point in the season. The real challenge is accepting that things are not currently functioning at a high level and using those struggles as motivation to improve instead of using them as an excuse to let go of the rope and fall deeper into dysfunction.
So far, everyone on the Nuggets roster seems up for the challenge. They have only played 14 games so far, but how they respond to this losing skid may be the what makes or breaks their 2018-19 season.
"(Isaiah Thomas) came in here and said that things happen in this league," Monte Morris explained. "You can lose four and then you can go win six in a row. We can't get too down on ourselves. We have to stay together like a fist."
Their path back to contention starts on the night of November 15th when the Nuggets host the Atlanta Hawks at 7pm MST within the friendly confines of the Pepsi Center. Regardless of how bad things have gotten, nothing lifts up struggling teams like winning. That is why Hernangomez has officially called Denver's matchup with the Hawks a must-win game.
"We must win," Hernangomez said.