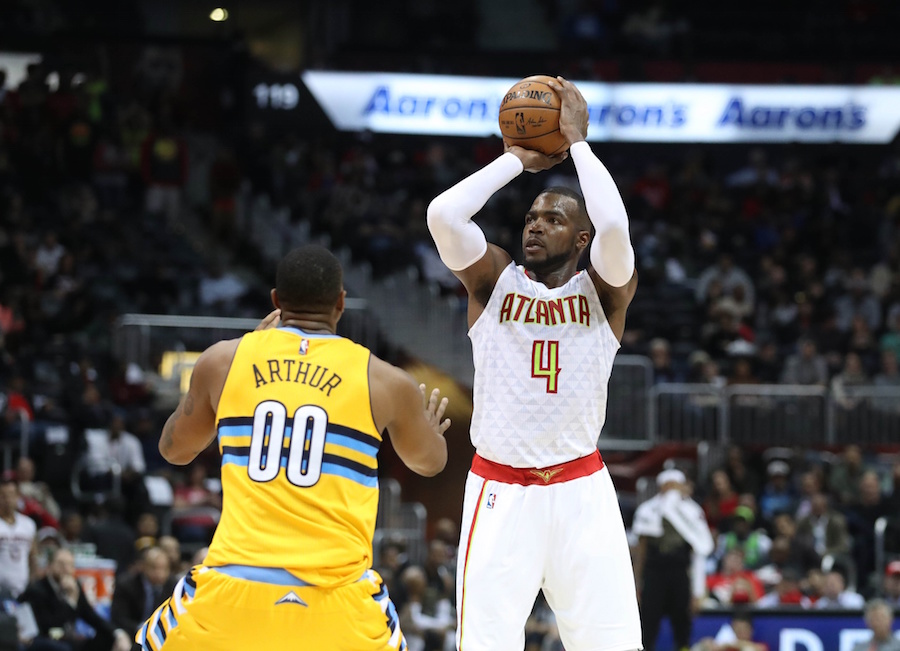 Paul Millsap thinks he's worth more than $21.4 million dollars a year, and he might be to the Denver Nuggets.
The Vertical reported Monday that the All-Star forward is opting out of a $24.1 million option on his contract next year to explore free agency, with the caveat that he has interest in re-signing with the Atlanta Hawks.
Millsap is a logical fit for the Denver Nuggets, who would instantly become a playoff contender with the 6-foot-8 veteran on their roster.
As NBA payrolls continue to balloon, Millsap obviously knows he's going to get paid. The Nuggets, meanwhile, have plenty of money to spend.
Millsap was due $24.1 million on a player option for this upcoming season, after which he was scheduled to become an unrestricted free agent.
In 2016-17 the Nuggets struggled to even reach the salary cap floor, and they'll likely have even more money to spend if and when Danilo Gallinari opts out of his player option this offseason. Even if Gallinari stays, Denver still has more than enough money to spend (if they're willing to) in order to bring Millsap to the Mile High City.
Denver is currently third behind Brooklyn and Philadelphia for the most salary cap space available with $22.87 million. Gallinari's departure would clear another $16.1 million on that number.
An 11-year veteran of the league, Millsap has averaged 14.2 points, 7.5 rebounds and 3.7 assists per game over 29.5 minutes. And he seems to be getting better with age.
Missing only 13 games last year, Millsap averaged 34.0 minutes per game, the second-highest mark in his career, and averaged a career-high 18.1 points per game.
In addition to his well-rounded offensive game, Millsap would bring a toughness on the defensive end that Denver has been seeking ever since Michael Malone took the reins two years ago. They've found it with Gary Harris and Nikola Jokic, but the dropoff after those two is somewhat significant.
Although he wasn't always known for his defense, it's become an important part of his game. In 2015-16 he led the NBA in defensive win share and fourth in defensive rating. He was top 15 in both of those categories this past season.
Millsap would instantly become Denver's best defender, and with an All-Star and veteran playing such staunch defense, the rest of Malone's very young roster would have to fall in line.
There's little doubt Millsap's name will be linked to Denver frequently in the coming days and weeks. He was nearly a Nugget twice last season, according to ESPN's Brian Windhorst. Denver pursued him in a trade, but never pulled the trigger. Perhaps it's because they had an inkling they could land him as a free agent this offseason without giving up anything other than cash.
Clearly the Nuggets see a fit with Millsap. Now, it's a matter of if they will scratch him the paycheck he's seeking.