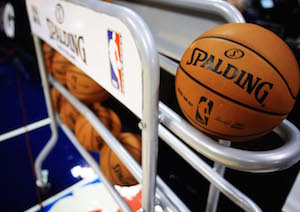 The Denver Nuggets are now going fast and furious with their signings, after reportedly signing  Jameer Nelson and now Nikola Jokic to multi-year deals. Marc Stein of ESPN is reporting that the Jokic deal is worth $5.5 million over four years.
ESPN sources say Jameer Nelson has landed three-year, $13.5M from Denver, while Jokic (2014 second-rounder) gets four-year deal worth $5.5M

— Marc Stein (@ESPNSteinLine) July 13, 2015
After more than a week of inaction during the free agency period, Denver fans must be feeling a bit of relief now as Denver has agreed to terms on deals with not only Jokic and Nelson, but also veteran forward Wilson Chandler.
The message in signing these three players is clearly that the team wants to surround 2015 first round draft pick Emmanuel Mudiay both with young talent and veteran leadership.
Chandler and Nelson carry a combined 19 years NBA experience and Jokic – a 2014 draft pick – is expected to complement Jusuf Nurkic as Denver's other young big man.
Jokic spent 2014-15 playing for Mega Vizura of the Adriatic League and Serbian League. He is currently playing in the NBA Summer League in Las Vegas alongside Mudiay, with whom he had played previously at the 2014 Nike Hoops Summit.