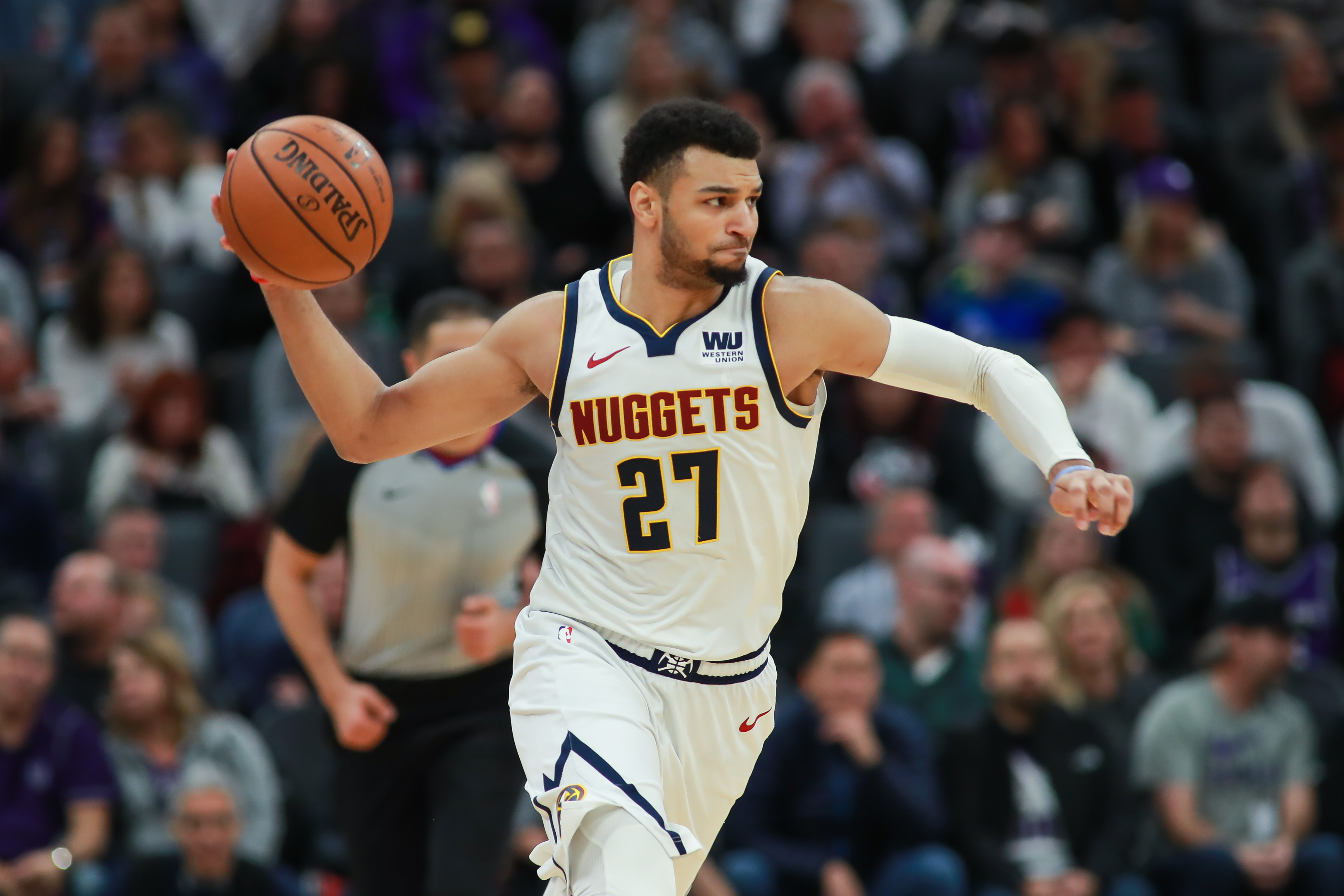 The Denver Nuggets came into Thursday night riding high on a three-game win streak, which only increased after a 117-113 victory over the Kings in Sacramento.
With the win, Denver has won four-straight games and post a record of 25-11, which is still good for first place in the Western Conference. Denver's victory also pushes their win total away from home to 10-8, which is tied — Golden State Warriors — for the best road record in the West. It was also the second time Denver has beaten Sacramento this season after the Nuggets won 126-112 during the opening week of the season.
Coming into tonight with a record of 19-18, Sacramento has been one of the most improved teams in the NBA this season, which was evident in how they began the game. After starting the game on a 9-4 run, Sacramento jumped out to an early five-point lead as Denver started cold offensively. The Kings lead would not last long though as Denver answered with a 10-3 run of their own to give themselves a two-point lead with 6:51 remaining in the opening quarter.
Denver's fast start was paved by Nikola Jokic, who opened the game with eight early points and four rebounds. Jokic's fast start set the tone, which rubbed off on Gary Harris in just his second game back from injury. Harris came off the bench and immediately made his presence known with three-pointer's in back-to-back possessions for Denver. It was Harris' first and second three since his return from injury and was a good sign after he struggled to score the ball in his first game back against New York.
WELCOME BACK, G pic.twitter.com/SBT7N5dp1F

— Denver Nuggets (@nuggets) January 4, 2019
Jokic and Harris' big first quarters helped Denver keep pace with Sacramento as the game was tied at 30 going into period number two. The first quarter was highlighted by offense as both teams shot over 47 percent from the field, while Denver struggled from three-point range going just 2-of-10 from distance. Both of those came from Harris, who finished the opening period with nine points on 3-of-3 shooting from the field.
Just like they did in the first quarter, Sacramento opened another frame quickly, this time courtesy of a 6-0 run. That run really set the tone for Sacramento's play in the second as they jumped out to a 43-34 lead before a Malik Beasley three cut the deficit back down to six with 7:20 left in the half. Opening the game just 3-of-15 from three, the Nuggets inability to score from distance was the difference in them being in the game or not.
The Nuggets struggles from beyond the arc allowed Sacramento to stretch their lead to 51-41 with 5:30 left in the half. Searching for an answer offensively, Denver went back to Jokic with the hope of it proving a spark. In his opening minutes of the second quarter, Jokic did just that with a three-pointer and a euro-step lay in as the Nuggets cut Sacramento's lead down to seven with 3:27 left in the quarter.
Denver's struggles to score returned as the quarter came to a close as Sacramento took a 66-53 into the halftime locker room. The Kings biggest lead in the first half was 15, which was in large part to the play of Buddy Hield. With 12 first half points on 5-of-10 shooting from the field, Hield was a major contributor to the 66 first half points from Sacramento, with 36 of those points coming in the second quarter alone. On the flip side, there were not many stat leaders for Denver as Jokic had 19 points to lead the way offensively. Harris was the next closest with 10 points as the Nuggets finished the first half just 5-of-20 from three-point range.
Even with as poor as the first half went for Denver, the game was still in reach as the Nuggets showed life to begin the third quarter. Eight straight points from Jamal Murray helped the Nuggets cut Sacramento's lead down to seven with 9:34 left in the quarter. Murray's eight straight points was the start of an 11-0 run that was capped off by another three-pointer from Jokic. Denver's run would grow all the way to 13-0 before a couple Hield baskets got Sacramento back on track offensively. A few baskets was not enough to slow down Murray and the Nuggets though as Denver cut the lead down to one with 4:28 left in the period.
GOT 👟 THE 👟 STEP pic.twitter.com/aVFQagmBAM

— Denver Nuggets (@nuggets) January 4, 2019
Murray's incredible quarter continued as he tipped in his own miss at the 2:30 mark of the quarter to give Denver a 79-78 lead. It was Denver's first lead since the first quarter as Murray willed the Nuggets back in front after they trailed by as many as 15 points. Murray finished the third with 17 points to give him 19 for the night as he almost outscored the Kings by himself in the period (18-17). Because of Murray, the Nuggets were back in the game as the score was tied at 84 going into the final quarter.
The Nuggets would ultimately outscore Sacramento 31-18 in the third to give themselves a chance to steal a major win on the road with 12 minutes to play. Denver would continue to ride their hot hand as Murray began the fourth with another three-pointer, which was followed by a Beasley jumper to give the Nuggets a five-point lead. That lead would only increase as the quarter wore on as Denver held a 95-89 lead with 7:06 left in the game.
Another Murray three-pointer and a Jokic lay in bumped the Nuggets lead up to 10 with 5:37 left to play as Denver's phenomenal second half performance continued. Sacramento would not go down without a fight though as a 5-0 run by the Kings cut Denver's lead to five with 4:25 left in the game. Murray and the Nuggets would respond with a basket of their own, but the two teams were trading buckets as Hield was unconscious for Sacramento from three-point range.
The two teams would continue to trade baskets until a Murray step back three-pointer gave the Nuggets a five-point lead with under a minute remaining. Murray would put the exclamation point on a phenomenal second half with another three the next possession to give the Nuggets a six-point lead with 35 seconds remaining. Still, the Kings were in the game as they hit a three-pointer with 25 seconds left to cut Denver's lead back down to three. Murray and the Nuggets would not blink though as a couple free-throws and a few defensive stops was all Denver needed to walk away with a 117-113 comeback win in Sacramento.
Stat leaders for the Nuggets were Jokic, who finished with a double-double going for 26 points on 10-of-18 shooting from the field to go along with his 13 rebounds and six assists. Murray also had a great night courtesy of a big second half to finish with 36 points on 12-of-24 shooting from there field, 6-of-12 from three-point range. Murray scored 34 of his 36 points in the second half, while also also chipping in seven rebounds and six assists as he really did it all in the Nuggets comeback. Other notable stat lines came from Mason Plumlee, who finished with a double-double as he poured in 12 points and hauled in 10 rebounds. Harris and Paul Millsap also had solid nights for Denver as they both finished in double-figures with 14 and 10 points respectively.
Denver now has a day off tomorrow before they are back in action Saturday afternoon to face the Charlotte Hornets. That game will be held at the Pepsi Center with tip-off set for 3 p.m. MST.