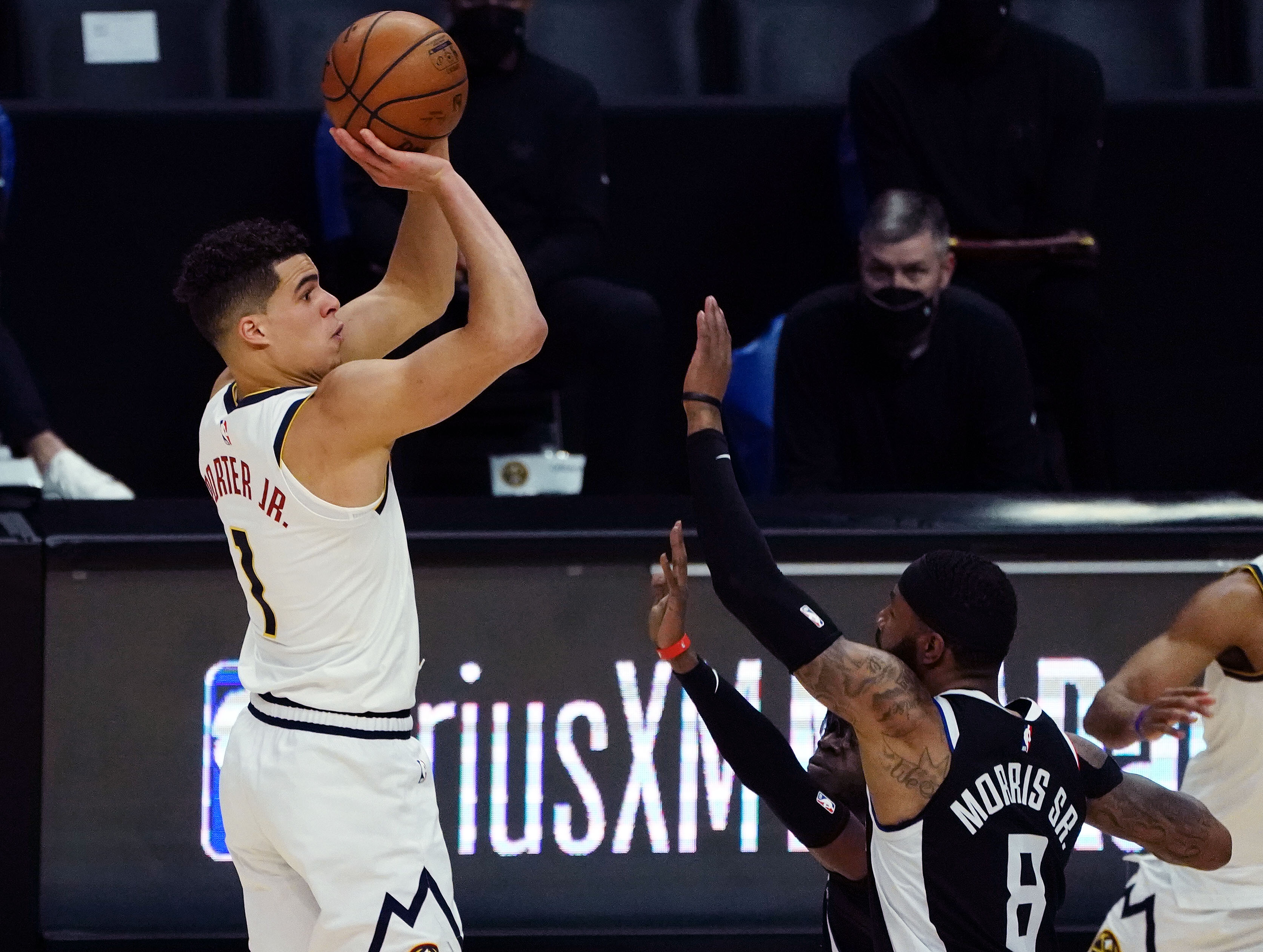 Bojan Bogdanovic was in his bag against the Nuggets scoring a career high 48 points to lead the Jazz to a 127-120 victory without Donovan Mitchell and Mike Conley. The Nuggets knew going into the game that he was going to be a problem and no matter what they did they couldn't stop him.
"I think he just had one of those nights where he's just making everything," Michael Porter Jr said. "We made it tougher for him at the three-point line but he just had one of those nights. There's a lot of things that we could've done better but there was too many of their guys getting open threes."
Michael Malone said he was disappointed with his teams' lack of urgency in transition and communication down the stretch. The Nuggets had 17 turnovers in the game, 7 in the fourth quarter alone, which led to 9 fast break points for the Jazz.
Denver has the best record in the league right now at 49-18 and is completely loaded with talent. Even when the Nuggets tried to stop Bogdanovic, other players like Jordan Clarkson knocked down big shot after big shot. He went 6 of 14 from the three-point line for 21 points. 
"I think when we stop them all the other guys got the ball," Paul Millsap said. "They got a lot of guys out there that keep you off balance. It's hard to lock down one guy because they have a lot of shooters out there." 
The veteran big has started for Denver for the past 2 games and went 7 of 10 from the field for 19 points tonight. Michael Porter Jr scored 31 points on 10 of 19 shooting from the field and Nikola Jokić added 24 points, 9 rebound and 13 assists.
While the Nuggets were left disappointed in the outcome, they did see the positives from Friday nights matchup against their division rival. At one point in the game they had an 11-point lead and almost had a chance to win the game. 
"I just think we played hard," Porter Jr said. "It was a good game. It came down to the wire. We made some mistakes that we shouldn't have made. Missed some open shots but I feel like we easily could've won this game. It could've easily swung the other way…It was a good test for us."
The Nuggets opened the game 11-4 to start shooting 67 percent from the field and 56 percent from long range. They scored 22 points in the paint and led by as many as 11 points. That was until Clarkson hit three straight threes to get Utah within 1. Denver led 41-40 after the first. 
Second quarter, Austin Rivers and JaMychal Green hit back to back threes to give Denver the 56-49 lead with 5:50 left. Bogdanovic then went off for 13 points on 5 of 6 shooting from the field and 3 of 3 from three to lead Utah on a 9-2 run. Porter responded with a three but later in the quarter Royce O'Neale ties it up at 67 with a three of his own. Denver closed the second on a 6-2 run to take a 73-69 lead at halftime. Porter Jr finished the first half with 21 points. 
Third quarter the Jazz took a 77-76 lead with just over 8 minutes left in the quarter. It was neck and neck the rest of the way. Bogdanovic was still going off and scored 12 points. Georges Niang scored 8 of his 13 points in the third being a huge difference maker down the stretch. 
Austin Rivers was hot from three again tonight and scored 18 points on 5 of 7 shooting off the bench. He made back to back threes for 6 points to give the Nuggets a 95-90 lead with just over 2 minutes left to go. Jokić scored a tough hook shot and drained two free throws to give Denver a 99-98 lead going into the fourth quarter. 
Utah turned up the heat and Denver had no answers. Niang opened the fourth quarter scoring 5 straight points to give the Jazz a 103-99 lead. Bogdanovic stayed hot scoring 11 points on 3 of 5 from the three. The Jazz held the Nuggets to just 3 of 11 shooting from three and 7 of 20 from the field. Denver missed a lot of easy shots and turned the ball over 7 times. Utah scored 9 fast break points off those turnovers.
Porter Jr hit a big three with 3:32 left to get the Nuggets within 3. The Jazz had a 114-111 lead but every time Denver tried to cut the deficit, Utah had an answer. Jokić had 3 costly turnovers in the fourth and 4 personal fouls. The Jazz would go on to win it 127-120. 
The Nuggets have five games left in the regular season, playing 4 of those on the road. They host the Brooklyn Nets on Saturday night in a back to back and currently sit in fourth place with a 44-23 record.