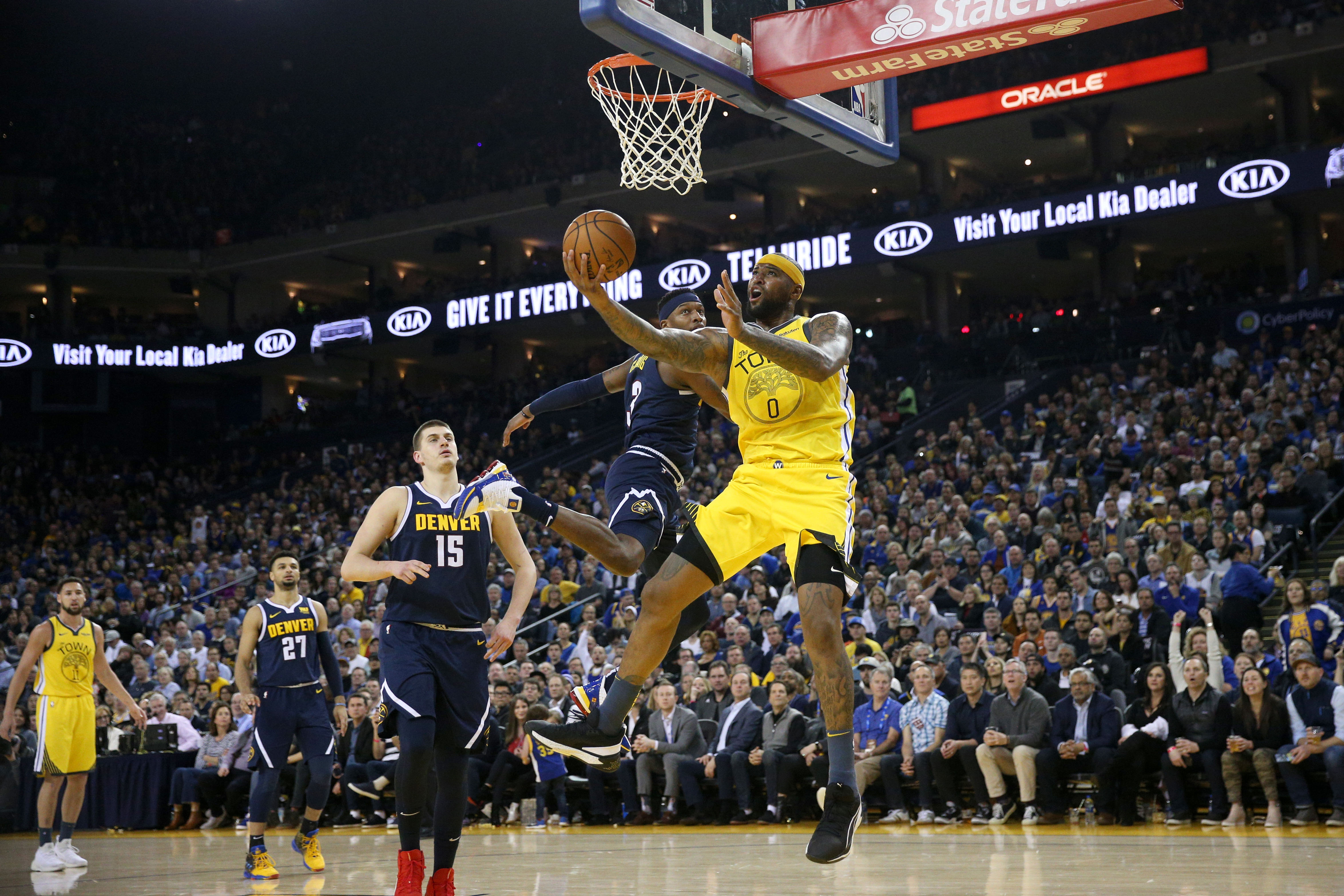 The Denver Nuggets suffered a tough loss Friday night in a 122-105 defeat to the Golden State Warriors.
With the loss, Denver's record moves to 43-22, which is good for two games behind Golden State for first place in the Western Conference.
It was not a great start to the game for Denver as Golden State came out firing on all cylinders, which gave them an early 11-3 lead just three minutes into the game. Golden State continued to dominate as their lead grew to 20-6 before Nuggets head coach Michael Malone was forced to call his second timeout of the game. Denver was looking to get something going, so they subbed their second unit in at the 6:08 mark of the first quarter.
That is exactly what they did as the Nuggets second unit kept it close before going on a 9-1 run to close the quarter, which made their deficit just 30-20 through one quarter of play. Denver as a team shot just 4-18 (22 percent) from the field in the first quarter and compounded that with seven turnovers. Even though the Nuggets were struggling to take care of the basketball and score effectively, they were only down 10-points, which was a major accomplishment through 12 minutes of play.
Denver carried that momentum into the second quarter as they began the period on a 9-2 run, which cut Golden State's lead all the way down to 3-points. Then, at the 7:35 mark of the second quarter, Monte Morris hit a three-pointer that tied the game at 34. A Malik Beasley three-pointer a few possessions later gave Denver their first lead of the night as the Nuggets were officially back in the game.
Taking our first lead of the night!#MileHighBasketball pic.twitter.com/H6Oj4VTTlY

— Denver Nuggets (@nuggets) March 9, 2019
The Nuggets lead would not last long though as Golden State caught fire in an instant, ending the second quarter on a 15-0 run to take a 67-50 lead into the halftime locker room. At the break, Denver was led by Beasley, who had 14 points behind four three-pointers. Beasley was the only Nuggets player in double-figures as Torrey Craig was the next closet with nine first half points.
To begin quarter number three, Denver's starters were doing a better job scoring the ball, but still not at the same pace as Golden State. The Nuggets opened the quarter with a 9-8 advantage, but they were still down 16-points just four minutes into the period. Golden State's pace was just to much for Denver to keep up with as Klay Thompson, Stephen Curry, and Kevin Durant were scoring at will all night long.
Through three quarters, the Warriors big three combined for 66 points as Golden State held a 90-75 lead through 36 minutes of play. If Denver was going to come back in the final period of play, they had to pick up their offensive efficiency as they were shooting just 35 percent from the field through three quarters. Beasley (14) and Nikola Jokic (13) were the only Nuggets players in double-figures after three quarters as Denver was desperately looking for another player to step up in the final period of play.
That would not happen though as Golden State dominated the fourth quarter to walk away victorious over the Nuggets. Thanks to big games from Thompson, Durant, and Curry, the Warriors offense was just to much for Denver to overcome. Thompson led all scorers with 39 points behind nine three-pointers as Golden State captured a 122-105 victory over the Nuggets.
Stat leaders for Denver were Jokic, who had a solid night with 16 points on 5-of-10 shooting from the field to go along with six rebounds and four assists. Beasley also had a tremendous game finishing with 17 points behind five three-pointers. Denver had three other players finish in double-figures as Morris scored 17 points, while Craig and Jamal Murray each chipped in 11 points a piece.
Denver now has three days off before they are back in action at home next Tuesday night against the Minnesota Timberwolves.