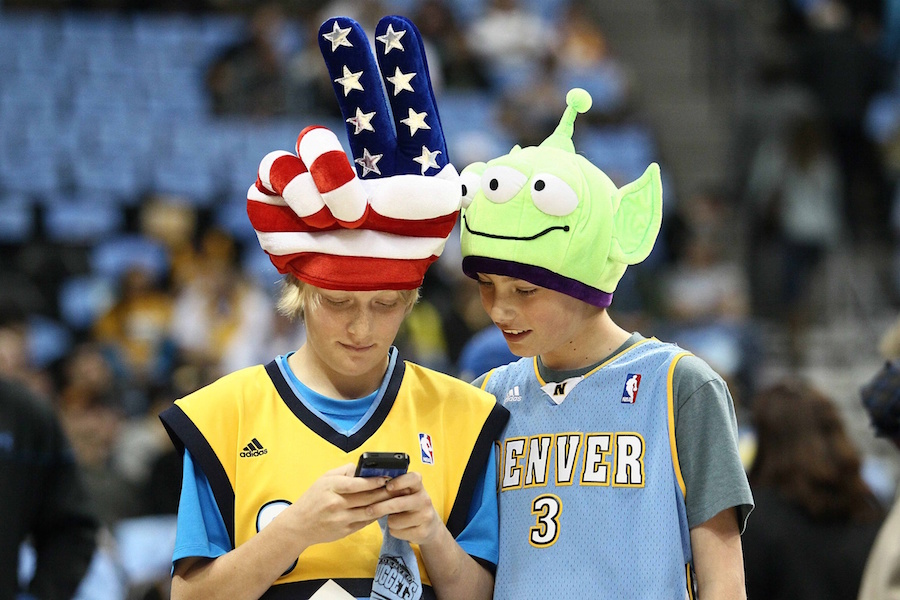 If you're a Nuggets fan, you've been scoreboard watching for the better part of the last month.
What did Portland do last night? Did Dallas lose again? Will the Wolves finally fall off? We can officially stop worrying about Sacramento and New Orleans, right?
All those questions are still important over the next month. After all, the Nuggets only have a two-game lead for the No. 8 seed in the Western Conference – and they have an absolutely brutal schedule down the stretch.
But for a minute, take a journey with me… the Nuggets have held on for dear life and are indeed in the playoffs. Phew.
With that bridge crossed, though, there's another mystery still to solve.
Who checks in as the No. 1 seed? In other words, who will Denver play in the first round?
Look – I'm dreaming of 1994 just as much as you are – but Denver can only beat one of the two teams battling for the top slot in the west. And the answer may surprise you.
The Nuggets have about a 0.5 percent chance of beating the Spurs come April. They also have about a five percent chance of beating the Warriors. Call me crazy: Denver would rather face Golden State.
Right now the Spurs are 52-14. So are the Warriors. But San Antonio is currently on fire and Golden State is struggling ever since Kevin Durant got hurt. The Spurs are 9-1 in their last 10 games; the Warriors are 5-5.
With Denver being five games out of the No. 7 seed, it's pretty much sneak-in-or-bust at this point. In other words, the Nuggets want the Warriors to get the top seed.
First, Michael Malone's bunch absolutely beat down the Warriors at Pepsi Center last month. When Denver beat Steph Curry's squad by a score of 132-110, they sent a message to the two-time Western Conference champs. That message: We can get into a shootout with you, and we can beat you.
The odds aren't high Denver would manage to do that four times in seven games, but the recent result proves there is at least a chance something like that could happen again. It's slim, but it's a chance.
On that particular night, Nikola Jokic played out of his mind, recording one of his many recent triple-doubles. The Joke scored 17 points, had 21 rebounds and 12 assists. It was one of a handful of games in 2017 that declared Jokic as one of the best players in the NBA.
Juancho Hernangomez poured in 27(!), Will Barton added 24, Jameer Nelson 23 and Gary Harris and Jamal Murray combined for 30. It was the team's signature win of the season and provided hope Denver can and will be a contender in the West in the coming years.
Meanwhile, Denver's games against San Antonio this year have been flat-out ugly.
Serious Nuggets fans will remember how torturous it is to play the Spurs in the playoffs – that's something no one should want to do again. Even recently, it hasn't been pretty.
In early January, they came in to Denver and destroyed the Nuggets 127-99. Two weeks later, the Nuggets would want to forget the Alamo in a tough 118-104 loss. Just last month, Denver had to fly back down there, just to get boat raced again by a final of 121-97. Not exactly breaking news: Those three games are a lot like how a playoff series against Greg Popovich's team would look this season.
I'm not sitting here and claiming Denver will beat Golden State. I'm just saying there is a pipe dream it could happen. Winning Powerball feels more likely than beating the Spurs.
Denver isn't going to win it all this year. You and I both know that. But, if Golden State can somehow get the No. 1 seed – especially if Durant is still hurt – there's a slim chance the 2017 NBA playoffs will be more than a footnote for the team and their fans.
Watch the scoreboard the next month – the Nuggets are going to need help to get in. But watch the top half of the conference as well. How that shakes out will determine if Denver has a puncher's chance in the first round.
Call me crazy, but let's go Warriors.