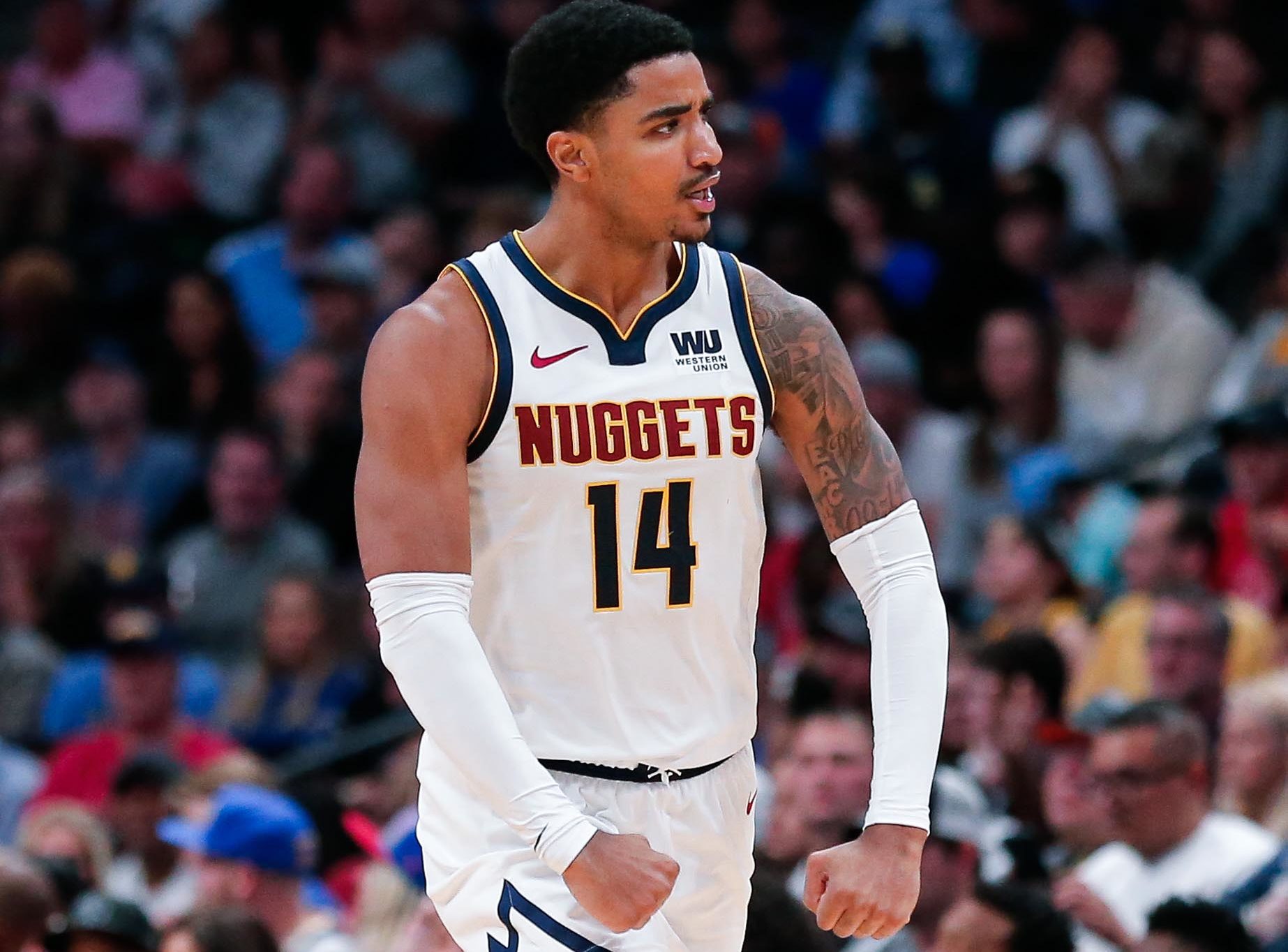 The Denver Nuggets snapped a three-game losing streak Wednesday night with a 115-99 victory over the Los Angeles Lakers.
With the win, Denver's record moves to 43-21, which is good for one game behind Golden State for first place in the Western Conference. The Nuggets victory was also their 16th on the road, which is more than they had all last season.
As Denver was looking to snap a losing streak in Los Angeles, so were the Lakers as they came into Wednesday night having lost three-straight games, along with five of their last six games overall. The Nuggets certainly looked like the more energized team to start though as they began the game on a 10-4 run, with eight of those points coming from Will Barton.
Thrill is off to a hot start with an early 8 points!#MileHighBasketball pic.twitter.com/Y0HWvFFu72

— Denver Nuggets (@nuggets) March 7, 2019
Barton's hot start was echoed by his teammates as the Nuggets were firing on all cylinders early, which earned them a 29-17 lead with 4:28 left in the first quarter. The Nuggets had 13 assists in the first quarter alone as Barton led Denver's offense with 14 points behind four three-pointers. Through 12 minutes of play, the Nuggets held a 43-25 lead as they were dominating the Lakers in every facet of the game.
The Nuggets continued to dominate on both ends of the floor in quarter number two as they were doing a phenomenal job of turning defense into offense. It was not just the Nuggets starters that were playing well as the second unit gave them tremendous energy as well. That energy came from Mason Plumlee, Monte Morris, Malik Beasley, and Isaiah Thomas as all four were working extremely hard on both ends of the floor.
That'll work!#MileHighBasketball pic.twitter.com/nI74jPimyY

— Denver Nuggets (@nuggets) March 7, 2019
Because of the Nuggets second unit's strong play, Denver held a commanding 55-35 lead with 6:58 left in he first half. Just a few minutes later though, the Lakers went on a 9-0 run that was highlighted by a LeBron James lay in that put him past Michael Jordan on the NBA's all-time scoring list. Even with James' record-setting bucket, the Nuggets were able to keep their cool as they took a 66-49 lead into halftime.
At the break, the Nuggets were led offensively by Barton, who had 16 points on 6-of-10 shooting from the field to go along with four three-pointers. Paul Millsap was right behind Barton with 12 points of his own, while Jamal Murray was just shy of double-figures with nine first half points. Nikola Jokic also had a solid first half for Denver with six points, 10 rebounds, and four assists to put him on triple-double watch going into the third quarter.
Denver rode their momentum into the third quarter as Barton and Murray opened the period with two threes to help the Nuggets bump their lead up to 19-points. That was at the midway point of the quarter as Denver continued to dominate as they had a +18 rebounding advantage over Los Angeles at this point of the game.
The Lakers would not go away easy though as they had a tremendous close to the third quarter to cut Denver's lead to 8-points going into the final period of play. Los Angeles ended up outscoring the Nuggets 28-19 in quarter number three as Denver held a 85-77 lead after 36 minutes of play.
Los Angeles held all the momentum going into the fourth quarter, which helped them begin the period on an 8-2 run to cut Denver's lead to 2-points. The Nuggets were officially in the danger zone as their once 23-point lead evaporated all the way down to a one possession game. Denver held that same 2-point lead until the 7:30 mark when Gary Harris hit a big time three-pointer to give Denver a 92-87 advantage.
NEEDED THAT.#MileHighBasketball pic.twitter.com/CY2EoxlS55

— Denver Nuggets (@nuggets) March 7, 2019
Harris then hit a three-pointer from the same spot on Denver's next possession as the Nuggets finally seemed to have found their rhythm offensively. That groove was found because of Harris, who scored 11 straight points for the Nuggets to push their lead back up to 9-points with 5:06 left in the game. The quick spurt by Harris was ultimately all Denver needed as they controlled the final five minutes of play. Because of that, the Nuggets were able to pick up a 115-99 victory in Los Angeles to snap their three-game losing streak.
Stat leaders for Denver were Barton, who set the tone from the get-go and finished with a stat line of 23 points on 8-of-16 shooting from the field to go along with five three-pointers. Millsap also had a great game as he scored 16 points and hauled in eight rebounds on 7-of-15 shooting from the field. Jokic played a big role in Denver's victory as well with 12 points, 17 rebounds, and eight assists. Other Nuggets who finished in double-figures were Murray (19) and Harris (19), who played a big role in Denver's victory.
The Nuggets now have a day off tomorrow before they are back in action Friday night for a Western Conference showdown against the Warriors.