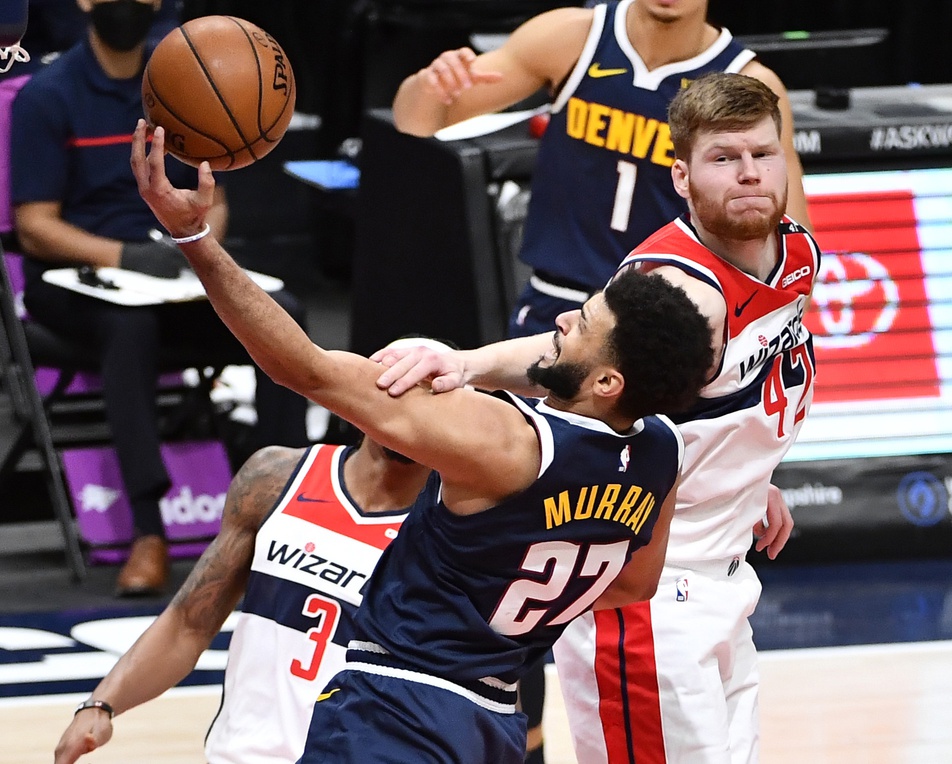 Bradley Beal hit a pair of free throws with less than a second left to lead the Wizards to their third straight win. The Denver Nuggets were up 39-19 late in the first quarter but watched that lead quickly disappear in the second as the Wizards dropped 46 points on 64 percent shooting from the field. Denver was careless with the ball once again and had 6 turnovers that led to 15 unanswered points by Washington.
"I would sum it up by saying you have to play 48 minutes," Michael Malone said. "I think quarters one, three and four, we looked like a good basketball team."
Nikola Jokić had another great start. He scored 15 points on 6 of 6 shooting from the field in the first quarter but it was Beal who erupted for 14 points in the second to get the game within reach.
"We were up 20," Jokić said. "We didn't play any defense. We cannot have that many letups."
Jokić finished the night with 33 points on 12 of 21 shooting while Jamal Murray went off for 35 points on 13 of 25 shooting and 5 of 10 from three including two clutch three-pointers, one to tie the game with 2 seconds left.
Right when it looked like the Nuggets might pull this one out, JaMychal Green fouled Beal with less than a second left in regulation. Malone argued that there was an illegal screen set to get Beal opened that wasn't called by officials and he also thinks that Green shouldn't have been called for the foul. The foul, however, led to two free throws for the Wizards and ultimately cost the Nuggets the game. Either way, they lost this game on their own.
"The reality is this, you can't put yourself in that situation," Malone said. "We lost this game in the second quarter. We lost this game by not taking care of the basketball."
Wizards forward Davis Bertans also went off for 35 points off the bench on 9 of 11 shooting from three, two career highs. Malone wasn't too happy about that.
"Obviously, Bertans killed us tonight," Malone said. "He comes off the bench to go 9 for 11 from 3 for 35 points. That guy is supposed to be a guy that's not supposed to get off 11 shots from the 3-point line."
Overall, Malone said his team had awful game plan discipline and failed to sustain their first quarter run. The Nuggets have now lost 2 in a row but Murray isn't worried about his teams' future.
"What's up with worry? Everybody is worried," Murray said. "Is everyone all right? We're just playing basketball."
The Nuggets did just a play a game the day before and have been adding new players in the rotation as of late. Gary Harris just came back after missing seven straight games. He only put up 2 points in 28 minutes but was plus 10 on the floor. Monté Morris also came back after missing one game but he struggled to get things going offensively.
Michael Porter Jr has been struggling offensively as well but went 5 of 11 from the field for 14 points against Washington. He knows he needs to do better on that side of the ball.
"I just got to keep shooting when I'm open and play the right way," Porter Jr. said. "It won't stay like that for long."
Denver doesn't need to hit the panic button quite yet but sitting in 8th place in the West with just a few games above .500 does raise some concern.
The Nuggets have one more road game Friday against the Cavaliers, before heading back home to face the Blazers and Wizards.