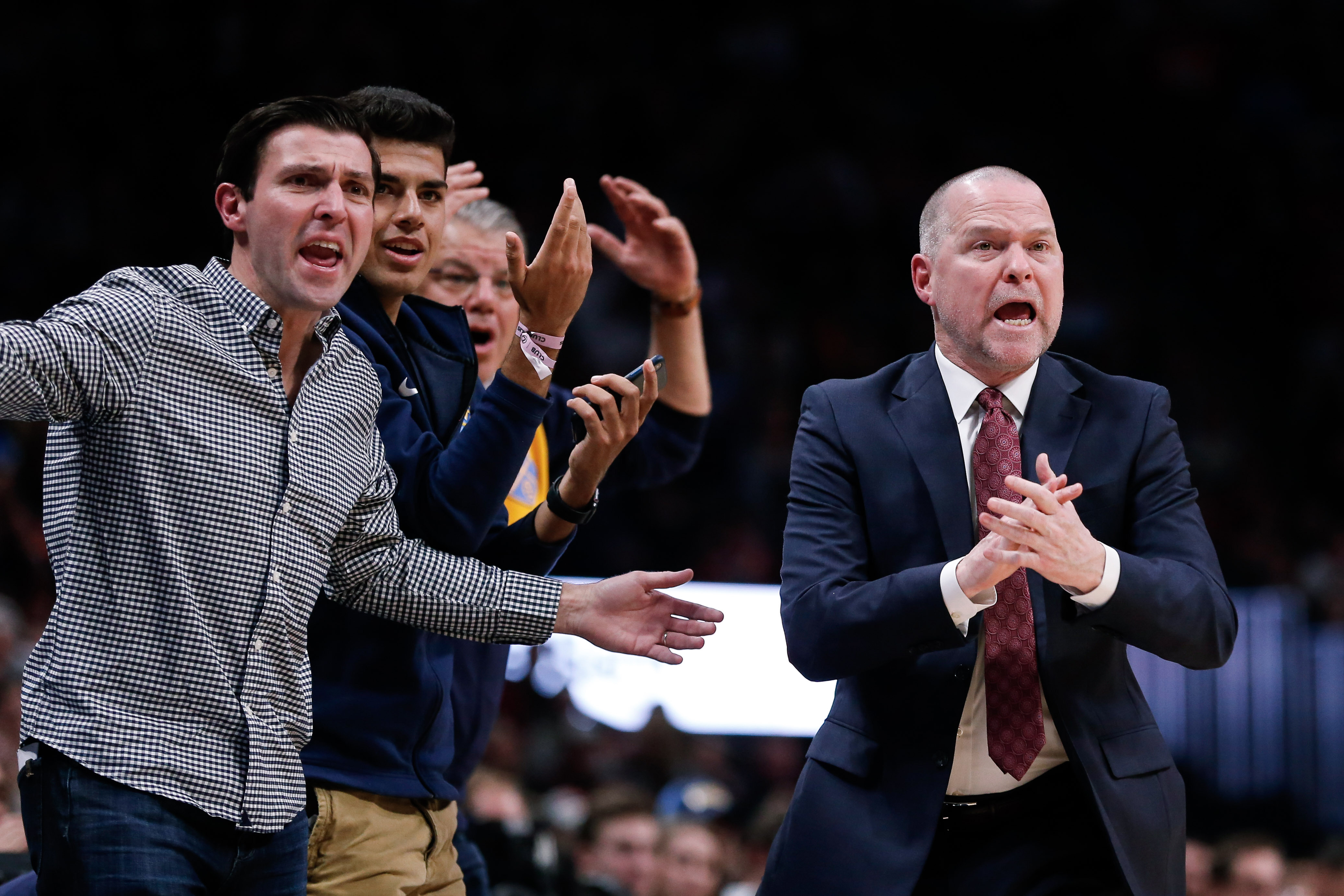 Most people would think the vibes around the Denver Nuggets would be nothing but positive after their third-consecutive victory which led to their 24th win in 35 tries, but the expectations surrounding the Nuggets are different this season than in years past. That fact  has altered Denver's approach in 2018-19 — even when they come out with a win.
Now, winning is not the only thing that matters to Denver. The Nuggets are placing nearly as much focus on how they win as opposed to if they win.
"I am trying to really remain positive here because we won, but there is so much to learn and clean up from tonight," Malone explained after Denver escaped with a tightly-contested win over the New York Knicks. "It was not a clean game and we have to be better."
Denver's 122-118 road win over the Phoenix Suns and their 115-108 home win over the Knicks are both prime examples. Yes, Denver came away with wins in each contest, but they did not play anywhere near as well as they could which concerns head coach Michael Malone.
"That is two games in a row where I do not think we played great basketball for long stretches," Malone exclaimed. "Obviously, Phoenix was a game where we were up 25 and then 22 in the fourth (quarter), but allowed it to get down to a three-point game. Right now, my biggest frustration is that there are too many instances of a lack of discipline and a lack of communication."
The, "lack of discipline and a lack of communication," that Malone is referring to most often manifests itself in lapses on the defensive end of the court. After holding strong as one of the top-five defenses in all of the NBA for much of the year, Denver's once dominant defense has vanished in the month December. The Nuggets have the 17th-ranked defense in the final month of the year with a 109.2 defensive rating and a lot of their struggles have to do with sticking to the game plan and their lack of on-court communication.
"We always talk about how communication is concentration. We had breakdowns tonight from the beginning of the game until late where two guys go with one guy and there is a guy wide open," Malone explained. "We leave a guy in the corner, who is a shooter — Luke Kornet. How many threes did Kornet hit tonight? He went 4-of-7 and we were supposed to take him off of the 3-point line.
"In the Phoenix game — Bridges and Warren — we were supposed to take them off of the 3-point line and they went 8-of-16. I do not like our discipline and I do not like our communication, or lack there of, right now because there are too many blown assignments right now. We have to tighten that up because this month, I mean, starting tonight, 11 games in 19 days, this is going to be a really tough month for us. We have to make sure that we are giving ourselves every chance every single night by being disciplined and by communicating."
Malone is right. If they continue to play in the same way they did against the Suns and Knicks, Denver could have a long 15 games before the first month of 2019 concludes. Denver has a great opportunity to extend their Western Conference-leading winning percentage in the month of January; so long as they can beat teams they are better than on the road and keep taking care of business in the friendly confines of the Pepsi Center in downtown Denver.
Denver will play seven of their 15 games away from the Pepsi Center with five of those teams currently on the outside of the playoff picture. In addition to having a soft road schedule, Denver will also face off against eight teams at home, but five of those teams are currently occupying a playoff spot if the season were to end today.
Denver cannot afford to continue struggling mentally on the defensive end of the floor — like they did against the Suns and Knicks — if they wish to take care of business in the month of January and keep their hold on the first seed in the Western Conference.
"I thought, for the first three quarters, I really did not like our team a whole lot," Malone stated after Denver's win over the Knicks. "Our defense, attention to detail, lack of communication — just a lot of defensive breakdowns that were kind of driving me crazy a little bit."
Nuggets $30 million man agrees with his head coach, but with a slight caveat. Yes, Millsap agrees that Denver failed to play up to their potential in the first three quarters of their matchup with the Knicks, but Millsap did find solace in the fact that Denver was able to flip a switch in the fourth quarter and came away with a win anyway.
"It felt like, in the first few quarters, that we kind of pressed," Millsap explained. "We know that we are supposed to blow these guys out and, for whatever reason, we kind of pressed. Down the stretch, we finally settled down and got the win."
One of the largest reasons for the Nuggets strangle hold on the first seed in the Western Conference is their newfound ability to win ugly games. Last year, there would have been a high likelihood of losses against both the Suns and Knicks, but this a newly evolved version of the Nuggets. Instead of "letting go of the rope," as Malone has said many times, the Nuggets now refuse to lose close games against teams that they are better than.
"I think that is a sign of growth," Malone explained. "I do not know if we win these kind of games last year. I do not know if we hang around and say, 'we know that we can turn it on in the fourth quarter; we can get the timely stops and we can execute late down the stretch with our go-to sets'. We have been able to do that."
The Nuggets have been opportunistic all year as they continue to find new ways to win basketball games. They have been challenged to win in multiple different ways all season with their most recent challenge being about overcoming what Millsap considered a "trap game".
"I think every game is a challenge — tonight was a challenge for us," Millsap explained. "With it being a challenge, we came in and accepted it. Coming off of New Year's Eve, against a team that you are supposed to beat, who just got blown out by 40 the other day and they came in with winning on their mind tonight. It was pretty much a trap game for us and, as a young team, I think we accepted the challenge and got better tonight."
It may have been ugly, but Denver's win over the Knicks provided more than just their next win of the season. Now, Denver can dive into the film, clean up their issues, get better, and do so coming off of a morale-boosting win as opposed to a gut-wrenching loss.
"I would much rather learn, teach, and clean up after ugly wins than I would after tough losses," Malone stated. "That is the positive; we are finding ways to win when we may not be playing our A-game."
"It was not a real pretty win, but we will take it."