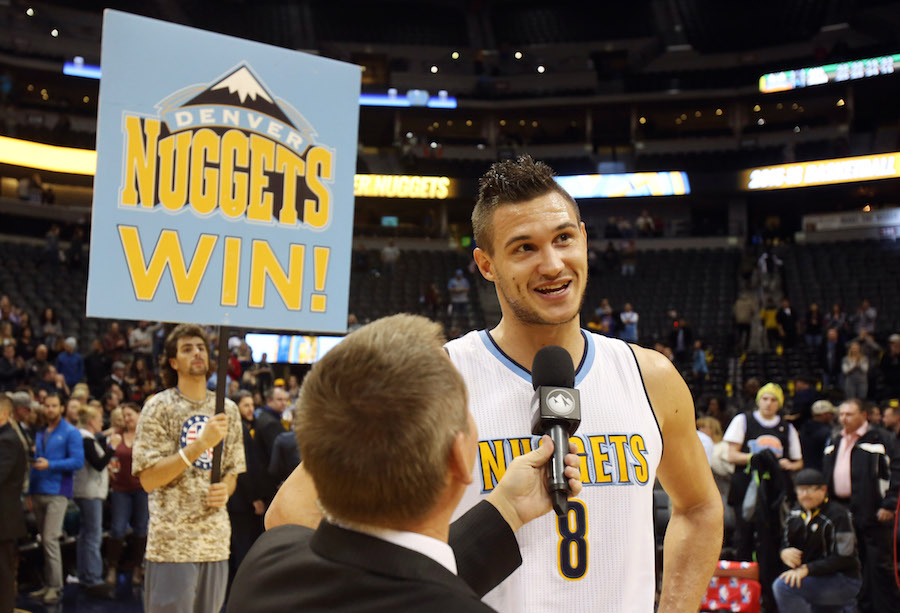 After playing in the playoffs in each of his first two seasons with the Denver Nuggets, things did not go exactly as planned for Danilo Gallinari or the team. Still, that didn't stop the franchise from sending their former forward off with well wishes as he officially departed for Los Angeles via a sign-and-trade.
News of the deal surfaced on July 4, and on Thursday, the first official day of free agency, the Nuggets made it official, sending Gallinari to the Los Angeles Clippers as part of a three-team trade also involving the Hawks.
"Danilo has been a special player for the Nuggets organization as well as a prominent figure in the Denver community for the last six years," Nuggets president of basketball operations Tim Connelly said in a release from the team. "He was a consummate professional throughout his time with us and we want to wish him all the best as he begins this new chapter."
The Nuggets acquired a 2019 second round draft pick from Atlanta (via Washington) in the three-team trade that sends Gallinari to the Clippers and Jamal Crawford, Diamond Stone and L.A.'s 2018 protected first round draft pick (via Houston) to Atlanta, President of Basketball Operations Tim Connelly announced today.
"Since we acquired Danilo in 2011, he has exemplified every positive aspect of the organization we are continuing to build," said team president and governor Josh Kroenke.
Gallinari came to Denver via the Carmelo Anthony trade in 2011 and was part of the team that made three consecutive playoff appearances in his first three seasons. Unfortunately, an injury late in the 2012-13 season would cost him that postseason and all of the following season.
Denver has not been back to the playoffs since.
"His hard work, professionalism, and efforts in the Denver community during his time with us will forever make him a fan favorite," Kroenke said.
Gallinari battled injuries throughout his six full seasons in Denver, averaging just 48 games per season during that time. (He played 14 games after being traded to Denver in 2011-12, as well.) Still, he averaged 16.2 points, 4.8 rebounds and 2.2 assists in 303 games (266 starts). Gallinari made a total of 535 three-pointers as a Nugget, moving into third place on Denver's all-time made threes list this past season. He was Denver's top scorer in each of his last two seasons with the Nuggets.
"On behalf of Nuggets fans everywhere and our entire organization," Kroenke said. "I would like to thank him for everything he did during his time with us and wish him nothing but the best in the future both in life and in basketball."