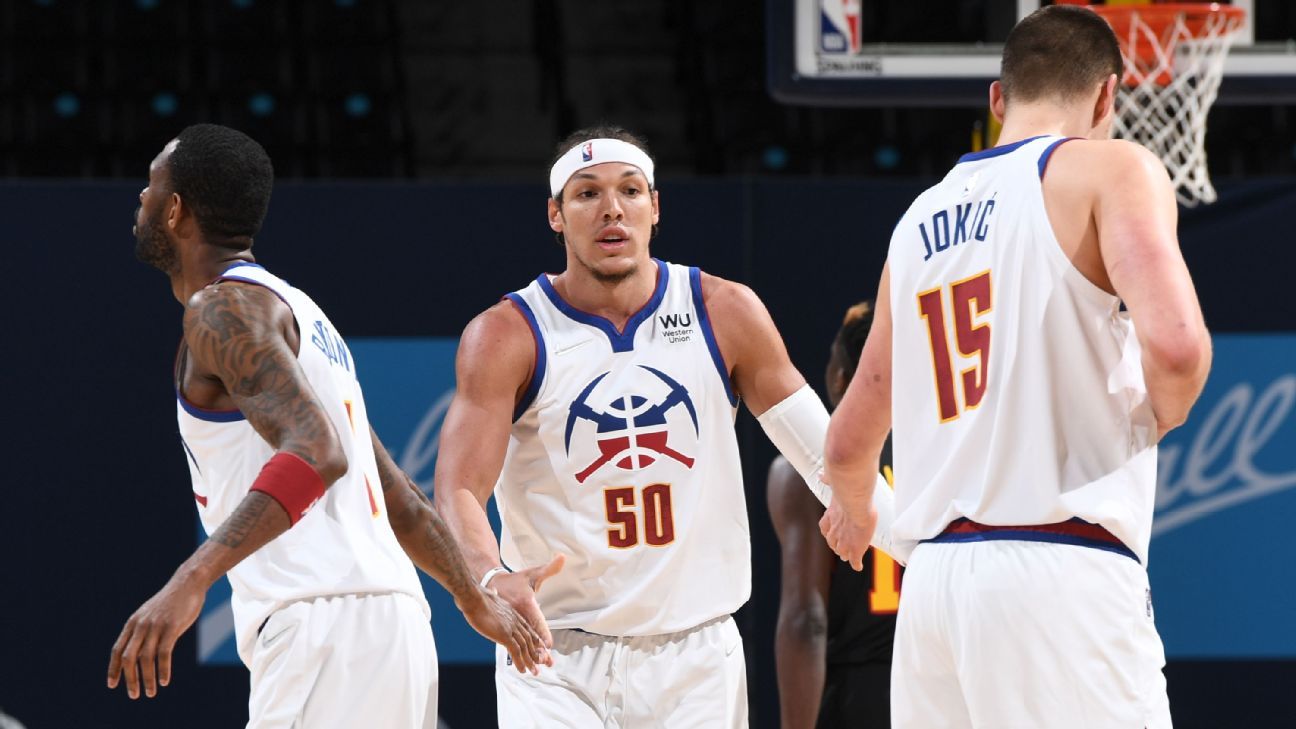 Make that five wins in a row now for the Denver Nuggets after coming back from an 18-point deficit to the Orlando Magic Sunday night. It wasn't pretty but Aaron Gordon's 24 points lit a spark the Nuggets desperately needed to close out the game and win 119-109. 
"That first half was our worst half this season," Michael Malone said. "It wasn't who we've been and we've stayed true to who we've been lately for us to be 13-3. They came out and played much harder than us." 
The Nuggets have shown us a little bit of everything this season and it's a testament to who they are as a team. We've seen some blow out wins, we've seen them pull out some close games down the stretch, we've seen them give up big leads in the third quarter and hang on to win it and tonight we saw them have to battle back after being down by 18. 
"It was just effort," Monté Morris said. "At this level you can't just show up. You got to definitely come with more effort. We weren't playing Nuggets basketball. We were stagnant and we weren't defending. When we defend, rebound and run can't nobody in the league guard us. But we got back to that in the second half."
Morris was finally back on the floor after missing 11 games due to a quad injury. This was the first time he played with Aaron Gordon.
"I was just wanting to come in and just bring energy," Morris said. "I wasn't really knowing what to expect. They were rolling so good and then I'm like man, I come back and we down by 20. I was kind of disappointed in that but we turned it around…We kept it going. I'm excited. We're a very deep and tough basketball team and we find ways." 
Gordon had his best night as a Denver Nugget scoring a team high 24 points on 77 percent shooting from the field. He got things going against his former team scoring the Nuggets' first 12 points but playing against his former team has no impact on him whatsoever. All he wanted to do was win. 
"The only thing that was on my mind was winning," Gordon said. "Come out here and do my job, take care of business and come out with a win. That helps me focus."
The rest of the Nuggets struggled scoring in the first quarter shooting 39 percent from the field and 29 percent from three. They also struggled on the defensive end allowing the Magic to score at a high clip, 48 percent from the field and 56 percent from three. Former Nugget RJ Hampton scored 7 points.
The second quarter got worse as the Nuggets shooting struggles continued. They went 8 of 20 from the field and 2 of 8 from long range while Orlando stayed shooting the lights out going 15 of 23 from the field. Denver went on a nice 13-4 run but the Magic responded with an 11-0 run over the last 2 minutes to close the first half 65-47. 
Jamal Murray opened the third quarter with 5 quick points and Gordon and Nikola Jokić started to get things going, too. Gordon doing what he does, cutting to the basket and Jokić finding him for two straight baskets. They went on a 10-3 run. 
"On the floor I'm starting to figure out what he wants from us," Gordon said of Jokić. "Offensively, spacing wise and cutting wise and defensively. He's a winner. He's serious about the game and I appreciate that." 
Midway through the third, Gordon came up big on the defensive end with a block leading to fast break. He passed the ball to Jokić who passed it back to Gordon for an easy bucket to cut Magic's lead to 8. Jokić had 8 of his 16 assists in the third quarter and recorded his 43rd double-double of the season. He finished the night with 17 points, 8 rebounds and 16 assists. 
The Nuggets took a one point lead in the third but were down 86-85 going into the fourth quarter. 
It was a collective effort to close out the game. Will Barton scored 8 of his 15 points and hit a couple big shots including a three. Murray turned it up too hitting a three pointer to give the Nuggets their biggest lead of the game. He finished the night with 22 points, 5 rebounds and 4 assists. 
Denver outscored Orlando 72-44 in the second half and out-rebounded them 27 to 16 to win four straight. Half of Denver points scored in the second half was all in the paint.
The Nuggets have moved up in the standings to fourth place with a 31-18 record and are scheduled to play their next 4 games at home.