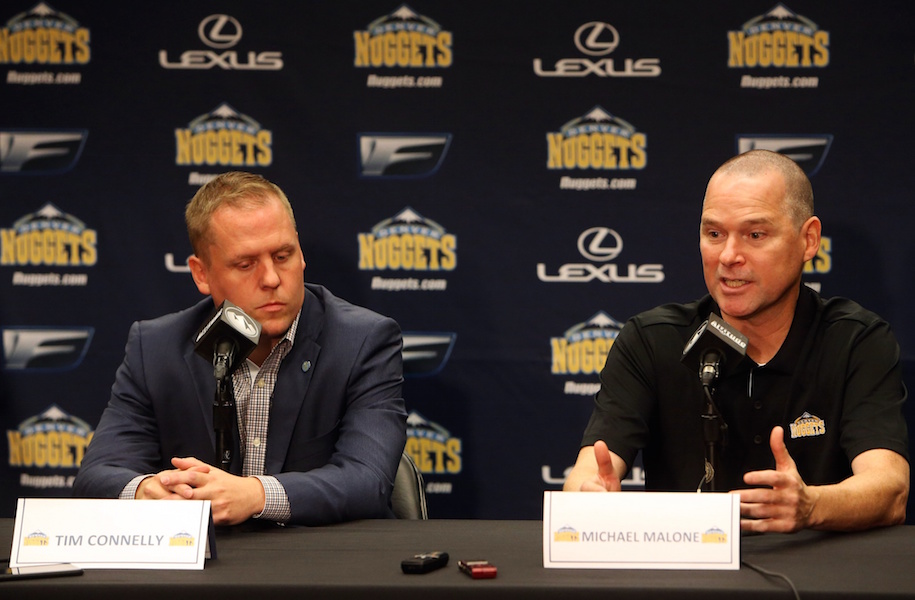 Everything in the NBA is scripted.
So it goes.
America's most-predictable sport stayed horribly predictable on Tuesday night, as for the 15th time in Nuggets history the NBA Draft Lottery did them absolutely no favors.
Denver will pick No. 13 in next month's draft, which it didn't take a genius to see coming.
Yes, the odds weren't in the franchise's favor this year, with just a 0.6 percent chance to pick No. 1 and a 2.2 percent chance to pick in the top-3, but man this is getting old.
Ping pong balls and the Nuggets go together like lamb and tuna fish. It's a horrible combo.
At some point – some freakin' point – one would have to think a ball bounces the team's way. But it won't be in 2017. Let's hope it's not in 2018, as well. A playoff berth and no lottery appearance is the next logical step.
There will be plenty of time in the next six weeks to debate who the Nuggets should take with No. 13 overall. In all likelihood, it will be a guy who doesn't see the floor much next season. There isn't much playing time up for grabs.
And that's where the focus must now shift for GM Tim Connelly and his staff.
Who's on this team next year? Who makes the rotation? Who can Denver rely on to take the next step?
We can start with the obvious ones.
Nikola Jokic, Gary Harris and Jamal Murray are the team's core. All three will be huge pieces this upcoming season.
After that it's some combination of Will Barton, Kenneth Faried, Emmanuel Mudiay, Mason Plumlee, Wilson Chandler, Will Barton, Juancho Hernangomez, Malik Beasley and the likely-free-agent-to-be Danilo Gallinari.
Count 'em up – that's 12 guys. It might be three or four too many.
Who stays and who goes is a better question for Connelly than anyone else, but the Nuggets' most glaring problem this past year was a funky one.
Head coach Michael Malone had too many pieces to try to fit into the puzzle.
The No. 1 priority this offseason should be making Malone's life easier.
On nights when Denver was missing two to four key pieces, it frankly seemed like the team was crisper. When the rotation was obvious, the Nuggets played better.
The bigger problems came on nights when everyone was available for Malone to put in the game. He had too many choices; too many guys to try to make happy.
That's not a knock on Malone; a lot of these guys are worthy of being in an NBA rotation. But as they say: Sometimes you can have too many cooks in the kitchen.
A variety of solutions should be in play, the most obvious being trying to flip four or five of their pieces into a superstar. That's easier said than done, but you have to think Connelly will have plenty of conversations with the Bulls and Pacers about Jimmy Butler and Paul George, respectively.
After that, it's more of an ultimatum. Connelly and Malone might have some very tough conversations this offseason, but letting some veterans know their playing time is going to be slashed could be the best option. It's easier to have that chat in July than it is in October; it's clearly an option.
Finally, the Nuggets could settle for a handful of moves they don't get enough value in return for, but maybe a change of scenery isn't the worst thing for some of the veterans. Going ultra-young, with guys who know they're bench-warmers, might be a last-ditch but not entirely undesirable option.
Regardless of whether Connelly decides to go route A, B or C, the Draft Lottery was the last step needed before the team could finalize how to attack this crucial offseason.
Once again, the ping pong balls did the Nuggets no favors.
It's another predictable result, but every year becomes increasingly frustrating.
If Denver wants to win a title some point in the next decade they're going to have to flip the script on America's most predictable sport.
It didn't happen on Tuesday night, but most movies have a twist at some point.
Let's hope the Nuggets are the ones who eventually throw a wrench in the plot.