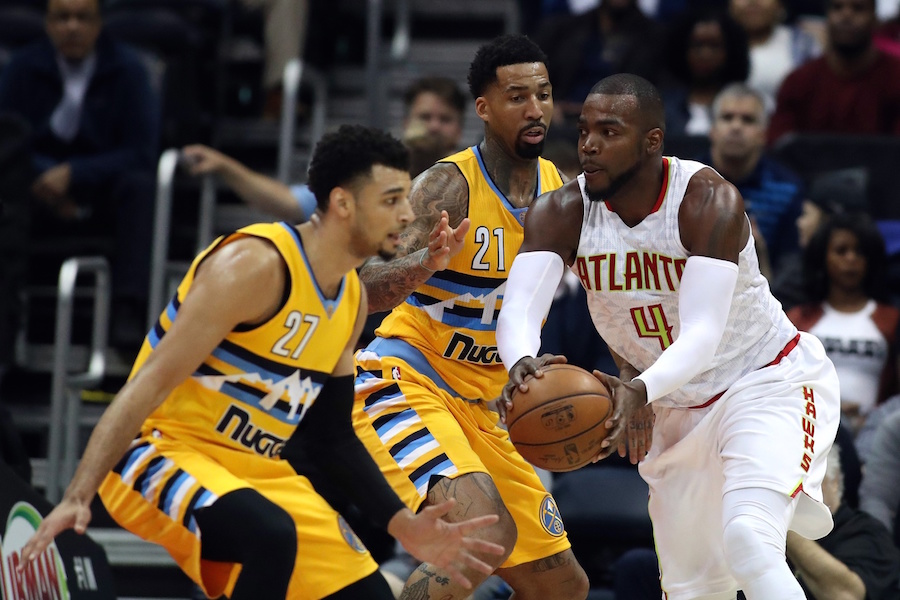 After a reported three-way trade between Denver, Los Angeles (Clippers) and Atlanta, the Nuggets are now without last season's leading scorer, Danilo Gallinari. With Paul Millsap on his way to Denver via free agency the question is who will step up now that Gallinari is gone and will the new big man inside step on any toes when it comes to playing time?
Gallinari averaged 18.2 points per game in over 31.1 minutes during the 2016-17 season and 16.2 over parts of six seasons with the team. Though his game wasn't super flashy, he could play the wing or small forward spot and stretched the floor with his 3-point shooting ability, plus Nikola Jokic was happy inside and Wilson Chandler had the forward position on lock.
With Paul Millsap joining the team it changes the whole dynamic of player positions. Millsap is at his best when he plays his game – using his big, strong build to get to the rim, grab rebounds and finish inside. Nikola Jokic, who played center last year, may have to be bumped outside more due to Millsap's aggressiveness inside or if the Nuggets want to use Millsap as an undersized center. Jokic averaged 16.7 points and 9.8 rebounds on an average of 27.9 minutes per game last year. He will have to stretch out more and work on his perimeter game if he's going to share the floor with Millsap.
If the Nuggets do decide to try to move Jokic outside more, forward Wilson Chandler, who averaged 15.7 points per game and 6.5 rebounds per game on an average of 30.9 minutes, could see his minutes diminish or he could be asked to move into more of a wing scoring role like Gallinari filled.
The Nuggets are set when it comes to inside play. What remains to be seen is who can replace Gallinari's offense on the perimeter.
Chandler is the logical first choice, as a veteran who can play both forward positions and shoots well from the outside. Chandler hasn't alway been the happiest camper in Denver, but as it stands right now, there's now indication that the Nuggets are planning to move him.
Assuming he sticks around, there will be a slight dropoff with Chandler in 3-point shooting, as Gallinari shot .389 from beyond the arc last season while Chandler averaged .337 on the year. Chandler is more efficient on mid-range jumpers, however, shooting .527 inside the arc to Gallinari's .491.
Last season Chandler ranked second behind Gallinari in 3-point attempts per game, so increased looks could improve his percentage from the outside.
Head coach Michael Malone will also have outside shooting options with two second-year guards in Jamal Murray and Malik Beasley.
Murray spent time at both the shooting and point guard positions in 2016-17, preferring to be a ball handler. His 4.2 3-point attempts per game ranked fourth on the team last year as a rookie, but his 1.4 makes ranked sixth. Both numbers should climb in his second season.
Beasley saw only limited time with the Nuggets last year, logging the majority of his minutes with the Sky Force in the D-League, but he did show signs that he can be shooting threat the Nuggets drafted him out of Florida State to be. On back-to-back nights in April, Beasley put up 16 and 17 points – both career highs – in wins over Dallas and Oklahoma City.
The player on Denver's roster who perhaps most resembles Gallinari's game is Juancho Hernangomez. The second-year Spanish forward showed flashes last season that he could take over a game in the way Gallinari has been known to do. His coming out party was a 27-point effort in a win over the eventual NBA Champion Golden State Warriors in February.
Hernangomez will have to improve his consistency, however, and continue to get stronger if he's going to step into the Gallinari role down the road. In 62 games last season, he scored in double figures just seven times.
Even with Gallinari's departure, Denver has more forwards than they can put on the floor. Jokic, Millsap and Chandler will demand the lion's share of minutes, with draft-night addition Trey Lyles expected to contribute on the second team. Hernangomez has proved worthy of more minutes, but if he wants to take them from the four players ahead of him on the depth chart he'll have to do it by putting the ball in the basket more consistently.