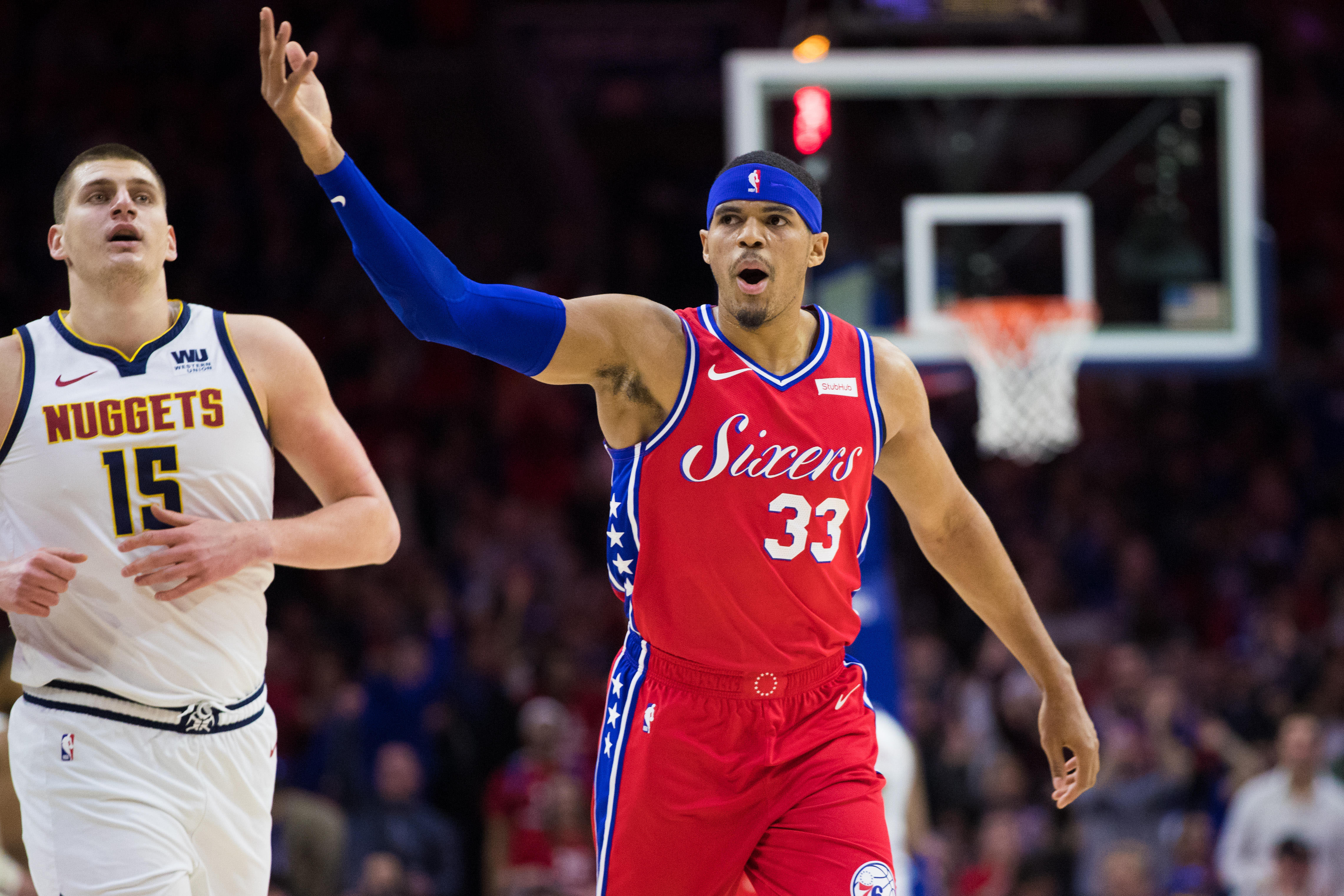 As Zach Lowe of ESPN brilliantly said, the NBA's "silly season" has arrived.
For the majority of the pre-agency period, the Denver Nuggets have not been active players in the public eye. Denver is the type of organization that would rather work in silence, but the lack of the Nuggets being mentioned in trade talks and free agency signings is a bit perplexing.
On Thursday morning, that silence was broken. Ric Bucher of Bleacher Report reported the Denver Nuggets have interest in signing Tobias Harris who is an unrestricted free agent.
Shams Charania of The Athletic was first on the report. According to Charania, there are many teams vying for Harris in free agency. The Brooklyn Nets, Dallas, Denver, Memphis Grizzlies, Minnesota Timberwolves, New Orleans Pelicans, and Sacramento Kings are expected to also express interest.
The idea of Denver finding a way to sign Harris has a ton of moving parts, so let's take things step by step.
First and foremost, what will Harris command in free agency and why is he leaning towards leaving the Philadelphia 76ers? Well, this excerpt from Bucher's piece sums that up nicely.
"Tobias Harris, league sources said, is being offered less than a max contract by the Philadelphia 76ers, giving both the Dallas Mavericks and Denver Nuggets hope they can swoop in and lure him away," Bucher reported.
From Bucher's report, it is clear that Harris not being offered a full max contract is what has led to his frustration with the 76ers. It is also why teams like the Nuggets and the Dallas Mavericks now have an opportunity to court him.
So with that being said, it looks like Harris wants his full max contract which would end up being a four-year contract with $140.6 million if he signed with any team other than the 76ers, who can offer him a larger five-year deal worth a total of $189.7 million.
That leaves Denver in a complicated situation. If they truly want to find a way to bring Harris' talents to the Mile High City they would need to do quite a bit of work to clear enough cap space to do so under the CBA rules.
First and foremost, the Nuggets would have to decline Paul Millsap's team option and renounce the cap holds for Trey Lyles, Tyler Lydon and Isaiah Thomas. Those four moves would open up just over $17 million in cap space, but that is still a far cry from the $32.7 million in cap space that Denver would need to offer Harris a max contract.
So how would Denver open the remaining $15.7 million in cap space? Well, that is much easier said than done.
Even if the Nuggets traded one of Mason Plumlee or Will Barton without taking back any salary, they would not open up a full max contract slot. Denver would have to also move one of Juancho Hernangomez, Malik Beasley, or Torrey Craig in addition to Plumlee or Barton and still find a way to avoid taking back any salary. That is highly unlikely regardless of how fantastic Tim Connelly is as the president of basketball operations for the Nuggets.
One route Denver could take is trading both Barton and Plumlee — in addition to declining Millsap's team option and renouncing all cap holds — which would in turn open up abut $43.9 million in cap space, but that is an absurd amount of upheaval to only have a shot at acquiring Harris.
There is no doubting how much more dangerous Denver's already explosive offense would become by adding Harris to the mix, but the Nuggets are going to have to ask themselves how much upheaval and roster reconfiguration is worth bringing him to Denver. Letting go of all three of Plumlee, Barton and Millsap would be an incredibly tough pill to swallow for Denver.
Listen to the newest Denver Nuggets Daily Podcast for an audio version of the pre-agency madness happening around the league.