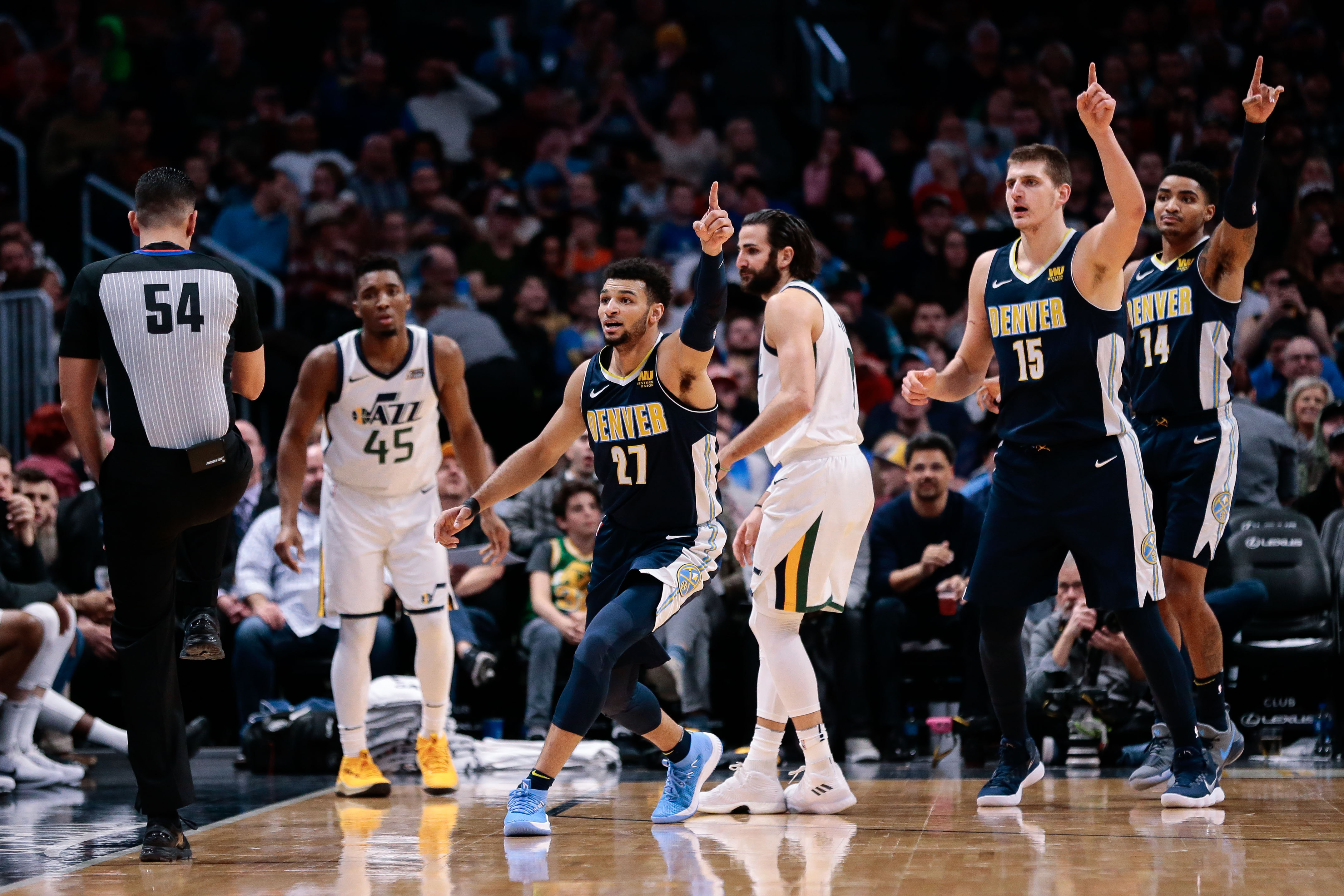 The 2018 NBA Draft order will be set Tuesday when the league holds its annual draft lottery. With that, there is a sense of hope for the future.
For the Denver Nuggets, while there is hope, there is also a strong chance that their pick stays as the 14th selection. Regardless, the scribes at Mile High Sports come together to speak on Donovan Mitchell, the draft, and other areas Denver must take a look at during the offseason.
Did Donovan Mitchell's playoff success bring negative attention to the Nuggets?
Duvalier Johnson: Of course, because it makes for a good story and makes fans think what could have been. But in that same breath, no. The Nuggets weren't the only team that passed on Mitchell. They weren't the only ones that missed on a potential superstar in this league. Plus, if he came to Denver, he probably wouldn't have become the Mitchell that we are seeing now. He would have had to sit behind Gary Harris, Will Barton and potentially Malik Beasley. So instead of putting energy on another player that Denver missed on, it is time to focus on who they do have.
Jeff Morton: The negative attention was already there. The playoffs were just gravy for fans inclined to feel negatively. The success of Mitchell, in terms of what it means optically, was horrible for the Nuggets whether he was going to be their pick or not. That being said, it's nothing a good draft and success next season won't fix.
T.J. McBride: I have to be honest; while Mitchell's success will haunt the Nuggets for the better part of a decade, that is not the correct way to view the situation. After the 2017 NBA Draft, I asked Nuggets' General Manager Arturas Karnisovas if there was any situation where Denver picks another lead guard and he answered with a swift, "no". Mitchell was never going to be in Denver so hypotheticals about 'what-if' should fall on deaf ears.
What are the chances that Denver keeps the 14th pick in the draft?
Dev: I find it hard to believe that Denver keeps the 14th pick with the way that the roster is constructed now. If they do select with that pick, it answers about what happens to Richard Jefferson and what not, but also makes you question how Denver values their young players such as Juancho Hernangomez, Malik Beasley, and Monte Morris. Instead, using the 14th pick to shed salary by attaching it to one of Kenneth Faried, Darrell Arthur, or Wilson Chandler — if he opts into the final year of his deal.
Jeff: I'd say 50/50. The Nuggets have some real hard decisions to make. If they don't see a player who can make an impact immediately at 14, they may choose to go a different direction. This may impact decisions on what to do with Faried as well.
T.J.: As one member of the Nuggets' front office told me, this is a 13-player draft and Denver has pick 14. Unless a player that Denver could be targetting falls to them at 14 (Mikal Bridges, Miles Bridges, Zhaire Smith, or Shai Gilgeous-Alexander for example), it would not surprise me to see Denver use their first-round pick to open up more cap space to be bigger players in free agency.
Does Nikola Jokic get the max contract this summer?
Dev: While it will likely be a boring Nuggets offseason, it will be a very important one as Jokic should get his money. He deserves it and Misko Raznatovic, Jokic's agent, essentially warned Denver to give Jokic the extension. It makes all the more sense for Denver to stop delaying the unavoidable decision to max their Serbian superstar. He is their present and their future.
Jeff: I hope to god he does.
T.J.: If Jokic does not get the max this summer, then there are some massive issues to deal with before the Nuggets get back to being a playoff team. I will leave it at that. Just sign your best player as soon as you can, Denver.
What offseason news do you expect to come first?
Dev: Darrell Arthur inevitably opting into his player option. I mean, come on, it's $7.46 million for a player that only played 141 minutes last season. Who wouldn't opt-in on the final year of Arthur's three-year contract? The only issues are the cap implications for the Nuggets. If for some random reason, Arthur decides to opt-out of the final year of his contract, Denver would gain some much-needed cap space.
Jeff: It all depends on if the Nuggets get to be the luckiest team in basketball history and move up into the top 3 on the night of the draft lottery. If not, I do not expect any 'news' until the draft.
T.J.: Darrell Arthur opting into his player option. That decision seems like a complete no-brainer to me.