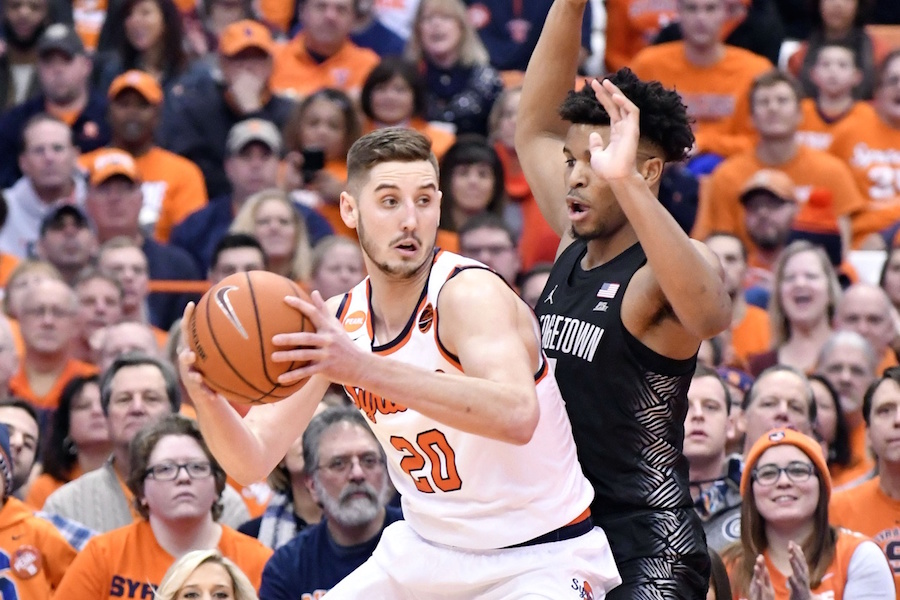 After trading out of the No. 13 pick, the Denver Nuggets made their first selection of the 2017 NBA Draft at No. 24, Syracuse's Tyler Lydon.
Lydon, a 6-foot-9, 223-pound forward, played two seasons with the Orange averaging 33.1 minutes per game and 11.6 points.
Lydon, 21, has spot-up shooting skills, averaging .398 on 3-pointers in his collegiate career.
As you'll see in the highlight reel above, Lydon has the ability to fake defenders off the shot to open up the lane, but has some difficulty finishing at the rim.
He averaged 8.6 rebounds as a sophomore and isn't afraid to do work under the rim, an area Denver struggled last season.
Lydon was a workhorse for Jim Boeheim in his two years at Syracuse, averaging 33.1 minutes per game.
He brings the distribution skills the Nuggets favor, averaging 2.1 assists per game last year for Syracuse. He'll certainly be called upon to do that in greater supply in Denver.
The Orange went 19-15 in Lydon's final season, falling in the second round of the NIT Tournament.
As a freshman he averaged 33 minutes per game, helping lead the Orange to the Final Four where they lost to North Carolina. Lydon played 30 minutes off the bench in that game, scoring eight points.
Lydon does not figure to play a particularly large role in Denver's rotations next year, however, the same was said for a similar type of player drafted last year – Juancho Hernangomez.
Denver did not work out Lydon prior to the draft, although they did work out his teammate, Andrew White III.
Denver traded the 13th pick to the Utah Jazz for Trey Lyles (the No. 12 overall pick in 2015) and the 24th pick. With the 13th pick, Utah selected Donovan Mitchell of Louisville.