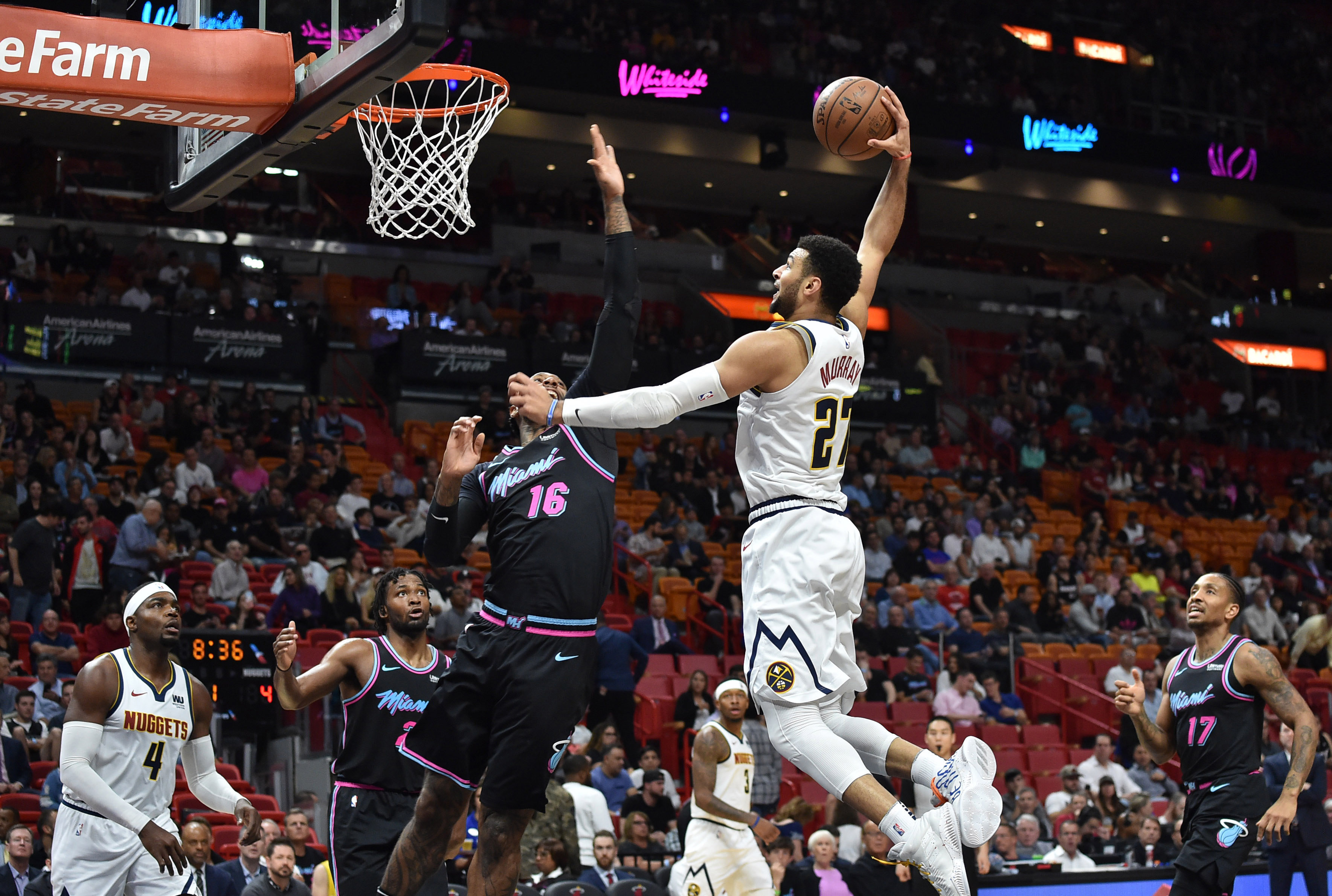 The Denver Nuggets felt like they were finally getting luck back on their side, but after a rough loss to the Houston Rockets and the third injury of the year for Gary Harris, that positivity was short lived. Still, the Nuggets needed to get back to their winning ways and they had to do so on the second night of a back to back in Miami against the Heat.
After 48 grueling minutes of grind-it-out basketball, the Nuggets ended up securing their 27th win of the season in a big road win over the Heat in American Airlines Arena. Denver did not play very well, but their best player, Nikola Jokic, refused to quit and that fight resulted in a 103-99 win in Miami to give them a record of 27-12 while holding onto the first seed in the Western Conference.
In the first quarter, the Nuggets started out cold from the field, but thanks to some stout defense and turnovers by Miami, Denver was able to get out in transition and take an early lead. Then, Nuggets starting point guard Jamal Murray injected his own brand of energy into the game with two massive hammer dunks. Being on the second night of a back to back, Denver was looking for all of the easy baskets they could get their hands on and the Heat allowed them to do exactly that.
Then, Denver went ice cold from the field. Over three minutes passed by without Denver making a field goal, but their defense traveled to Miami. The Nuggets defended at a high level in the first 12 minutes of the game which allowed Denver to utilize an 11-2 run to propel them to a 24-18 lead after the first quarter.
Denver's defense was dominant as they held Miami to just 6-of-23 from the field and 1-of-7 from 3-point range. Even though Denver failed to shoot well from the field, they carried an advantage in nearly every hustle category. Denver had six offensive rebounds, six second-chance points, outscored the Heat 18-to-8 in the paint, and had four more fast break points than Miami after 12 minutes of play.
To begin the second quarter of play, Nuggets head coach Michael Malone elected to give Brandon Goodwin some playing time with Harris out. Unfortunately, as the second quarter began, Denver's energy levels began to slowly dissipate. After a 17-8 run by the Heat, they reclaimed the lead with 4:26 left before halftime.
From that point forward, the Nuggets slowly riddled down Miami's lead. It may not have been pretty — actually, the second quarter was particularly ugly — but Denver found a way to continue battling even on the second night of a back to back.
By the time the halftime buzzer sounded, Denver trailed by just three points even after being outscored 34-25 in the second quarter. The Heat had 22 points in the paint, five second-chance points, and six fast break points in the second quarter alone. At halftime, it became crystal clear that whichever team played with more energy would come away with a win.
The third quarter is when Paul Millsap came alive. The Heat and Nuggets traded 7-0 runs, but once the dust settled, it was Millsap who continued to find ways to produce regardless of circumstance. He had a quick six point burst, continued rebounding with tenacity, and defending an extremely high level as he has over his entire career.
For the final five minutes of the third quarter, the Nuggets scraped and called their way to an eventual tie game heading to the final quarter of play. Torrey Craig hit his third 3-pointer of the game, Murray finally got his first shot from deep to fall, and Jokic added in a big-time triple of his own as Denver did just enough to head to the final quarter of play with a score of 76-76.
Then, out of nowhere, Trey Lyles suddenly became unstoppable in the fourth quarter. He was hitting multiple 3-point shots, rebounding well, attacking mismatches, and was playing great in nearly every facet.
The fourth quarter continued to be a back and forth affair for the rest of regulation. Denver would create an layup and the rim, but then Waiters would hit a pull-up 3-pointer on the other end. Then, Lyles will hit a 3-pointer to answer back just about 12 seconds before the Rockets got yet another big-time shot on the other end.
Eventually, the Heat went on a 12-0 run and Denver was suddenly in the danger zone. They had six minutes left in the game, were playing on the second night of a back to back, and had a six-point deficit to erase on the road in Miami.
Denver managed to close back within two points, but after a couple terrible turnovers, Denver was right back to digging themselves out of an unnecessary hole. Thankfully, Denver had the best player on either team in Jokic, who continued to execute and produce when Denver needed him most.
Jokic, who was flirting with a triple-double all second half, refused to be denied. He continued to battle on the boards, was setting up his teammates, and scoring when Denver needed him to. Jokic's 10th assist of the night, which secured his fourth triple-double of the season, gave Denver a 97-95 lead. From that point forward, Miami continued to keep the game close. The Heat tied the game with a layup with 22 seconds left, but Jokic would not be denied.
Nikola Jokic took a pass from Murray and hit a floater with just two seconds left on the clock. The Heat had a good look to tie the game, but they turned the ball over as the Nuggets escaped with a massive 103-99 road win. They may have not played a beautiful brand of basketball, but they got the job done.
By the time the final buzzer sounded, Nikola Jokic led Denver with 29 points, 11 rebounds, and 10 assists in 40 minutes on 11-of-21 shooting from the field. Jamal Murray also was a big contributor as he finished with 18 points, four rebounds, and six assists on 7-of-19 shooting. Off the bench, Trey Lyles' had a bounce-back game and finished with 15 points on 6-of-8 shooting. Torrey Craig also had an incredible performance with a career-high 16 rebounds — six of them on the offensive glass — to go with 11 points and four assists.
Next, the Nuggets will head back to Denver to take on the Los Angeles Clippers on Thursday night in the friendly confines of the Pepsi Center in what will be an important game for both teams in their battle for playoff positioning. Denver and the Clippers have split the season series so far with a win a piece.