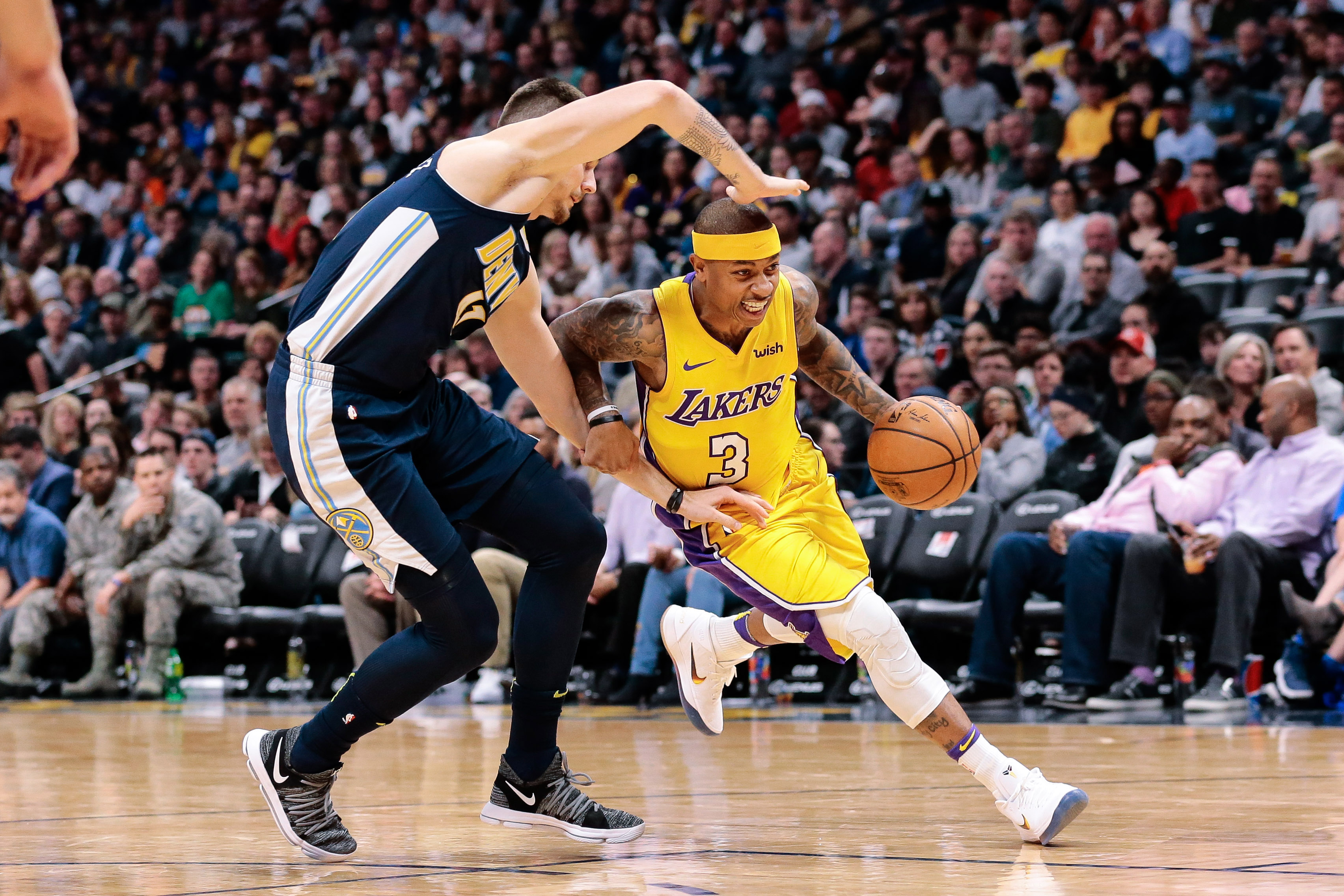 As Thursday, July 12th came to a close, the Denver Nuggets had an ace up their sleeve that they were finally ready to play. The Nuggets managed to sign two-time All-Star and 2016-17 All-NBA point guard Isaiah Thomas to a veteran-minimum contract that is worth just $2 million for one season.
It is hard finding a better fit for Thomas, or for the Nuggets, all things considered. Thomas needed a team where he could bounce back and rebuild his value and Denver needed to fill their currently voided backup point guard role. The pairing of Thomas and the Nuggets seems fantastic any way you slice it.
Nuggets sign Isaiah Thomas to a veteran-minimum contract for one year worth $2 million
Grade: A
Denver to filling the vacated backup point guard role with Thomas is already a win, but to get him to sign for a minimum contract is an absolute steal. Now, Thomas can destroy second units for Denver — something that they will need now that Will Barton is slated to enter the starting lineup — while also proving that he can still be an impactful offensive player without hurting the Nuggets short or long term financial flexibility. When also considering that Thomas and Nuggets head coach Michael Malone have a great relationship going back to their time together with the Sacramento Kings, it seems like the signing couldn't have been any better, which is why this deal gets a high grade of an A.
Thomas' ideal fit with Denver
The most exciting part of the signing is that Thomas is walking into a Nuggets team that is in need of not just a backup point guard, but a point guard who can score the ball at will while also making plays for others — off the bench or with the starters. While starting point guard Jamal Murray can also do a lot of these things, having another guard who can break down defenses makes the Nuggets offense that much more deadly.
Thomas can do pretty much anything needed on the offensive side of the ball, and that is exactly what the Nuggets' bench needs from him. Even better is that, according to Adrian Wojnarowski of ESPN, the Nuggets have already been in contact with Thomas about what role they see him playing — a role off of the bench. The idea of Thomas starting over Murray is not factual. Take this excerpt from Wojnarowski's article on Thomas signing with the Nuggets:
"Malone is planning for Thomas, rehabbing from hip surgery, to play a significant scoring and playmaking role off Denver's bench. Malone coached Thomas with the Sacramento Kings in 2013-14 and has been enthusiastic about incorporating him into the Nuggets."
What is notable from that expert — other than the fact that Murray will be the starting point guard of the Nuggets — is that Malone sees Thomas as more than just a serviceable backup point guard. It is not hard to see the Nuggets abandon their point of attack defense entirely and play Thomas with any mixture of Murray, Barton, or Gary Harris as well as off of the bench alongside Malik Beasley at any given time. He will not start at either guard spot, but it would not be surprising to see him play alongside some of the starters from time to time. Thomas' ability to play on and off the ball makes him easily inserted into any lineup from an offensive point of view.
In addition to being able to fit with really any lineup offensively, Thomas also has the ability to take over the bench unit himself at any moment. When healthy, Thomas was an elite isolation scorer and was a maestro as the ball handler in the pick and roll. Having Mason Plumlee rolling to the rim with the shooting of some combination of Trey Lyles, Malik Beasley, Torrey Craig, or Juancho Hernangomez flanking him, Thomas has a lineup that he can potentially produce at a high level with.
Bang for the buck
Outside of the Golden State Warriors signing DeMarcus Cousins for a one-year deal with $5.3 million, it is hard to find a better bang-for-the-buck signing than the Nuggets getting Thomas on a one-year, veteran-minimum deal worth just $2 million — and this deal has the potential to help Thomas and not just the Nuggets.
Denver is obviously ecstatic to get a player of Thomas' caliber without hurting their short or long term financially flexibility, but Thomas now has his own opportunity to make a quick $2 million while playing a large role for a Nuggets team that has a 'playoff or bust' mentality. That is what makes this a mutually advantageous role for both the Nuggets and Thomas. If Thomas can produce well, stay healthy, and help the Nuggets snap their five-year playoff drought, there will be a bigger and longer contract waiting for him next offseason.
If there is one thing that Thomas has done throughout his career, it is bet on himself. This is just another opportunity for him to do so which also means that the Nuggets will likely be getting a highly-motivated Thomas joining their roster.
Relationship with Michael Malone
It was surprising to see Thomas sign for a minimum contact, but what likely made him feel better about the deal is that he is now able to reunite with his former head caoch Michael Malone, who was the head coach of the Sacramento Kings with Thomas was there. When Malone was asked about Thomas when the Lakers played the Nuggets in Denver, he could not contain the adoration he has for Thomas.
"I saw a young man who had a huge, huge heart," Malone said when asked about his thoughts of Thomas from when he coached him. "A tremendous work ethic, a gym rat, a true student of the game, and a guy that you could never bet against him. He was always about having to prove everybody wrong. We had a great relationship. He played unbelievable basketball for me in that one year in Sac."
Now, Malone and Thomas are reunited. They really are two people who see life very similarly. Neither Thomas or Malone would ever back away from a fight. Both Thomas and Malone make it a point to prove people wrong. Both Thomas and Malone carry a sizable chip on their shoulder. They each believe in empowering individualism and that has become the over-arching thought process of their relationship.
"I believed in him and I didn't think it was fair to try to ask him to be something he's not; just like I don't think it's fair for somebody to ask that any of us," Malone explained. "We all have to be true to ourselves. I saw that in Isaiah and allowed him to do that. I think that's why we hit it off."
Now, Thomas will have the opportunity to do exactly what he does once again — get buckets. Malone has already empowered Thomas to be himself before he ever received the fifth-most votes in the 2016-17 NBA MVP race and became an All-NBA point guard. Now, with Thomas looking to once again prove himself, there could not be a better coach for him than Malone.