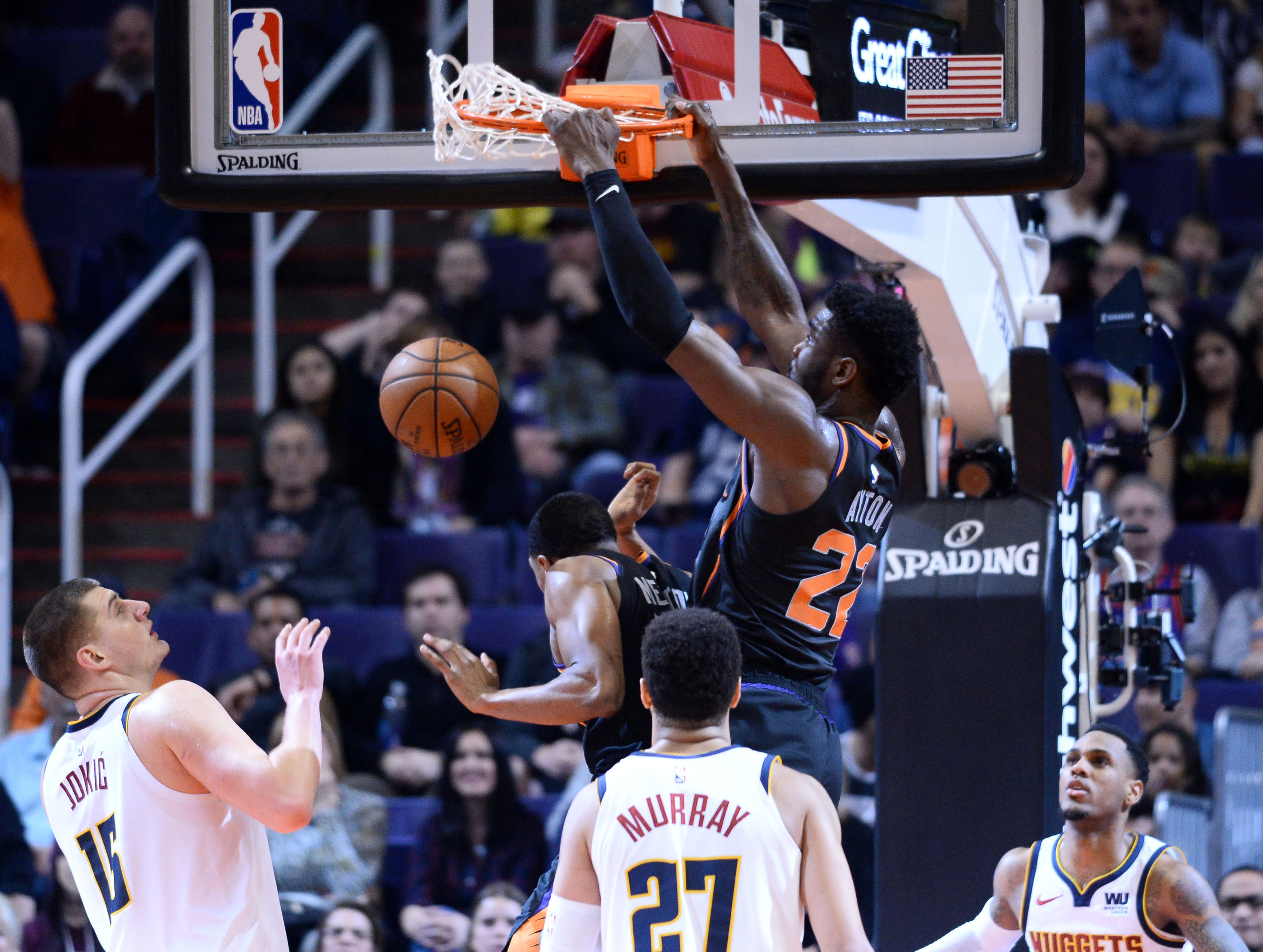 Coming into tonight having won 11 of their last 14 games, the Denver Nuggets suffered a bit of a speed bump Saturday night in a 102-93 loss to the Phoenix Suns.
With the loss, Denver's record now sits at 28-13, which is still good for a half game lead over Golden State for first place in the Western Conference. After winning two games against Phoenix earlier this year, the Nuggets will look to win the season series at home on January 25th in the two teams final matchup this year.
After a solid victory over the Los Angeles Clippers on Thursday night, Denver came into Phoenix looking to start a back-to-back off right. With a tough matchup against Portland looming on Sunday, walking out of Phoenix with a win was big to keep the momentum on Denver's side. The game would not start out great for the Nuggets though as they trailed 31-23 after a sluggish first quarter.
The opening quarter was highlighted by Denver committing too many turnovers and Phoenix playing with a ton of energy. Having lost to the Nuggets twice this season already, it clear the Suns were looking for a little revenge on Saturday night. That only continued into the second quarter as Phoenix won that period 29-24 to give themselves a 60-47 lead at the break.
Turnovers was the story of Denver's first half as they committed 13 of them, while combating that with zero second chance points. For a team that is usually great at creating extra opportunities, it was imperative that the Nuggets did more of that in half number two.
With a 13-point deficit to overcome in the second half, Denver came out of the gates firing with the hopes of giving themselves a chance heading into the final period of play. But, even though they battled for most of the third quarter, Denver could not put a dent in their deficit as they trailed 81-69 heading into the final 12 minutes of regulation.
Denver would end up winning the third quarter 22-21, but the Nuggets still had not scored more than 24 points in a period as their offense was sorely lacking. Through three quarters, the Nuggets only had two players in double-figures (Nikola Jokic 15, Malik Beasley 18). Denver certainly needed someone to step up if they were going to walk out of Phoenix with a victory, which is where their newest addition to the lineup — Will Barton — looked to give them a spark.
After missing almost three months because of injury, Barton returned to action Saturday night in his first game back since October 20th. Barton came off the bench for Denver and immediately made his impact known with six points through three quarters. Just like the rest of the team though, Barton struggled shooting the ball as he shot just 2-of-10 from the field in his 15 minutes of action.
With Barton and the rest of Denver's team struggling to score the ball, Phoenix still held a commanding 86-73 lead with 8:45 left in the game. At this point in the game, Nuggets head coach Michael Malone immediately subbed in his starters with the hopes of it mounting a comeback. It was not till a Jokic and-1 floater that Denver finally had some hope as they trailed 91-80 with 5:43 remaining in the fourth quarter. The very next offensive possession for Denver was another big bucket as Jokic hit a three-quarter to cut the Nuggets deficit down to eight with just over five minutes remaining.
Even with all the momentum on their side, Denver was still unable to catch up as the Suns just could not miss. The Nuggets continued to score the ball, but so did Phoenix as Denver's deficit sat at nine with 1:43 left in the game. The hole Denver built through the first three quarters was just to much to overcome in the end as Phoenix was able to hang on to win 102-93 over the Nuggets.
Stat leaders for the Nuggets were Jokic, who had a solid night finishing a double-double of 23 points and 10 rebounds to go along with his four asssits. Beasley also had a big night for Denver with 23 points on 8-of-14 shooting from the field to go along with his five three-pointers.
The Nuggets now have a quick turnaround as they welcome the Portland Trail Blazers into the Pepsi Center tomorrow night.