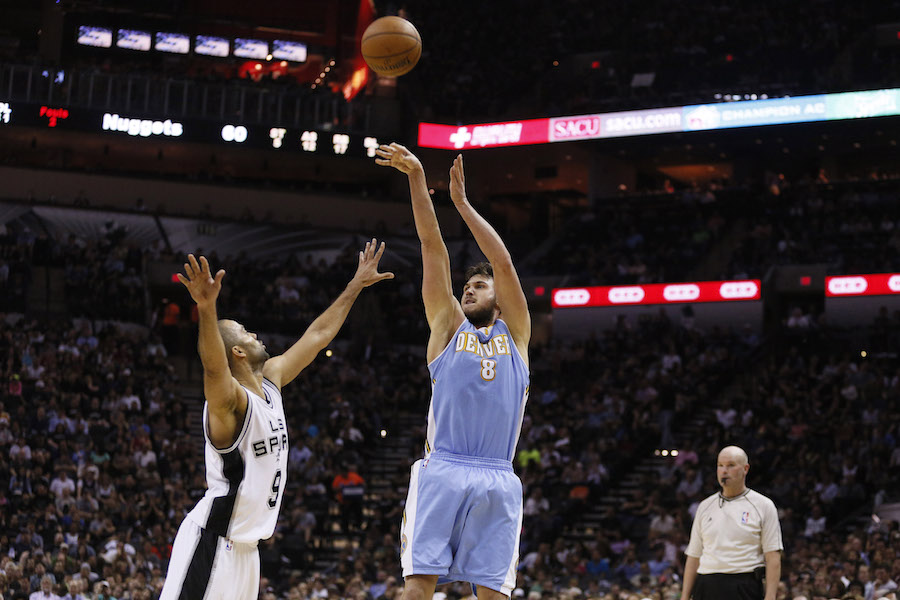 Fresh off a 17-point win against the Anthony Davis-less New Orleans Pelicans, the Denver Nuggets dropped the second half of a back-to-back, falling 109-98 in San Antonio on Wednesday. In the game at New Orleans, four Nuggets starters scored in double digits.
Few people expected the Nuggets to pick up in San Antonio, including our Nuggets writer Fred Dreier, but Denver managed to hang around with the Spurs, forcing Gregg Popovich to use Tony Parker, LaMarcus Aldridge and Kawhi Leonard for 30-plus minutes each and Tim Duncan for more than 25.
Still, in the 11-point loss, Denver might have had a chance at a rare road victory in San Antonio if their starters had contributed even 25 percent more than they did on the night.
The Nosebleed Section on Mile High Sports AM 1340 was live postgame and had some immediate reaction and disturbing stats from the contest.
Chris DeHart-Reed was quick to point out that five different Nuggets players shot below 20 percent on the night, including the team's leading scorer through 12 games, Danilo Gallinari. Gallo was just 2-for-9 on the night with nine points. Among the starters, only Kenneth Faried and Gary Harris scored in double digits, each with 15 points. San Antonio, meanwhile, had four starters score 10 or more, and two scored 20 or more (Leonard and Parker).
Nikola Jokic had his best game as a pro in the loss, posting 23 points and 12 rebounds – both career highs. Dante DeMarco (aka Raider Dan) was thoroughly impressed with the effort from Jokic, but blames the loss on Gallo not showing up to play.
"If you can get half that production from [Jokic] nightly, and get Will Barton to show up – and Gallo – you've got a pretty formidable team," he said. That's a team that could compete with San Antonio on their home court, not to mention other playoff caliber teams in the Western Conference.
If the Nuggets hope to compete for a seven or eight seed in the Western Conference, they're going to need better than 2-for-9 efforts from Gallo and 2-for-10 outputs from J.J. Hickson against top teams like the Spurs.
Had the starters increased their overall production (50 points) by 25 percent, Denver might have walked away with a one- to two-point win instead of a double-digit loss.
Listen to the full discussion on the Nuggets starters, including a more in-depth look at what Gallinari needs to do moving forward, in the podcast below…
Catch The Nosebleed Section every weeknight from 10p-midnight on Mile High Sports AM 1340 or stream live any time for the best local coverage of what's new and what's next in Colorado sports.