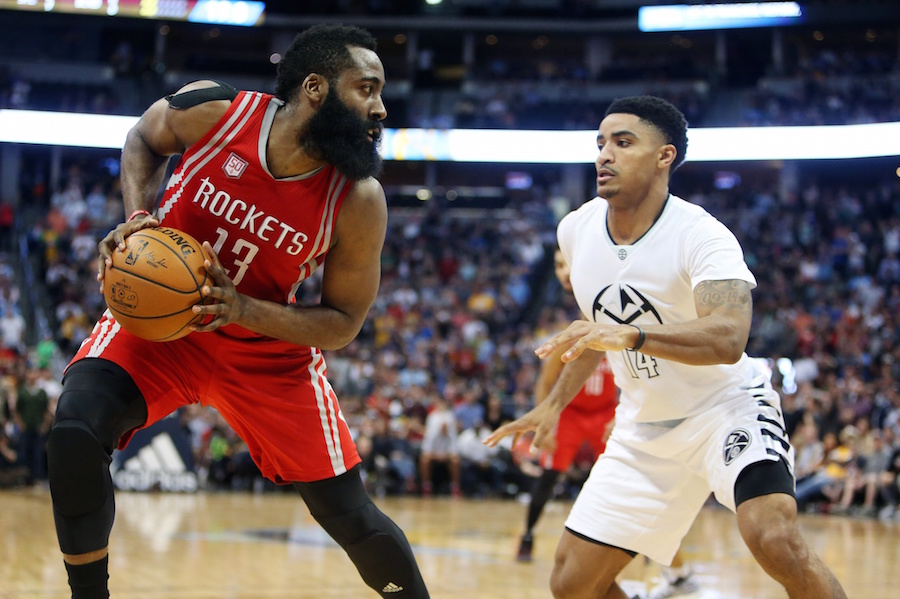 After Denver's hard-fought 109-105 loss to the Houston Rockets Saturday night, head coach Michael Malone said all you need to know about the Nuggets – their present, and perhaps more importantly, their future.
Mile High Sports' Ronnie Kohrt asked the postgame scrum's most revealing question: "In the final huddle, was there any player who requested the ball, knowing that this was the moment?"
In other words, Coach, who's the guy?
In a game like the one against the Rockets, a bona fide playoff team with big-time talent, someone has to step up when the game is there for the taking. Make no mistake, the Nuggets played a solid game, they really did. They're a good team that's on the rise. There are plenty of things to "like" about Saturday night's effort against the Rockets. Still though, that someone didn't surface when a win was there for the taking.
Said Malone: "No. We didn't have anybody, you know, 'Hey, Larry Bird… Coach, give me the damn ball.' We have a bunch of guys that can all make plays and they all share in that. So, we didn't have anybody step up and say, 'Give me the ball, Coach.' I know everybody is ready, willing and able to if they're called upon."
Translation: The Nuggets don't have a closer.
In fact, they haven't in quite some time, and consequently, they haven't been to the postseason, or done well upon arrival, in quite some time. As Kohrt accurately pointed out in his postgame story, the best teams in the Western Conference all have "that guy."
Saturday night was a prime example. While Malone can cite various factors as to where, when and how the Nuggets came up short – and they're all correct for the most part – the most accurate, and most telling factor is pretty damn simple: James Harden. The Rockets have him. The Nuggets don't.
That's how simple it is in the NBA. If your team has a legitimate closer, a guy "like Larry Bird" who wants the ball and knows exactly what to do with it when the game is on the line, chances are, you're winning a lot of basketball games – especially the ones that come down to the wire. On the flip side, if your team has a lot of solid players, all basically equal in ability and "pecking order" (i.e. the Nuggets) you're probably winning a lot of quarters, not games. Saturday night, the Nuggets took two quarters and tied the first. Houston won the game. Houston has 48 wins on the season; Denver has 33.
The argument could be made that Denver's starting five, collectively, is better than Houston's. There might be debate about that, but for the sake of argument, it's fair to say it's close. The difference is still just that one player, a closer like Harden. And when two teams constructed the way these two are meet, the team with the guy generally wins.
The Nuggets are on their way. They're building. They've got youth and potential. But the question must be asked – if, that is, the Nuggets want to be true contenders – who is, or who will be, the closer?
A quick scroll down the roster…
Danilo Gallinari. For years now, the Nuggets have believed (or hoped) that Gallo might be that guy. He's a good player, but whether it be because of injury or simply the way he's wired, he's just not a cold-blooded killer when it comes to putting teams away when the opportunity exists. He'll always have a role here or elsewhere, but "closer" won't be it.
Wilson Chandler. Like Gallo, Chandler has the tools. In fact, he's the most gifted Nugget of all. But, unfortunately, he's not wired to be the guy either. If he was, the West would be in trouble.
Nikola Jokic. This is an interesting dilemma. Jokic is the Nuggets' best player – that's indisputable at the moment. He's got it all – touch, vision, intelligence, size. But the question must be asked: Are there any big men in the current NBA who are true closers? DeMarcus Cousins? Maybe. He's got the skills and the mindset, but prior to being traded to New Orleans, he never quite got the Kings over the hump (then again, they were poorly constructed from top to bottom). Karl-Anthony Towns? He's an undeniable force, but again – Minnesota, even with all that talent – seems to be going nowhere. DeAndre Jordan? Can't hit free throws, can't close games. Point being, no NBA team that's got a shot to win it (see Golden State, Cleveland, San Antonio), relies solely on a big man to be "the guy." Should the Nuggets? You know the answer.
Jamal Murray. He's young and he regularly shows flashes. So the only answer here is a question: Can Murray eventually become that closer that every team covets? Maybe he can. Don't forget, Harden began his career by coming off the bench in OKC for three seasons. As a rookie he averaged 9.9 points in 22.9 minutes per game. Murray currently averages 9.4 points and 20.4 minutes. The biggest difference between the players at the moment is their physical build; Harden has an inch and roughly 25 pounds on Murray, who's of a slighter build.
Gary Harris. Harris is close to Jokic in terms of being the team's best player. He's an excellent, excellent all-around player. Fantastic defensively. Efficient offensively. But he also doesn't necessarily "shine." An uneducated basketball fan would rarely walk into Pepsi Center and instantly identify Harris as the game's best player. That doesn't mean he's not an anchor or vital to the team – he is – but he doesn't quite show the killer instinct of a James Harden.
Juancho Hernangomez. A serious inclusion on the list, you ask? Yes. Very. At just 4.9 points per game currently, it's clear that Hernangomez is not anywhere close to being "the guy" at the moment. But he's also doing that averaging just 13.9 minutes per game in an anything but consistent role. But he has certainly shown flashes of being a very, very good player when given the opportunity. Saturday night was a prime example. Given the starting nod and 28 minutes to work with, Hernangomez turned in 15 points on 56 percent shooting. Not bad for a rookie who hasn't been handed the reins very often this season. In sum, he's not a closer yet, but it's possible he could be someday.
Anyone else on the roster isn't really worth mentioning in this context.
The exercise reveals how the Nuggets need to approach the end of the season, hopefully the postseason, and the offseason. They're not winning a title, but if by May, they understand a bit more about who may or may not be eventually be the closer, then the season is a success.
From there, it's up to Tim Connelly and Michael Malone to acquire or develop Denver's version of James Harden – someone who actually is like Larry Bird in the sense that everyone in the building knows who's going to get the ball, but can do nothing to stop him after that.
Watch Monday's game at Houston. It will be Harden that makes the difference.