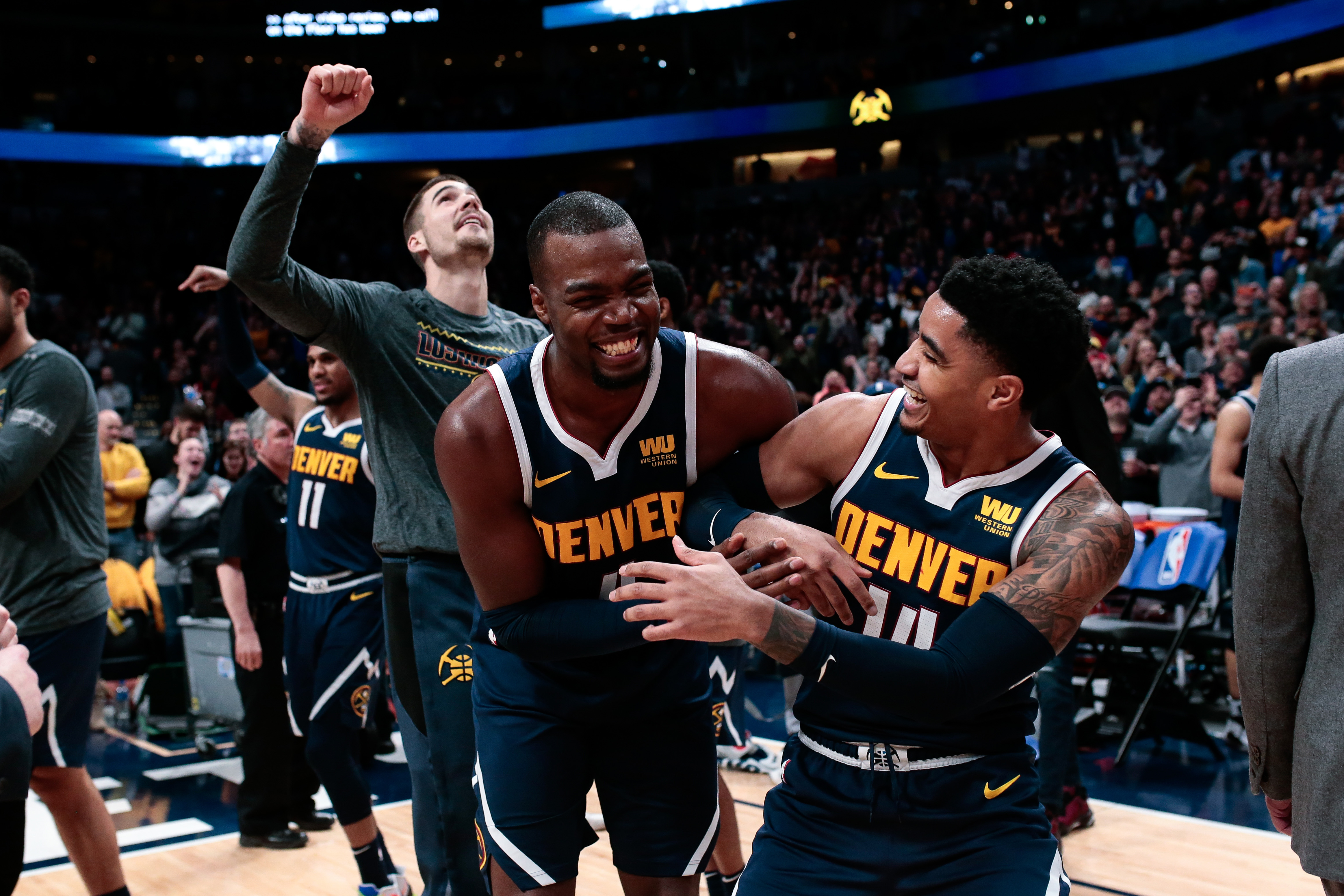 Almost exactly one year ago to the day, the Denver Nuggets were in the midst of an incredibly tight battle for one of the last spots in the Western Conference playoff picture and they was gearing up to take on the lottery-bound Dallas Mavericks with the hopes of locking in another win.
Instead of taking care of business against an inferior opponent, the Nuggets fell to a Mavericks team that was 20-45 at the time in demoralizing fashion. That loss, among a few others, essentially ended Denver's hope for a spot in the postseason.
Now, 356 days after that loss, the Nuggets have their revenge against the Mavericks and have won yet another game that they would have lost just a year ago. Instead of coming up short in a game they needed to win, as they did a year ago, the Nuggets found a way to secure a big victory to keep a tight grip on the second seed.
"As a young group, we are learning to win games," Paul Millsap explained after the game. "One night it is not going to be our offense and one night it is not going to be our defense, but we have to figure out a way to win games and tonight we were able to figure it out."
Yes, I know that this narrative of Denver winning games they would have lost last year seems played out, but this type of maturation is a big deal for a Nuggets team that started the year as the second-youngest roster in the entirety of the National Basketball Association. Yes, Jokic has improved his game across the board. Yes, the emergence of Monte Morris and Malik Beasley has changed the equation. Yes, everyone on the roster is a year older than they were. Regardless of all of those facts, this particular type of maturation is different than individual players taking their play to new heights. This type of maturation comes from a want and desire to win games by any means necessary.
There was no better manifestation of that growth than Denver's incredible fourth quarter; specifically on the defensive end of the floor.
"Without a doubt it was the defense all the way because it was that defense that allowed us to get out and run, attack, play with pace, play with tempo, and get into the bonus to get to the foul line," Nuggets head coach Michael Malone explained after the Nuggets narrowly defeated the Mavericks 100-99 in Denver thanks to a buzzer-beating floater by Jokic. "If we did not turn up our defensive intensity, we would have never gotten back into this game and had a chance to win it at the end."
To start the fourth quarter, the Nuggets were trailing 79-89 with arguably their worst loss of the season creeping closer and closer. There was just 12 minutes left and no positive momentum on Denver's side. The Nuggets were in the danger zone.
Then, out of nowhere, Denver's defense returned to elite levels in the final quarter of play like they have all year. The Nuggets held the Mavericks to just 10 total points in the fourth quarter which is the third-fewest points allowed in any quarter in franchise history. The Mavericks shot an atrocious 21.1 percent from the field and failed to convert all seven of their 3-pointers. Additionally, Denver forced three turnovers and did not allow the Mavericks to score any second-chance or fast-break points in the final quarter.
All year now, the Nuggets have managed to win close games in the fourth quarter. After 67 games, Denver 11-3 in games decided by three points or less and the Nuggets winning in the clutch has everything to do with their ability to lock down on defense late in games.
During the 2017-18 season, Denver had a 107.8 fourth quarter defensive rating which slotted them in as the 16th-best defensive team in the final 12 minutes of regulation.
This year, Denver is far and away the best defense in the final quarter of play and is posting a defensive rating of just 100.9, which is a whopping 3.7 points better than the second-ranked Dallas Mavericks.
For more context, that 3.7 point gap in fourth quarter defensive rating between the top-ranked Nuggets (100.9) and second-ranked Mavericks (104.6) is slightly larger than the gap between the second-ranked Mavericks (104.6) and the 12th-ranked Sacramento Kings (108.2).
"That is something that we have done at a high level all year long," Malone explained after the win over the Mavericks which gave Denver their 45th win of the year. "Our fourth quarter defensvie rating is almost tops in the NBA. That is important; when you know you can trust your defense down the stretch in big games and in big moments."
So what changes in fourth quarters for Denver that has allowed them to win so many games that they would have likely lost just a year ago? Well, the biggest reason is having Millsap's veteran voice on the floor with a team that he is now extremely comfortable with.
No longer is Millsap trying to figure out what his ideal role is on this Nuggets team. Now, Millsap knows exactly what he can do — and needs to do — to help this Nuggets team reach heights than previous regimes were unable to reach.
"No matter what happens, we just have to stay calm," Millsap stated. "I think younger guys have a tendency of panicking and feeling like they have to make a play or have to do something. My pressence and my job is to calm these guys down when things gets crazy out there. Hopefully, I continue to do my job."
The reason that Millsap's voice is so impactful is because he is one of the only player on the Nuggets roster who has even gotten a taste of playoff basketball. On the Nuggets roster, only three of their 15 full-time players have actually been to the postseason — Millsap, Mason Plumlee, and Isaiah Thomas — but Millsap has played in more total playoff games (87) than Thomas (25) or Plumlee (27) combined. His experience is vital for the growth of this Nuggets team.
"He has 90 playoff games under his belt," Malone explained. "We don't have a lot of playoff experince in that locker room; you have Paul Millsap, Isaiah Thomas, and Mason Plumlee a little bit. Aside from that, it is pretty thin. Paul is stepping up at the right time and leading by example on the court which is great to see."
If you ask Millsap, who very rarely takes personal credit for team achievements, Denver's ability to suffocate opponents with their defense late in games has everything to do with their drive to win and, as Millsap put it, their persistence.
"It is just buckling down and wanting to win," Millsap explained. "I think that is what it is. It is being persistent about winning. It is just wanting to get the job done."
Of course, the Nuggets would have never beaten the Mavericks on Thursday night without Jokic's heroic buzzer-beating floater, but he only had an opportunity to win the game because of the inspired fourth-quarter defense Denver used to climb back into the game; the same fourth-quarter defense that has helped Denver win games that they almost assuredly would have lost last year.