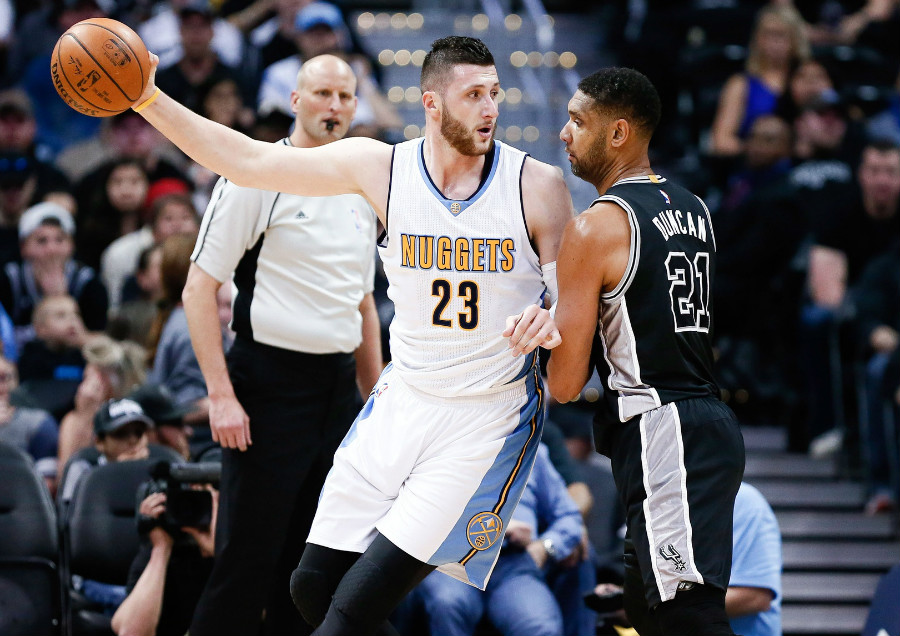 The Denver Nuggets season is winding down, and that means it's time to experiment with different rotations and lineups, which is something they've been needing to do for awhile.
Why? Well, because the Nuggets have a problem — a good problem, but a problem nonetheless. And that problem is that they have two starting-quality centers with boundless upside that they don't know what to do with.
Since the surprise emergence of rookie Nikola Jokic this season, coach Michael Malone has had a difficult time finding the minutes needed to give both Jokic and second-year big man Jusuf Nurkic the run they deserve. Going forward, the problem is even more severe; if the Nuggets can't find a way to move forward with both centers working at their fullest potential, it may make more sense for them to move forward with just one and turn the other into more assets.
Or … you find out if Jokic and Nurkic can play alongside each other in a throwback "Twin Tower" lineup?
Friday, before the start of the Nuggets matchup versus the Spurs, Malone announced that for the first time in their careers, the two European big men would be starting at center and power forward for that exact reason.
"Whats the good, whats the bad, do we think it's something we can use in the future," Malone said in reference to the tandem. "We have done it a few times this year, but this will be the first time we will go with that as a starting group,"
Well, after one performance, you'd have to say the duo is moving in a positive direction: The two spent 27 minutes on the court together, notching a plus/minus of 17 and a net rating of 27.7; not to mention, Nurkic totaled a career-high 21 points.
The two seemed to be in sync at times, making crisp passes, taking good shots and fighting in the trenches.
Now, it should be noted that they were playing the Spurs JV roster, with Tony Parker, LaMarcus Aldridge, Kawhi Leonard and Manu Ginobili all sitting out, and 27 minutes isn't exactly a huge sample size, but it was a positive sign.
Following the game coach Malone had some nice words to say about the trial run of the Twin Towers.
"I loved it, it was a real good look." Malone said. "They are both very skilled, they can both play away from the basket, with their back to the basket, very good passers, they make everyone around them better. I was really encouraged in what I saw."
Not only was coach Malone impressed, but so were the guys playing alongside them.
"Yeah, they definitely did," said Garry Harris in reference to the duo's solid performance. "Two very skilled big man, and they can definitely play with the best of them."
It was an experiment, and so far it looks to be paying off. We'll need to see more before anyone knows for sure, but for now, it's definitely a reason to keep watching.
"Of course!" Nurkic said when asked if it was fun playing alongside Jokic. "Any time you play with a high IQ player, its nice."
For one game it was a success. There's a lot of work and practice that needs to take place in order for the duo to become effective on a nightly basis — mainly, Jokic needs to prove he can guard the four — but as it stands now, there's potential.
And that's about all you could ask for.