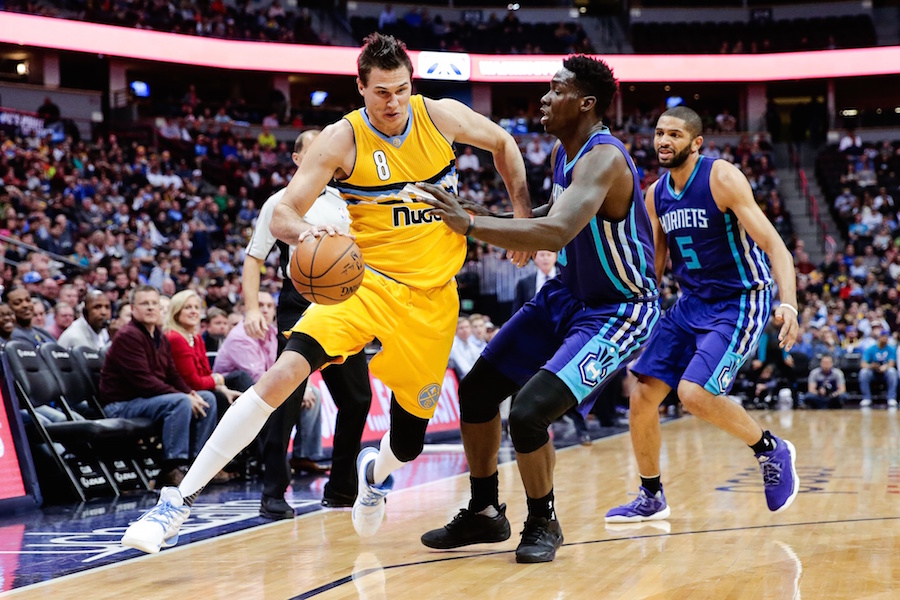 Go ahead Nuggets, make the playoffs.
Or, don't.
This time of year in Denver sparks the annual debate: To make the playoffs, or tank for the lottery? There is an exception this spring, however. The Nuggets currently hold a playoff spot in the West. For the past four seasons, that hasn't been the norm. During that stretch, Denver has typically been on the outside looking in.
But here we are. The postseason is a very real possibility in 2017. That doesn't necessarily mean the Nuggets are a "playoff" team. Nobody expects Denver to advance past anyone they would be playing in the first round. Whether it's the Spurs or Warriors, few – if any – will give Michael Malone's team anything more than a puncher's chance of winning. Add the fact that it's conceivable that Denver enters postseason play with a losing record and a playoff appearance becomes far less prestigious.
Still, there is unquestionably some symbolism that comes with making the playoffs. Pepsi Center has been too dark for too long come springtime. Whether the Nuggets advance or get swept, a momentary shot of life will surge at 1000 Chopper Circle. Being one of the top eight teams in the NBA's Western Conference is something to celebrate – regardless of how the team arrives or exits. If nothing else, it's a sign of progress. The Nuggets have a young and talented core that will only get better with time.
Besides, not making the playoffs doesn't necessarily mean the Nuggets will improve. Let's face it, the draft lottery has not ever been kind to Denver. While it's true that general manager Tim Connelly has been extremely effective with the Nuggets' draft picks, there's not enough room to fully develop the young talent Denver already has. Adding more young players further adds to the logjam. Minutes in Denver are scarce.
Especially when three veterans who have either gone nowhere, or are going nowhere, are gobbling up an average of 28 minutes per game.
Such was the case on Saturday night when the Nuggets took an ugly loss against the Charlotte Hornets. First of all, the Hornets aren't exactly a good team; with only 27 wins and 35 losses they are currently the 11th best team in the East. Secondly, they were on the seventh game of a seven-game West Coast road trip. In the NBA – especially in Denver – that's practically a free win for the home team. It should be even more of a lock when a team relies on it's veterans.
But that's not the way it played out. Veterans Danilo Gallinari (33 minutes), Wilson Chandler (22 minutes) and Jameer Nelson (29 minutes) carried much of the load. In a similarly ugly loss immediately after the All-Star break to the Kings, another team competing for the eighth seed, those same three veterans again were chewing up a lot minutes; between them they averaged 29.33 minutes against Sacramento.
If the philosophy in Denver is to ensure a playoff berth (an achievement that's debatably important anyway) on the backs of the team's veterans, it isn't working.
Not only are games being lost with heavy presence from Nuggets veterans, but in some instances big wins have been earned by young stars in the making. Look no further than the Nuggets 132-110 win over the Golden State Warriors. In that game Nelson was the only "older" veteran to contribute significant minutes. He logged 34, while youngsters Juancho Hernangomez logged 43 minutes, Jamal Murray posted 24 and 26-year old Will Barton added 41, all picking up the slack for Gallinari and Chandler who did not play.
The point of this exercise is not to belittle the play of Gallinari, Chandler or Nelson. They are fine players in their own right. The point is, however, that winning or losing is not in direct correlation with their playing time. Go old and win, go old and lose. Go young and win, go young and lose. Both scenarios have played out throughout the season.
This all begs the question: If there's not a huge difference between finishing eighth, ninth or 10th, and the team's veterans aren't necessarily taking care of business in the middle of a playoff chase, why aren't the Nuggets playing more young players more minutes?
Since the Nuggets were unable to pull off a trade that might have made them a contender, isn't it time to expedite the development of their future? Nelson, Gallinari and Chandler may or may not be long for Denver. So why not utilize what remains of the season to make players like Murray, Hernangomez or even Emmanuel Mudiay better?
Speaking of Mudiay, it appears as if Denver has given up on their second-year player. Why? Whether or not Mudiay can become "great" is another debate all together. But the fact is, he was playing at a very high level at the end of last season. If the Nuggets dangled Mudiay as part of any trade, and nobody bit, they have no one to blame but themselves. At the conclusion of last season Mudiay unquestionably had value; almost a year later that value has diminished greatly. And that's on the Nuggets.
Playoffs or not, the Nuggets will not be winning an NBA title this summer. And that's okay; nobody expected them to. But if they go down swinging with veterans who have no history of playoffs success, they will have wasted an entire spring.
If winning in Denver is simply a matter of time, then time is the franchise's most valuable asset.
Here's hoping the Nuggets use it wisely.