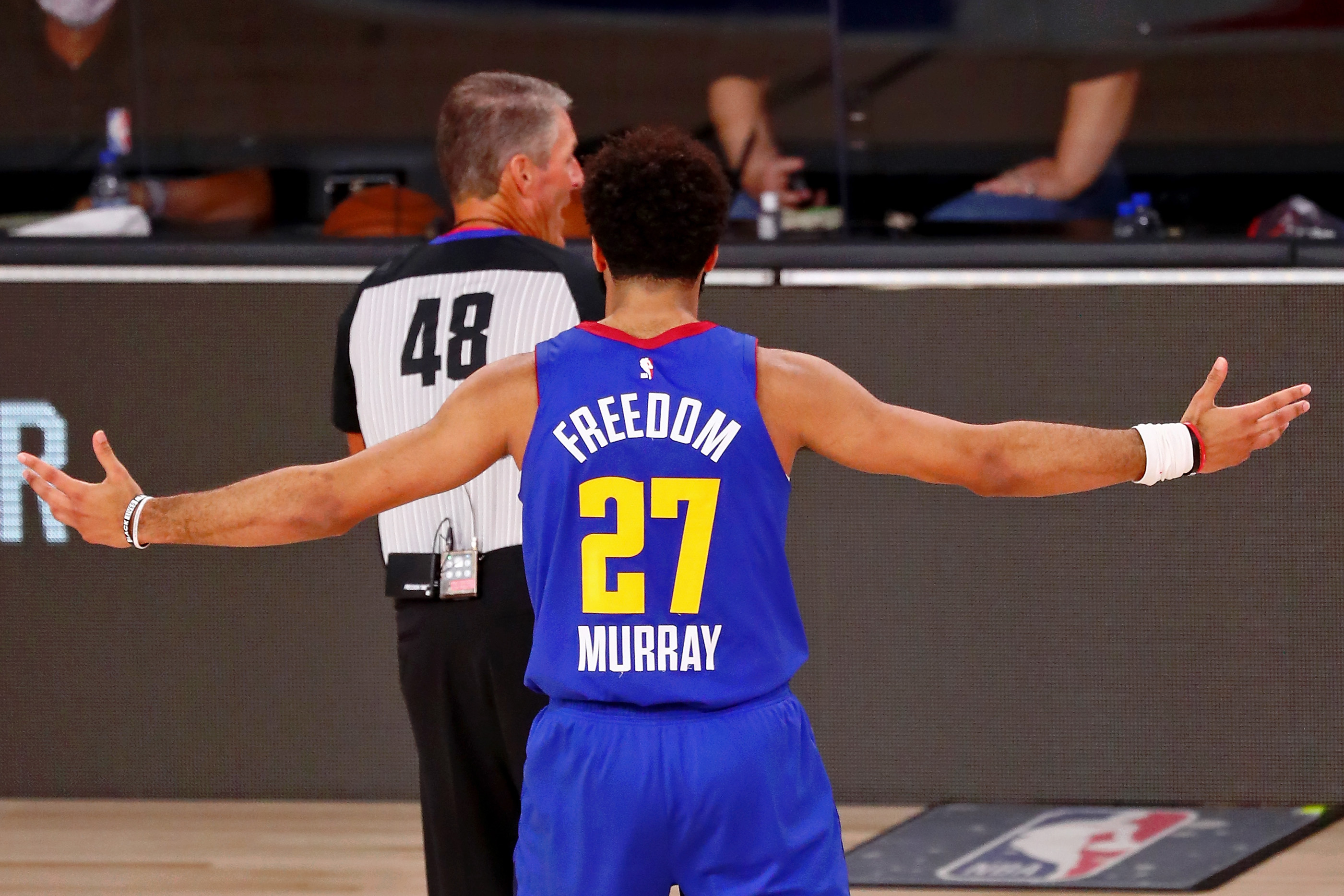 The Denver Nuggets lost an absolute heartbreaker in Game 2 of the Western Conference Finals. Despite a Herculean effort from Nikola Jokic that included a clutch bucket in the post over Anthony Davis in the final seconds, the Los Angeles Lakers were too much to handle.
In fact, it was an Anthony Davis three at the buzzer that ended Denver's hopes of evening up the series. But the Nuggets have been here before and playing from behind doesn't seem to phase this mentally tough team. Whenever people start to count them out, Denver seems to play its best basketball.
Sign up with DraftKings Sportsbook here to grab up to $1,000 in risk-free bets.
Nuggets vs. Lakers Game 3 Odds
Here's the betting line for Nuggets vs. Lakers tonight on DraftKings Sportsbook Colorado:
Spread: Lakers -6.5, Nuggets +6.5
Moneyline: Lakers -265, Nuggets +215
Total Points: 213.5 — Over (-112), Under (-109)
Analysis: The Nuggets have been 6.5 or 7-point underdogs in all three games this series. They were beaten by double digits in Game 1 but lost on a last-second shot in Game 2. This could go either way depending on whether or not Davis' game-winner was a gut-punch or a reality check for Denver. Be sure to check out the best Colorado sports betting apps before placing your game 3 bets.
Nuggets vs. Lakers Betting Preview
Let's dive into some of the key matchups for Game 3 of Nuggets vs. Lakers.
The Return of the Big Man
Everyone loves to write off big men in the modern day NBA, but Jokic and Davis are proving that elite bigs still are vital in the playoffs. The two All-NBA players went back and forth in Game 2 with Davis having the last word.
But still, Jokic was the driving force behind Denver even having a chance to win at the buzzer. The Serbian big man had 30 points, six rebounds, nine assists, and four steals in the losing effort. He is going to go down as one of the best passing centers of all time and his ability to facilitate for his teammates his what ultimately sets him apart.
Davis isn't as much of a facilitator as Jokic, but he can score with anybody in the league. He dropped 31 points on 11-for-23 shooting on Sunday night. At the end of the game, it was Davis and Jokic going shot for shot. It just so happened that Davis had the last opportunity to score and he came up clutch with that three-pointer at the buzzer.
This has been one of the most fun matchups to watch of the 2020 playoffs and we can expect more high-level dueling between Jokic and Davis tonight. Whoever wins the battle of the big men will have a great opportunity to secure the win.
Jamal Murray's Shooting
These playoffs have served as Jamal Murray's official coming-out party. The shifty guard is averaging 26.6 points per game on .500/.475/.914 shooting splits and he already has two 50-point outbursts in the 2020 NBA Playoffs.
Along with his running mate Jokic, Murray is willing Denver to come-from-behind wins and shocking upsets left and right. However, despite how well he's played, he didn't shoot well from deep in Game 2 against the Lakers. He was 2-for-9 from three and if he hits one or two more triples, the Nuggets might be able to hold on and defeat the heavily favored Lakers.
If he can regain his shooting form in Game 3, the Nuggets will have a great chance of climbing back into this series.
Nuggets vs. Lakers Game 3 Picks & Prediction
Nuggets +6.5 (-110)
If you are counting the Nuggets out of this series, you haven't been paying attention these last few weeks. Denver is showing their resilience time and time again. It would be unwise to count them out again, even against the mighty Lakers.
Los Angeles winning Game 3 wouldn't shock anyone, but the Nuggets laying down and getting blown out would be a surprise. Whenever their backs are against the wall, they fight back. Much like Game 2, we expect Game 3 to come down to the wire. For that reason, take the Nuggets with the points.
Jokic over 23.5 points (-139)
It looks like Nikola Jokic flipped a switch in Game 2. In the final minutes, he had a killer instinct and even the runner-up for Defensive Player of the Year Anthony Davis couldn't stop him. Look for him to carry over that momentum into Game 3 and put up another big point total. Take Jokic going over 23.5 points because if Denver has any chance of winning this game, they'll need a big performance from Jokic.