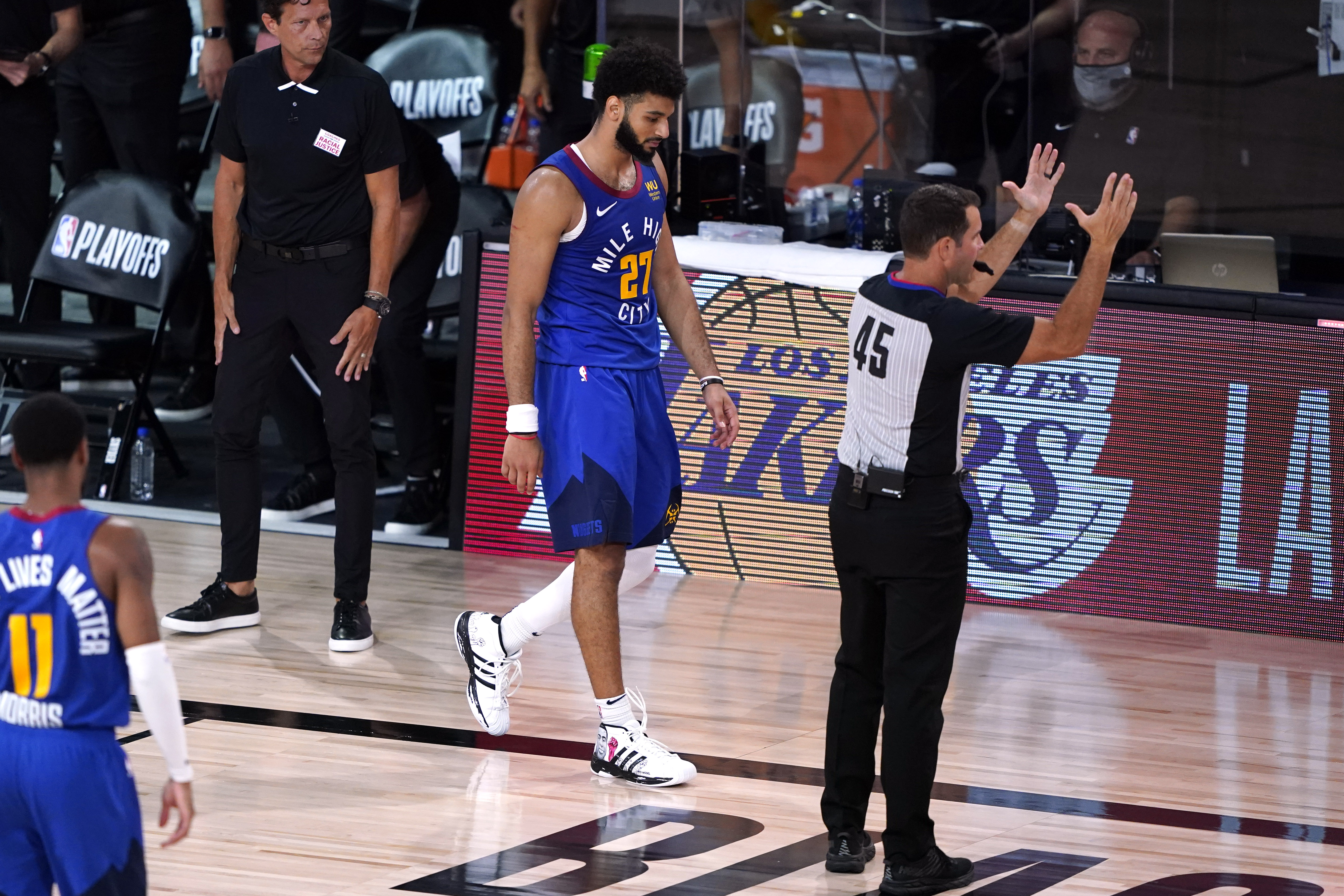 Who thought the Denver Nuggets would be in the Western Conference Finals at this point? After coming back from 3-1 twice, the Nuggets are ready to face the Los Angeles Lakers. Here's your betting preview for Game 1 of the Western Conference Finals between the Nuggets and Lakers.
The Lakers have been off for a while so they should have fresh legs, but the Nuggets should have some momentum from their dominant performance over the Clippers in Game 7 of last round.
Note: DraftKings Colorado Sportsbook is offering boosted +1000 odds on the Nuggets to advance to the NBA Finals. Get it here.
Nuggets vs. Lakers Odds Game 1
Here's the line for Nuggets vs. Lakers tonight:
Spread: Lakers -7, Nuggets +7
Moneyline: Lakers -295, Nuggets +240
Total Points: 210 — Over (-110), Under (-110)
Analysis: There are two ways to view this game. Either the Lakers are going to come out strong after a long rest and bury the Nuggets, or Denver will carry momentum from their massive, series-clinching win over the Clippers in Game 7.
Check out the best Colorado online sports betting sites and apps below for the best odds on tonight's game.
Nuggets vs. Lakers Betting Preview
Let's take a deeper look at this Game 1 matchup between the Nuggets and Lakers.
Game 1 Opportunity
Winning the first game of a seven-game series doesn't mean everything, but it's a great way to put your opponent on the ropes. The Nuggets have had a problem jumping in front of their opponents so far in these playoffs, but they are 1-1 in Game 1s so far.
They beat the Utah Jazz 135-125 in Game 1 of the first round before dropping the next three games. In the second round against the Clippers, they dropped Game 1, won Game 2, and lost the next two.
For whatever reason, the Nuggets love to go down 3-1 in playoff series and then bring it to a Game 7.
Who's In, Who's Out
Both teams should come into this game relatively healthy. The Nuggets are still going to be without Will Barton, who was a major contributor during the regular season, but everyone else is good to go. Denver missed Gary Harris' defense in the first round. However, he returned in the second round and played lockdown defense all series long.
The Lakers should be completely healthy after being off for almost a full week. They won't have Avery Bradley, who opted out of the bubble months ago, but everyone else is at full strength.
Nuggets vs. Lakers ATS Picks & Prediction
Lakers -7 (-110)
As much as we love Denver's chances to make this a long series, they are up against it in Game 1. It's likely we see a letdown in Game 1 after that emotional seven-game series against the Clippers in the second round.
The Lakers are on a mission with a championship on the mind. Expect them to come up big in Game 1. With that said, a Game 1 loss doesn't mean that the Nuggets are out of the series entirely.
First Basket Jamal Murray (+500)
Jamal Murray is the odds-on favorite to score the first basket of the game. He's a good bet at solid odds to score the first bucket. Murray has taken a gigantic leap forward in the bubble and he's been absolutely dominant in the playoffs.
Look for Nuggets head coach Mike Malone to go to Murray early and often. Their other star, Nikola Jokic, is a facilitator first and foremost, so even if they play is run for him, he always has Murray in his sights.
(odds from DraftKings Colorado Sportsbook)

DraftKings Promo
States: CO, PA, NJ, IN, IL, IA, MI, MI, VA, TN, and WV
GET THE APP
NEW PLAYER BONUS
Bet $1, Win $100


UFC 262 ODDS BONUS
BET NOW