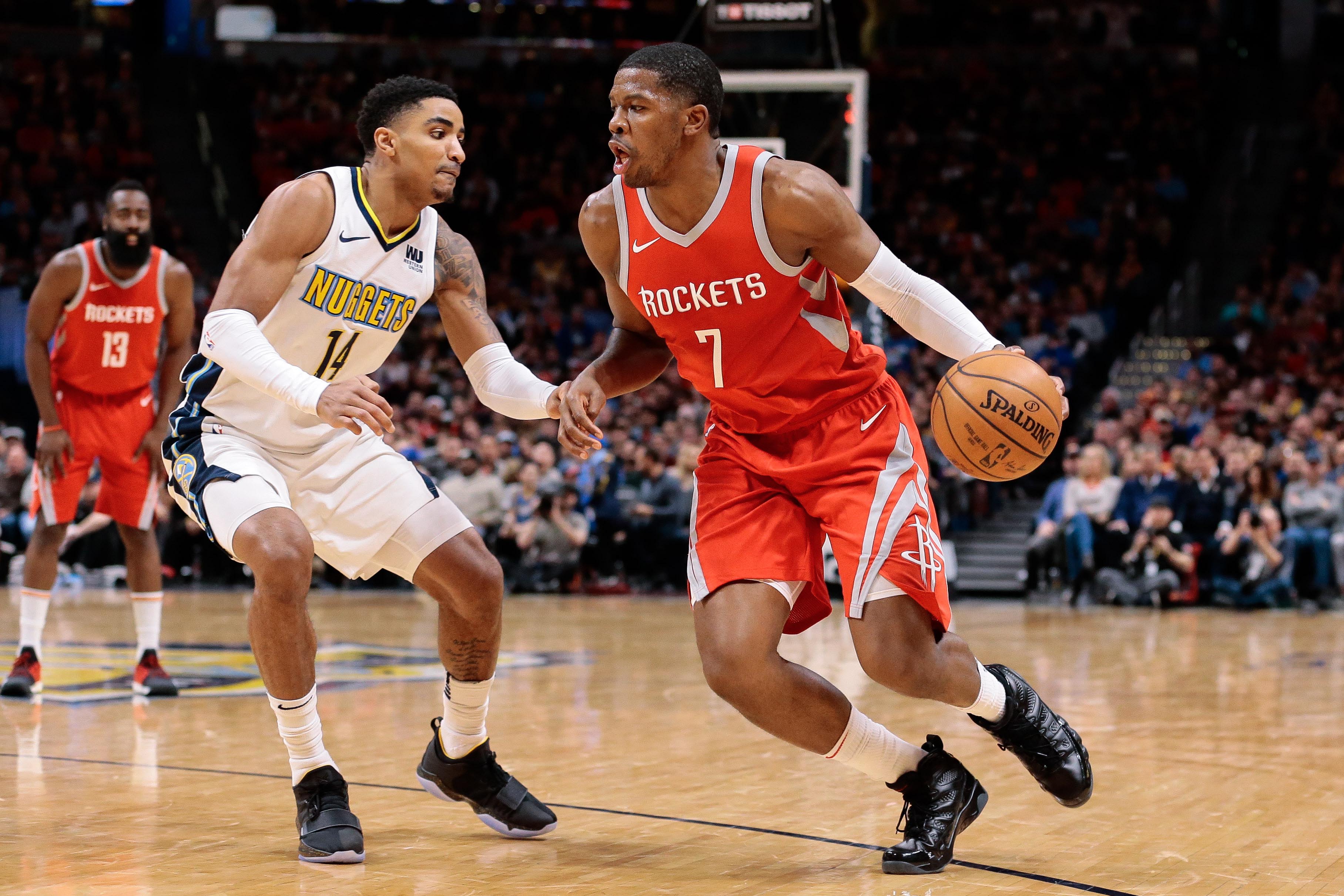 According to Marc Spears of The Undefeated, the Denver Nuggets are one of five teams that will bring former NBA guard Joe Johnson in for a workout.
According to Spears, the other four teams are the Los Angeles Clippers, Milwaukee Bucks, New Orleans Pelicans and Philadelphia 76ers, who Johnson will work out for on Thursday.
Johnson has made a massive statement during his eight games in the Big 3. He is averaging 21.9 points, 7.5 rebounds, 3.9 assists and 1.1 steals per game. He leads the Big 3 in points, assists, made shots, and 4-pointers. He is also second in steals and 3-pointers while also being third in rebounds. Those numbers led to him being crowned as Big 3 MVP on Monday.
When it comes to looking at role Johnson would fill with the Nuggets — if the workout went well AND both parties came to an agreement — the vision becomes less clear. Denver runs a free-flowing offense regardless of what group is on the floor. Bringing in Johnson, who thrives in isolation situations, makes very little sense schematically when also taking into account that his defense is problematic at best.
There is also the question of where his minutes would come from. The Nuggets are looking to add Michael Porter Jr. to a wing rotation that includes Will Barton, Malik Beasley, Torrey Craig and Juancho Hernangomez. There simply are not enough minutes to go around.
If Denver tried to deploy him more as a stretch big, they still would run into roster complications. The Nuggets just recently traded a first-round pick for Jerami Grant who the Nuggets have coveted for years. In front of Grant on the depth chart at power forward is Paul Millsap, Denver's defensive anchor. That means Denver would be trying to add in Johnson as a stretch four into a rotation of bigs that already features four players when including both Nikola Jokic and Mason Plumlee, who is already in line to lose quite a few minutes.
If Johnson's goal is to chase a ring, Denver does make some sense, but the Clippers could use a wing as well and Johnson would likely have a better chance to earn playing time than he would in Denver.
In addition to all of those reasons that the fit between Johnson and the Nuggets makes little sense, Denver would likely have to go into the luxury tax to sign him. Denver is currently $2,252,802 below the tax and Johnson's one-year veteran minimum contract would be worth $2,564,753.
All of this is getting ahead of the point though. Johnson is only coming in for a workout which does not carry much meaning. Additionally, the Nuggets have been looking to increase the competition level going into training camp according to Nick Kosmider of The Athletic. Adding a veteran like Johnson would help further those intentions.
As things currently stand, the Nuggets have one two-way contract available and one full-time spot on the 15-man roster after signing Tyler Cook to a two-way contract earlier this month as originally reported by Mike Singer of the Denver Post. Nuggets second-round pick Bol Bol will eventually be given one of those two final spots — most likely the second two-way contract according to Kosmider — but will compete for the full-time role throughout training camp. As Adrian Wojnarowski of ESPN reported two weeks ago, Denver has already signed P.J. Dozier to a training camp deal. He has been brought in to compete for one of the two-remaining spots and increase the competition level. For more on Dozier, click here.
Bringing in Johnson for a workout is not a bad move, but the idea of signing him to the 15-man roster is a gamble. His fit is questionable from multiple perspectives — schematically, financially, and in terms of where he fits in the rotation if at all.