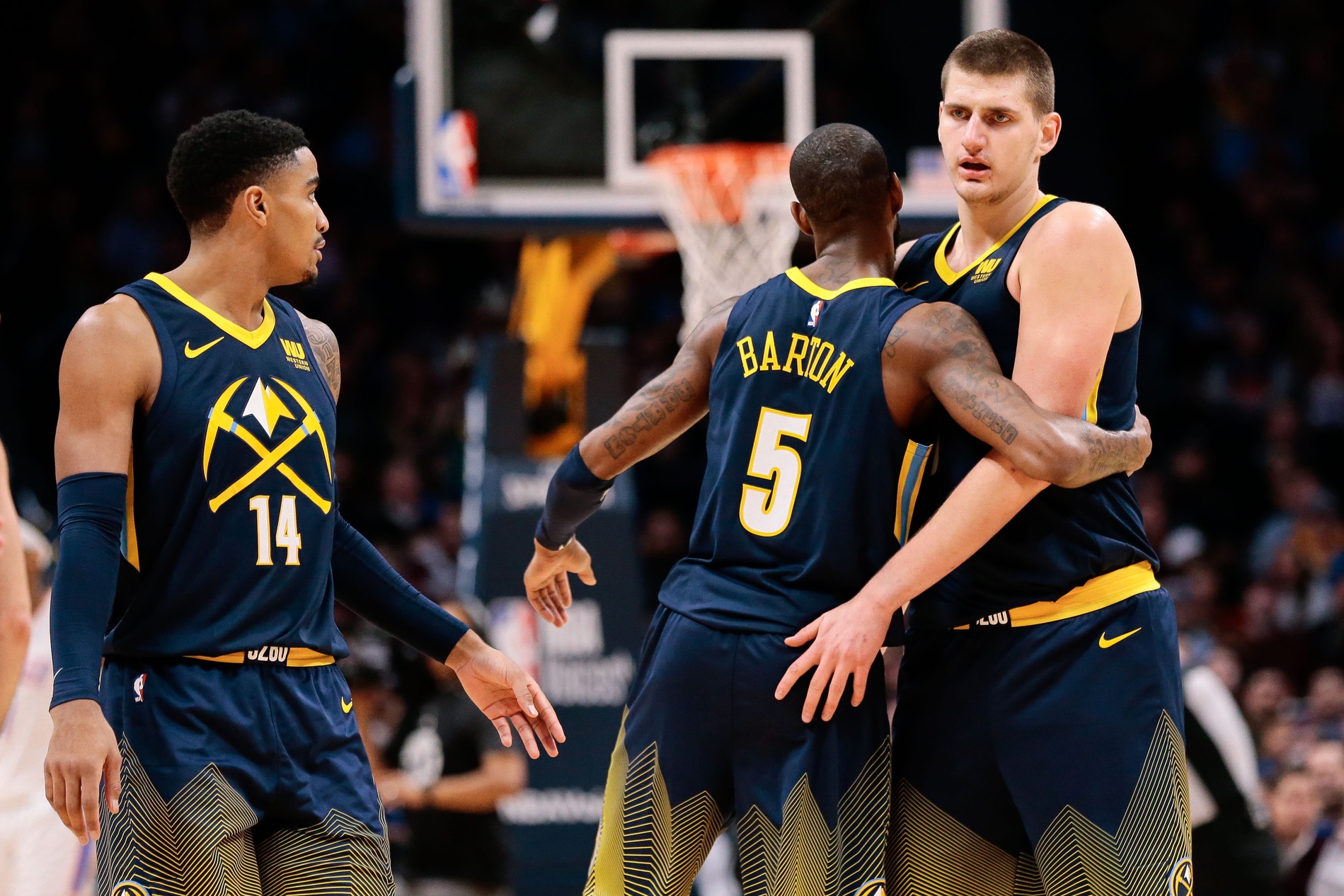 ---
The Denver Nuggets' starting backcourt is growing right before everyone's eyes. 20-year-old starting point guard Jamal Murray and 23-year-old Gary Harris are redefining how the Nuggets are perceived and that all culminated into the most impressive Nuggets' victory of the year when Harris hit his buzzer-beating three to defeat Denver's division-rival Oklahoma City Thunder. In that game, Harris and Murray accounted for 58 points and went 23-39 combined from the field. The young tandem added eight assists against four turnovers for good measure.
Harris and Murray are showing that they could be one of the NBA's elite backcourts in a very short amount of time. What has been lost in all of the chaos is how much of that development has to do with Will Barton's veteran leadership.
Barton knows a thing or two about elite backcourts being that he spent his first two-and-a-half years playing with Damian Lillard and CJ McCollum as a member of the Portland Trail Blazers. That makes his answer to the question of how talented the Nuggets young and explosive backcourt can be even more eye-opening.
"They can be real good because right now they're so young. They're developing chemistry already, they're both competitive, both can shoot, they're tough, and they're very young," Barton told Mile High Sports in front of his locker just about thirty minutes after Gary Harris had hit his buzzer-beating three-pointer to down the Thunder. "Jamal Murray is 20, Gary just turned 23. So, I mean, they're getting so much experience while young that, by the time they're really veterans, they can be really scary, man."
The common thread when talking about the rapid progression that Murray and Harris have shown always seems to come back to Barton. He has been a leader on and off the floor for both members of the Nuggets starting backcourt while also being a rock for each player to rely on. Regardless of if Barton is giving encouragement, implementing his insane work ethic, or just talking hip-hop with his two young proteges, the message seems to get across.
"Me and Will, we have developed a pretty good relationship. Our lockers are by each other and we sit by each other on planes. We are always talking about the game and seeing what we see. Seeing ways we can get better," Harris explained when asked about what Barton has been able to do to help both him and Murray. "He tells me what he sees and I tell him what I see. He does the same thing with Jamal. We all communicate and try to help each other out."
The leadership of Barton has also grabbed the attention of Nuggets' head coach Michael Malone, who added his own two cents on why Barton has been able to assist in the growth of both Murray and Harris.
"They are in constant communication; pushing each other and encouraging each other," Malone said in respect to the relationship that Murray, Harris, and Barton all have. "I think Will Barton is the guy that really keeps the mood light, he's got a great personality, and he is always talking to guys, challenging them, uplifting them, and encouraging them as well. Will is a guy that has the respect of everybody in the locker room."
Now, all of the work that Barton has put forth in trying to build up his younger counterparts has culminated into production on the court and, what is even more telling, is how solid the Nuggets are when all three of Barton, Harris, and Murray play together. There is only one five-man pairing — with at least 50 total minutes played together — which has a negative net rating that includes all three of Barton, Harris, and Murray. The other four pairings under those parameters? They've been terrific.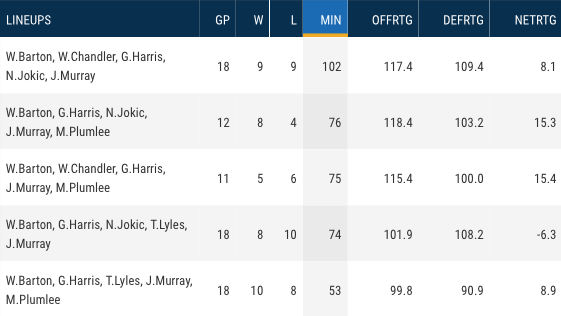 "When we are all on the court, we are all on the same string," Harris explained when talking about his connection with Barton at shootaround prior to taking on the Golden State Warriors at Pepsi Center. "We have been playing so much together that I know where he wants it, he knows where I want it, and we know where Jamal likes it. We just know how to get each other going."
That connection comes from the confidence that has been established between the three guards. So much so that when one of the three gets going, it feeds into the others. Even when guys are struggling, it is the chemistry that Barton, Murray, and Harris have gathered and built upon that allows them to stay afloat and get back on track.
"Confidence builds off of each other, you know? We all see each other doing well so we all know we can do the same things," Barton told Mile High Sports. "That is how you take the next step as a team."
Even when you get into the impact Barton has had on each of Murray and Harris individually, it is clear how important Barton is.
Barton stays on Murray and is constantly pushing him to improve. He can clearly see how talented Murray is and, because of that, he has taken an interest in the flame-throwing point guard that hails from the small town of Kitchener, Canada.
"I just try to do anything I can," Barton told Mile High Sports. "With Jamal — since day one — talking to him and staying on him while telling him how talented I think he is and that all he has to do is work and he is going to be special."
Now, Murray is exploding onto the national scene and is looking more and more like he has the potential to become the next super-star guard in the Association. Since December 1st, Murray is averaging 18.8 points, four rebounds, and 3.3 assists in 32.5 minutes a night while shooting 47.4 percent from the field and an obscene 45.3 percent from three-point distance on nearly six attempts per game.
It is seeming more and more like Barton's confidence is starting to percolate into Murray's game and it is unlocking the incredible play that Murray has played with as of late. After putting up 33 points on 23 shots against the Thunder, Murray made it a point to tell reporters and media alike that he is here to take the attention that he believes is rightfully his.
"I am trying to get my attention," Murray said. "All I can do is break more ankles and score more points. So I'm not stopping and I don't see anyone else stopping me either."
Barton has taken a different approach with Harris, who is significantly more even-keeled than Murray. Harris is the type of player that is soft-spoken and lets his play ooze confidence instead of his words. Because of that, Barton building up Harris and helping unlock the rest of his game has to be done in a different manner. That is what has led to Harris and Barton developing a great friendship beyond the court.
"When I first got traded here, we always talked," Barton told Mile High Sports when asked about his relationship with Harris. "We are very close now. We sit on the plane together, our lockers are together, and we just talk a lot about life and basketball. I've seen him take leaps and bounds so I just try to give him advice and show him my work ethic. They know I work very hard, and now they do too."
Again, Malone has witnessed the connection between Barton and Harris and understands how important it is that they continue to grow together. The trust that they have developed between one another on and off the court has allowed Harris to take another leap in production and become a foundational piece of the Nuggets' franchise for the foreseeable future.
"Will and Gary are locker buddies — they're right next to each other. They have a very good chemistry, connection, trust, and they talk to each other," Malone explained. "Even though Jamal and Gary are not locker buddies, they're starting backcourt mates. You can see their relationship has really blossomed and they have gotten closer."
That is really the story of the incredible progression of the Nuggets' young backcourt; the development of trust and chemistry spearheaded by Barton, himself.
"We have each other's back," Barton told Mile High Sports. "It is easy to go to war with people you know and people that have your back."