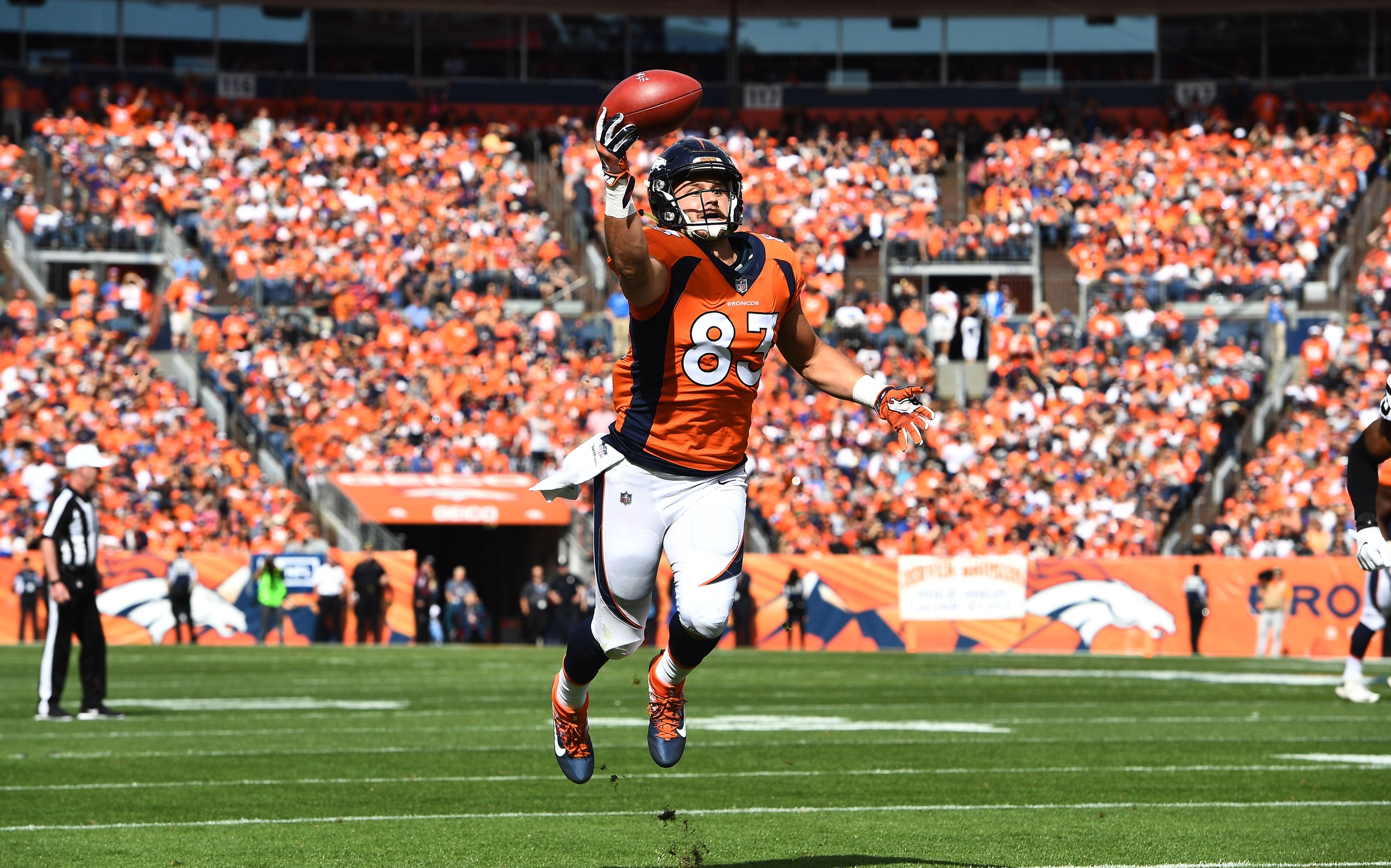 Last season, the Broncos' tight end was an afterthought in the team's offense.
Virgil Green led that corps with 22 catches for 237 yards and a single touchdown. A.J. Derby — a mid-season acquisition from the New England Patriots — came on late, gaining 160 yards on 16 catches, but no opponent truly feared any of Denver's tight ends; a position that once demanded respect from Julius Thomas' days back to Hall-of-Famer Shannon Sharpe's.
After the off-season's coaching overhaul, new offensive coordinator Mike McCoy's offense — which features the tight end — is paying early dividends for quarterback Trevor Siemian, and the Broncos' offense as a whole. On Sunday's 16-10 victory over the Oakland Raiders, Derby opened the scoring with a spectacular, one-handed pluck along the right sideline, and cruised into the end zone for six.
This catch, though. ?#BeatTheRaiders pic.twitter.com/Bhc2oFqHnb

— Denver Broncos (@Broncos) October 1, 2017
The Broncos, who had only two touchdowns from the tight end position last season, matched last season's total on Derby's highlight-reel play — in Game 4.
"I think this is a great offense for tight ends," Derby said of the new system back in June. "I think [McCoy's] past record in San Diego shows that. The whole room is really excited to see what we can do this season."
That offense, which featured future Hall-of-Famer Antonio Gates and young talent Hunter Henry, provided a significant chunk of Philip Rivers' yards and touchdowns in McCoy's final game as the Chargers' head coach.
In today's NFL, tight ends are the wild-cards; too fast for most linebackers and too strong for most safeties, they're matchup nightmares — and a young quarterback's best friend.
Thus far, the Broncos are on pace for 21 percent more catches, 50 percent more yards, and a whopping 400 percent increase in touchdowns from the tight end position; diversifying an offense that was often too predictable last season in Siemian's first go-around as the starter.
On a Sunday in which Siemian was sacked four times and pressured o nearly every dropback — especially after much-maligned right tackle Menelik Watson left the game with an injury and backup Donald Stephenson made thing even worse — Derby led the Broncos with 75 yards and four catches; tops in yards and tied for tops in receptions with wide receiver Emmanuel Sanders and running back C.J, Anderson. No other tight ends had so much as a target; all but validating Derby's newfound position atop the tight-end pecking order.
How long that remains the case is in question. Last year's Mackey Award winner for the best collegiate tight end in the nation, Jake Butt slipped to the fifth round after an ACL injury knocked him out of last January's Orange Bowl. An all-around talent whose production is centered around tight route-running and reliable hands, Butt looks to seize the Broncos' starting role for years to come when he returns from injury at some point in the season.
With Demaryius Thomas and Sanders on the outside, Siemian has elite targets at his disposal — both both are focal point of opposing defensive schemes. Whether it's Derby, Butt or Green, the Broncos' third option can also serve as a pass-blocker; something that Julius Thomas couldn't do — Thomas' presence on the field all but screamed "pass" to the defense.
Without being able to guess what the tight end will do on any given play, the Broncos give themselves a more deceptive offense that can at least occasionally take advantage of over-pursuit by the AFC West's elite pass-rushers, and it's paid early dividends.