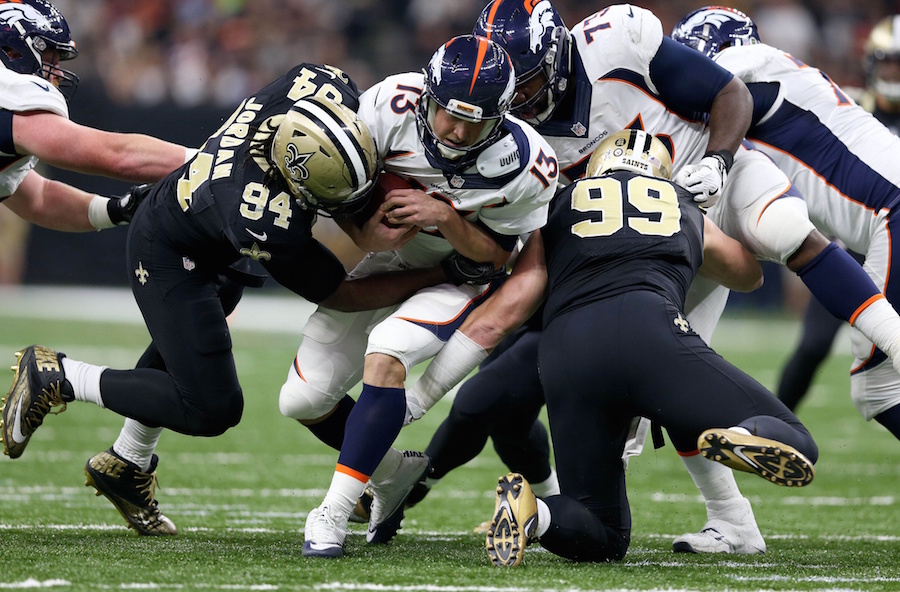 The jury isn't still out. Critics across town are saying the Broncos offensive line hasn't improved. If anything, it may have taken steps backward from 2015, and having an inexperienced quarterback isn't helping the matter.
The o-line was dominated again on Sunday in a miraculous 25-23 win in New Orleans, facing a Saints defense that had produced just 11 sacks through eight games prior.
Trevor Siemian was sacked six times for 24 yards and hit another six times. At times it felt like Phil Simms was taking passing plays off and the folks at CBS were simply hitting replay on him saying, "Siemian took another big hit on that one."
Pass protection was poor again, as Siemian was pressured on 22 of 48 dropbacks, according to Pro Football Focus. New Orleans dialed up blitzes on 22 plays, but it was under normal pass rush conditions where Siemian and the o-line struggled the most. Both of Siemian's interceptions and five of the six sacks were not the result of a blitz.
Donald Stephenson was especially poor against the pass rush Sunday. He was benched on Sunday in place of Ty Sambrailo after allowing two hits and four hurries on 31 snaps. The result is nothing new, though. Stephenson has struggled all season; in fact, he's PFF's lowest rated overall right tackle – run and pass combined.
The o-line as a whole struggled in the run game as well. Although they produced 103 total yards, Denver needed 37 attempts to reach the century mark – a 2.8 yards per carry average.
The lone highlight on the offensive line was again Matt Paradis, who continues to be one of the best run blocking centers in the game. Paradis earned Denver's top PFF grade on offense for the week. Not only did he again top the list for Denver, just last week they named him the top center in the league through the first half of the season.
Still, his outstanding play hasn't been enough to offset up-and-down performances across the line. Russell Okung rebounded somewhat from a string of tough games, although he did allow a sack. Michael Schofield played one of his best games of the year, but it was not enough to offset Stephenson's tough day.
Credit Siemian, however, who entered the game with a still sore shoulder and took the punishment better than expected. Head coach Gary Kubiak has long credited Siemian for his poise and the young quarterback certainly had to show a form of it during this game. Despite the two bad interceptions, he absorbed hit after hit to complete 25 of his 40 passes.
Denver has two weeks now to try and solve their issues on the offensive line. When they return from the bye week they'll face Kansas City twice, Jacksonville, Tennessee, New England and Oakland.
Here's what some of the pundits were saying about the Denver offensive line and Trevor Siemian's play behind it during Sunday's narrow win in New Orleans.
Siemian does not look comfortable in the pocket. Had time, but he was feeling stuff that wasn't there. #4Broncos

— Michael Spencer (@MichaelCBS4) November 13, 2016
#Broncos Siemian looks like he's running from bee's no thanks to the O-line's awful pass protection.

— Eric Goodman (@EricGoodman) November 13, 2016
Is the o-line really bad, is Trevor Siemian holding the ball too long, are the receivers not able to get open? All three?

— Jon Heath (@JonHeathNFL) November 13, 2016
Broncos o line can't pick up stunts to save Trevor's life.

— shannon sharpe (@ShannonSharpe) November 13, 2016
Saints came in with just 11 sacks this season, among worst in the NFL. They have 3 today v. #Broncos in the first half

— Cameron Wolfe (@CameronWolfe) November 13, 2016
Two of these sacks so far I'm putting square in the shoulders of Siemian. Needs to decide faster

— Kyle LaBoria (@Klaboria) November 13, 2016
Siemian crushed by Darryl Tapp, getting past Okung.

— Andrew Mason (@MaseDenver) November 13, 2016
Looked like Trevor Siemian just closed his eyes and threw it there. Result predictable – INT. He didn't have much of a chance w/ OL either.

— Cameron Wolfe (@CameronWolfe) November 13, 2016
#Broncos Siemian never should have thrown ball. Was under pressure. Fired directly into coverage. Two bad picks. #DENvsNO @DenverChannel

— Troy Renck (@TroyRenck) November 13, 2016
As I pointed out, Donald Stephenson w/another tough game. Replaced by Sambrailo. #broncos

— Les Shapiro (@LesShapiro) November 13, 2016
#Broncos WRs getting open consistently. Siemian a little gun shy after many hits. Needs to get rid of ball quicker, more consistently

— Troy Renck (@TroyRenck) November 13, 2016
Pass protection looks a little better w/Sambrialo who replaced Stephenson.. Good for #Broncos Kubiak to make the move in game..

— Eric Goodman (@EricGoodman) November 13, 2016
Siemian getting crushed out there by the Saints' pass rush.

— Andrew Mason (@MaseDenver) November 13, 2016
Pretty clear why the Broncos won't pass Amendment 12. They don't want the pirate killed. Are you seeing the hits 13 is taking?

— Vic Lombardi (@VicLombardi) November 13, 2016
Siemian is tough I'll give him that he's been blasted time and time again under a barrage all day long … Can u say Ice Tub ??? #Broncos

— Todd Romero (@ToddRomeroTV) November 13, 2016
Trevor has made some terrible decisions today but that man tougher than wet leather.

— shannon sharpe (@ShannonSharpe) November 13, 2016
Siemian was pressured on roughly 50% of his dropbacks. For those of you that don't pay attention to those things… that's bad.

— Shawn Drotar (@sdrotar) November 13, 2016