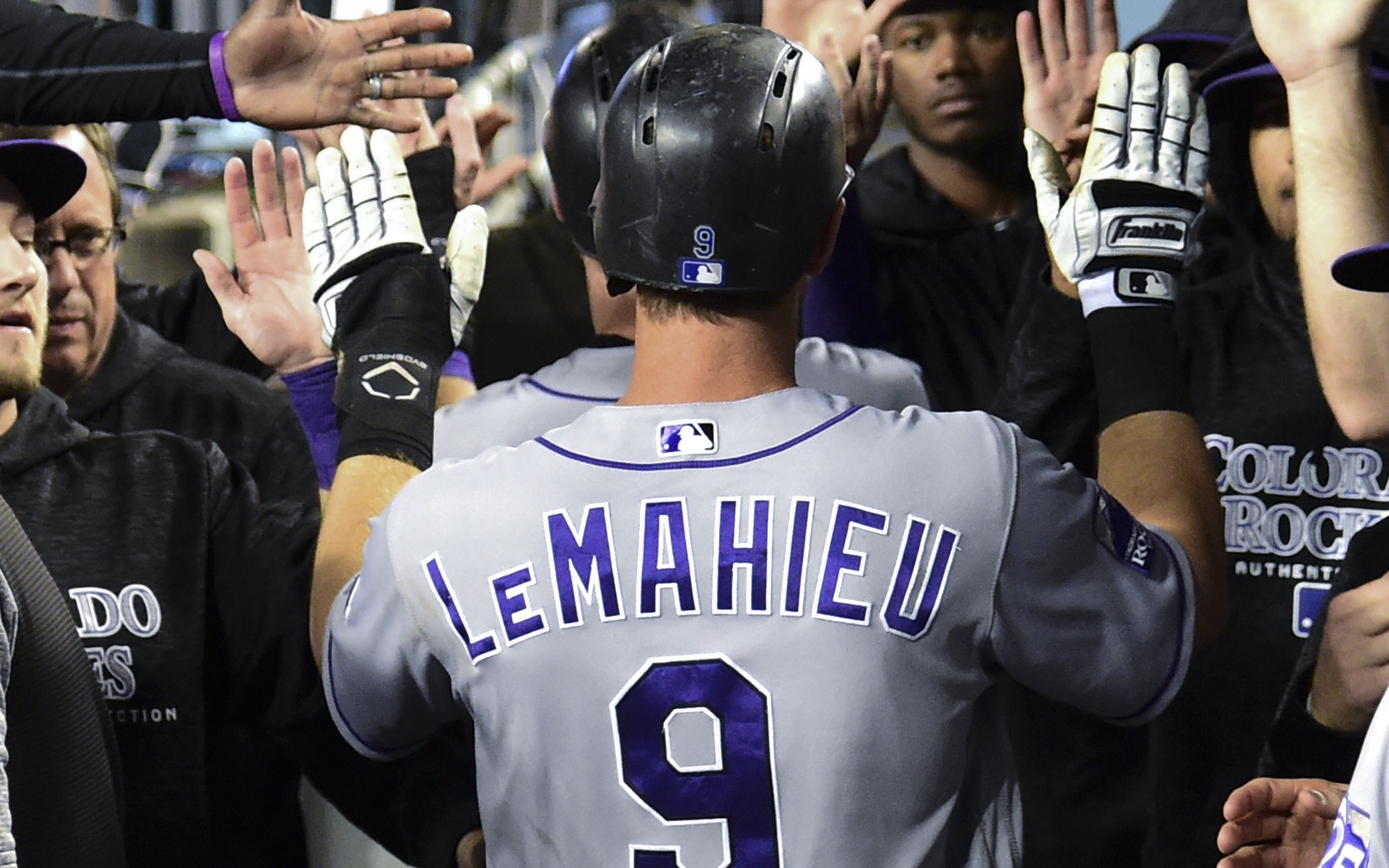 Swallowing the loss of a franchise mainstay is a difficult proposition. D.J. LeMahieu has seen his Colorado Rockies career reach an impasse, and there's only one solution.
LeMahieu has spent nearly all of his eight-year major league career donning a Rockies jersey. With a pair of Gold Gloves and All-Star appearances, a 2016 Batting Title to boot, LeMahieu has been a cornerstone piece. His value, though worthwhile in his seven seasons, is overstated in regards of a new contract.
Despite his career .350 on-base percentage, LeMahieu has held substantially more sentimental value than actual value at the plate, especially in recent memory.
In an injury-shortened season last year, LeMahieu was a shell of himself. After a 2017 season that saw the middle infielder slash a healthy .348/.417/.409, his numbers shrank. Seeing a vast majority of his plate appearances in one of the top two spots in the Rockies' order, LeMahieu stunted that batting order for much of the year.
From his top-of-the-order position in 2018, LeMahieu accrued a mere .276/.321/.428 in 581 appearances. Though still near league average, the "Coors Field" effect struck LeMahieu hard.
On the road, LeMahieu hit a dismal .229/.277/.422. The power was comparable, but the general numbers left much to be desired.
Now a free agent, the Rockies would be wise to let the second baseman walk.
On the open market, LeMahieu figures to see an offer along the lines of former Tampa Bay Rays and now Chicago Cubs utility man, Ben Zobrist. Zobrist signed with the Cubs on a 4-year deal worth up to $56 million in the 2016 offseason.
At a clip of over $10 million per year, Zobrist has served as the Cubs bat off the bench, making his way into the batting order several times. Though Zobrist was five years older than LeMahieu when he signed that deal, he also possessed more versatility in the field, with a better bat to boot.
In the season prior to his latest deal, Zobrist slashed .276/.359/.450 while splitting time between the Oakland Athletics and Kansas City Royals. Those numbers surpass LeMahieu's line last year, with the aforementioned versatility as well.
Taking inflation of contracts into account, LeMahieu figures to sign for roughly $12-14 million per year, with the years being low due to a propensity in the league to avoid large contracts in recent offseasons.
With prospects Garrett Hampson and projected star Brendan Rodgers set to garner playing time with the big league club next year, LeMahieu is not worth that figure to the Rockies. Add on the fact that Nolan Arenado is set to become a free agent in 2019, it forces the franchise to mind their spending until next offseason.
Hampson, in limited appearances for the Rockies last year, performed adequately. Called up on Jul. 21 due to a LeMahieu injury, Hampson accrued 48 plate appearances across 24 games, slashing .275/.396/.400 in his time. Small sample size be damned, Hampson was able to show he can hang with the big leaguers.
Rodgers on the other hand, once pegged to be the future star shortstop of the club, has been forced to transition to second with the transcendence of Trevor Story. Rodgers, a consensus top-25 prospect in the league, fell prey to an increased level of competition last year.
Splitting his time between Double-A Hartford and Triple-A Albuquerque, at only 21 years old, Rodgers hit a respectable .268/.330/.460 over 474 appearances. Though the infielder was able to survive the likes of heightened competition, he figures to be behind Hampson in the pecking order.
With Hampson ready to fill in at second and Rodgers on his heels, the Rockies have no room to roster LeMahieu for multiple years. Their needs are elsewhere. 
At first base, catcher and in the bullpen, for instance. With Ian Desmond sitting bottom-five in the National League in slugging and dead last in on-base percentage, the money would be better spent improving their first base situation.
Using the projected LeMahieu funds to go after a short-term deal with a player like Daniel Murphy, who could supplant Desmond, would be wiser. Super-utility man Josh Harrison also recently had his option declined, signaling another avenue for the Rockies.
Of the various signings the Rockies could undertake, LeMahieu should not be one.