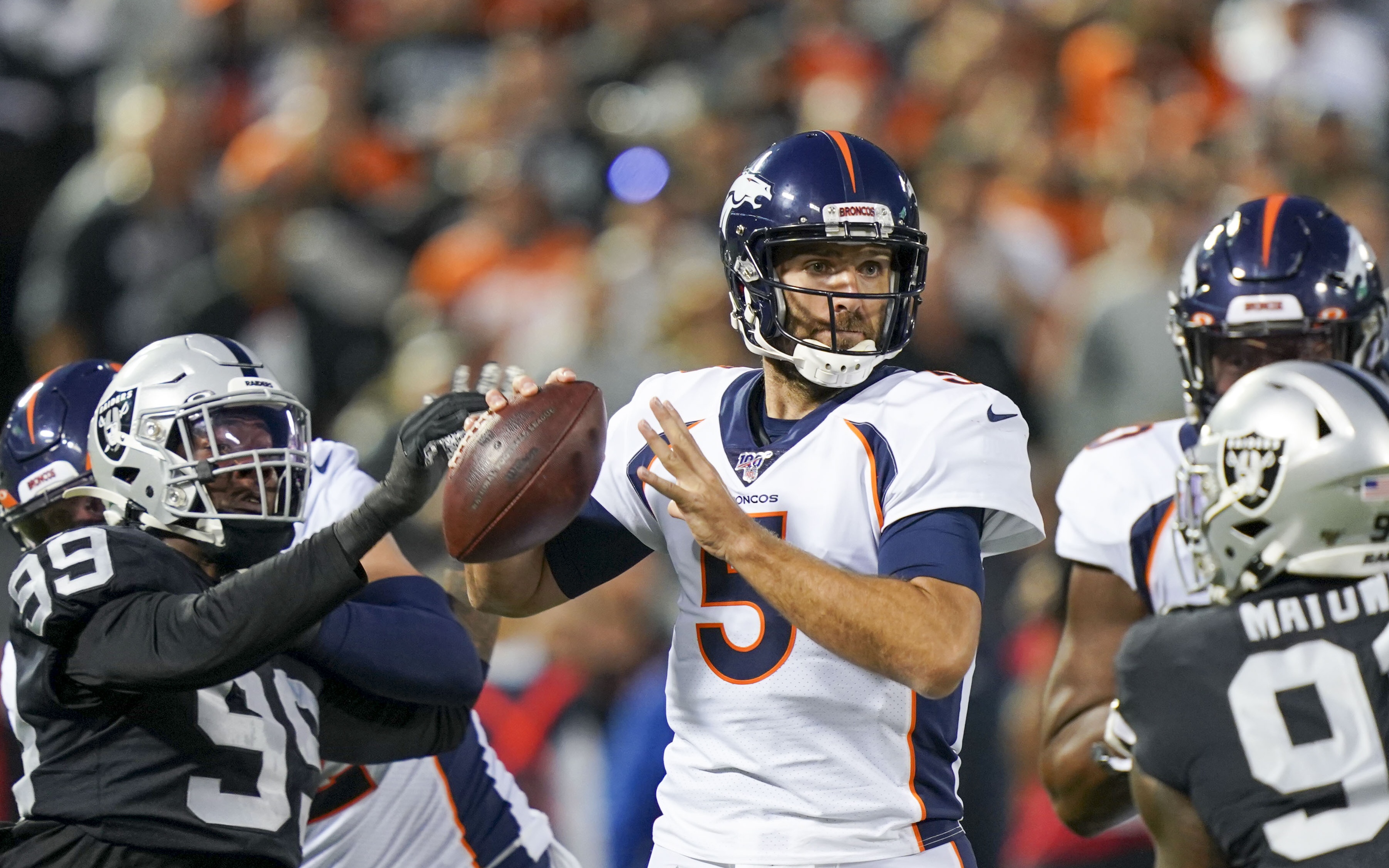 One team entered 2019 with a new start, a new lease on life after much drama. And the other looked to begin the season on a hot note, knocking off a division rival.
Even after all their drama with Antonio Brown, after looking like a complete joke of an organization on HBO's Hard Knocks, the team who looked like a circus on Monday Night Football was the Denver Broncos.
The Broncos defensive front was bullied by the Raiders early and often. Then, Isaac Yiadom was burned repeatedly by Tyrell Williams and Darren Waller in the passing game. That lack of pass rush, lack of toughness are concerning, but there's an almost certainty that Denver's defense will get it going this year.
However, the same cannot be said about the Broncos offense, which was absolutely atrocious all night long.
Well, save the first drive.
Joe Flacco stepped into his throws and drove two passes through tight windows to Courtland Sutton for third down conversions. But, that drive ended on a punt after a holding penalty pushed Denver back and Flacco was sacked for a loss of 10 yards.
That was the common theme all night long; Flacco got rushed relentlessly and the Broncos offensive line either couldn't protect him or they committed penalties while trying to do so.
The two-minute drive before halftime left a lot to be desired by Flacco, specifically. He led DaeSean Hamilton too far out of bounds, not allowing him to catch the ball in the field of play. One play later he seemed to walk through the play as it was easily batted down at the line.
Again, though, it wasn't just Flacco struggling but the entire offense. There was an illegal formation called on Emmanuel Sanders, a holding penalty on Ronald Leary and a block in the back by Noah Fant. That last infraction pushed the Broncos into a 64-yard field goal which Brandon McManaus was short by one yard.
At the end of the first half, Denver trailed 14-0 to the ridiculous Raiders and totaled a mere 87 yards of offense. Yikes.
The second half didn't start much better; Denver drove down into the red zone, but then Hamilton dropped a wide open pass in the end zone. Even when the Broncos found success, they ultimately found failure.
The Broncos first-round draft pick Noah Fant struggled mightily all night long. Not only did he have that block in the back, he also dropped multiple passes and missed multiple blocks. The biggest drop came to end the third quarter, a catch would've meant a needed first down. Instead, Denver had to punt to start the fourth quarter.
Later, Flacco was sacked for the third time in the game which forced the Broncos to again settle for a field goal and bring the game to 14-9. His first sack resulted in a fumble that Denver recovered, luckily.
Simply, the Broncos' offensive line, which has been a weakness for many years, has to improve if Denver is to win some games this season. Flacco is a definitely improvement over Trevor Siemian and Case Keenum, but he's also just as immobile as them. If the offensive line can give Flacco time, he can, at times, find receivers and make the offense go.
The new O-line has to not only block for Flacco in the passing game, but get off the ball in the run game, too. Denver was blown off the ball on both sides during this shocking, 24-16 loss, and that's the most telling thing of all.
Good teams win the line of scrimmage, both on offense and defense. We expected Denver to win the line on defense, and they didn't all game long on Monday night. Offensively, it was hoped they could improve, but they seem far from that.
And one injury note on the line; big-time free agent signing Ja'Wuan James hurt a knee and Elijah Wilkinson had to step in. Denver's depth on the line was lacking and now it's nonexistent.
Simply, Flacco was who everyone expected. He's not a superstar but he can make some throws when needed, and most importantly, when protected. But the offense cannot function without a competent offensive line, and Mike Munchak's unit is certainly a work in progress.