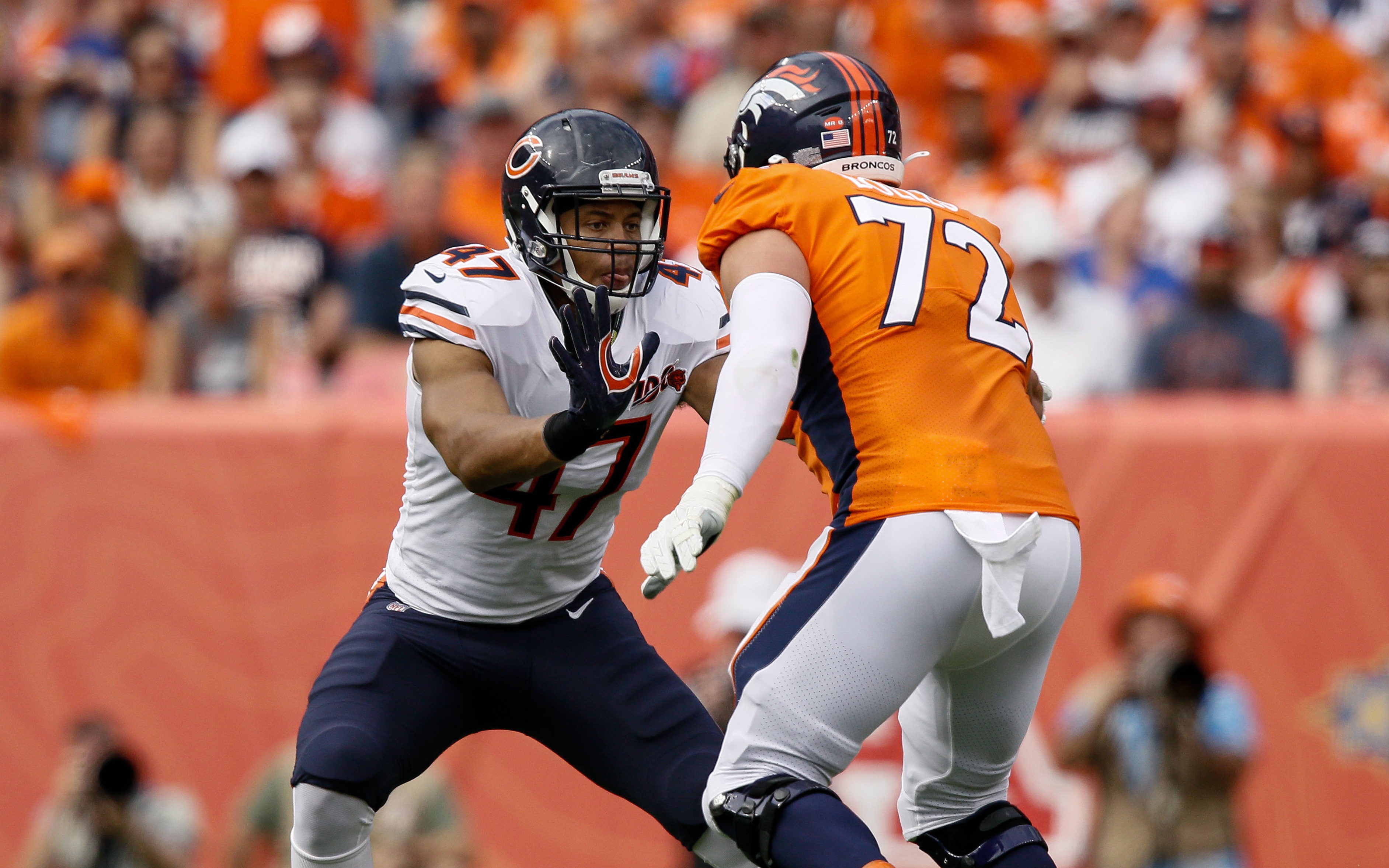 Denver Broncos fans are a fickle bunch, and rightfully so. Ever since Pat Bowlen bought the team, Denver has been one of the most successful franchises in the NFL.
Still, the Broncos faithful have booed John Elway, got Jake Plummer to flip them the rare double-bird and even grew tired of the old, injured Peyton Manning in 2015.
If players on the field aren't living up to expectations, Broncomaniacs let you know about it. And on Sunday, the player to feel the wrath of the boo birds at Mile High Stadium was Garett Bolles.
And, rightfully so.
Bolles, a first-round pick in 2017, has been teetering on the edge of "bust" for years, and he further made a case for that label in the 16-14 loss to the Chicago Bears. His four holds in the game were the most for any player in a single game since 2014.
In the first half alone, Bolles was called for three separate holds, two of them were accepted, and there was another play which could have been a hold which wasn't called. He hooked Khalil Mack on that play, called out on television by former Broncos offensive lineman-turned-commentator Mark Schlereth.
"We'll move you to defense if you continue to tackle like that," Schlereth said on FOX, Sunday.
Bolles' penalties were numerous, but none more detrimental to Denver's offense than the hold which wiped a 20-yard catch and run by Phillip Lindsay in the second quarter. He had another hold in that drive which ended in a punt.
In the third quarter, Bolles was called for his fourth holding call which was declined, but the Broncos' boo birds in the stands were in full vocal display. And a fifth could've been called, too.
For Bolles, that was his 26th holding penalty, 10 of them being declined, since entering the NFL little more than two years ago as the No. 20 overall pick. A first-rounder must start consistently, improve quickly and become a cornerstone of the offense for years to come.
Left tackle Ryan Clady, the final first-round draft pick of the Mike Shanahan Era, played from 2008-2014, enjoying two First-Team All-Pro selections in an injury-shortened career. Conversely, Bolles is nowhere near making a Pro Bowl, let alone being All-Pro.
Last year, Bolles was graded out at 70.7 by Pro Football Focus, which was the 34th-best tackle in the NFL.
This year, through one week (not including the Bears game), Bolles was the 29th-best tackle in the NFL at a 63.5 grade. Sadly, he's actually regressed, from 72.9 as a rookie, to 70.7 to 63.5. And that final number signifies "backup" level of play and will assuredly drop after this awful performance on Sunday.
Meanwhile, right tackle Ryan Ramczyk is the second-best tackle in the NFL this year (through one game) with an 84.0 grade. While Bolles was taken at No. 20 overall in 2017, the Broncos could've taken Ramczyk, who went at No. 32. Ramczyk has been better than Bolles since Day One in the NFL, with 10 total penalties and seven sacks allowed in his career.
To compare, Bolles has been called for 29 total penalties and 10 sacks allowed; it's not even close.
John Elway and Co. completely missed when they drafted Bolles, because — even though they technically needed a left tackle more — the Broncos should have taken Ramczyk instead of Bolles. To wit, Donald Stephenson and Menelik Watson were the one-two punch at right tackle in 2017; they were awful. Further proof Ramczyk should've been the pick.
Bolles was always a reach as a first-rounder and that continues to be proven week in, week out.
We all knew this was coming if you watched the preseason, too though, as his performance in Week 3 of the preseason was terrible. Offensive line film gurus like Brandon Thorn as well as Schlereth agree that Bolles' lack of sound technique has been his downfall. Mike Munchack, the new Broncos offensive line coach, was supposed to fix Bolles' struggles. But, that's yet to be seen.
Elway and Co. no doubt want to see Bolles finally succeed, but how long can he be allowed to play every week before Vic Fangio and the rest of the Broncos brain trust steps in and pulls him?
And, can they? Ja'Wuan James (who had an exact same, mediocre 70.7 grade last year) is injured and will be out a few weeks. James was given the biggest offensive lineman contract in NFL history before he was quickly eclipsed this offseason, but even James may have been a big swing and miss on the line for Elway and his talent evaluators.
From a personnel perspective, this is one of the worst rosters Elway has built in Denver since his time as an executive began in 2011. Elijah Wilkinson is filling in for James; there's basically no one else (Austin Schlottmann) to play for Bolles.