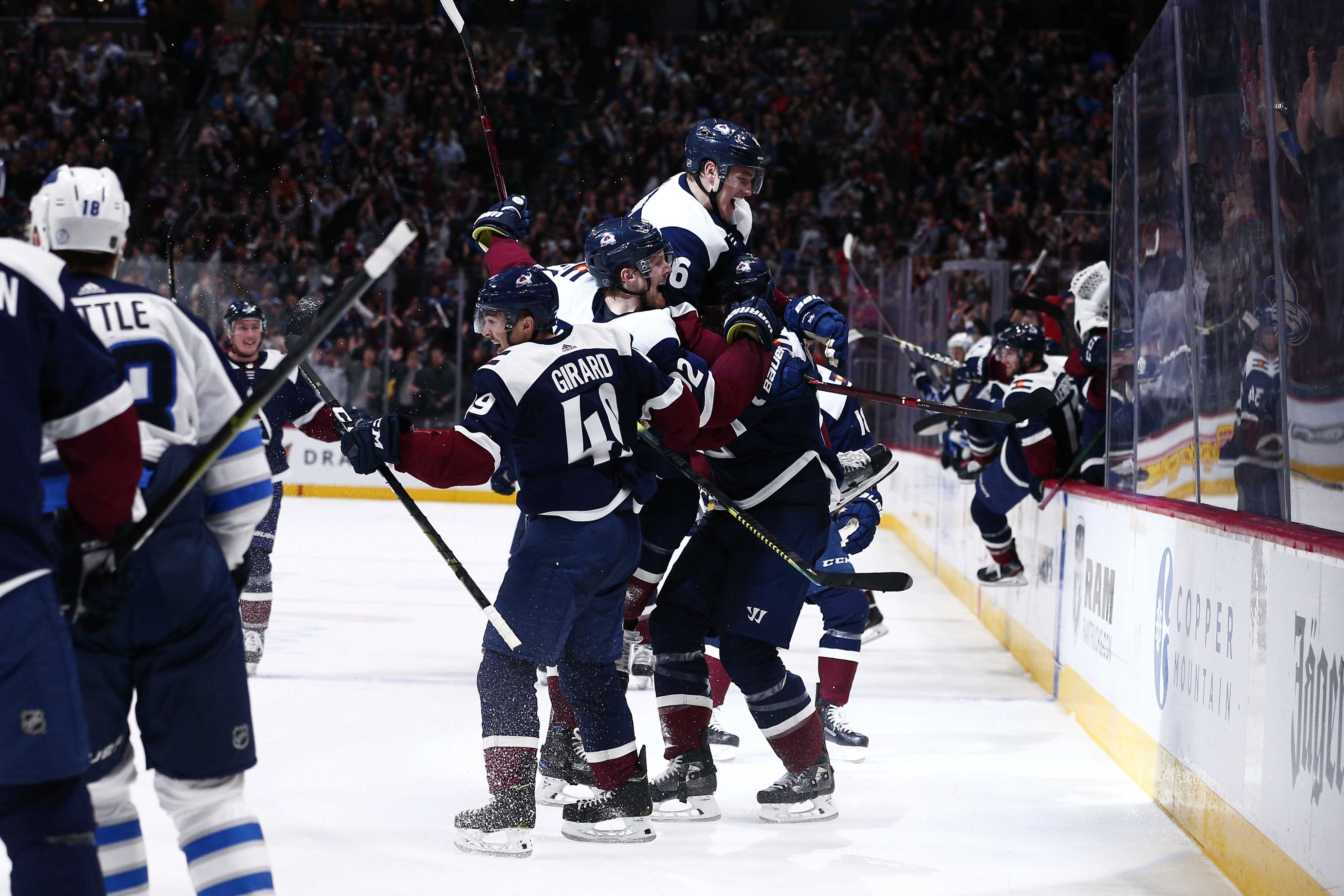 The Colorado Avalanche returned home to Pepsi Center on Tuesday night for Game 3 of the Second Round of the Stanley Cup Playoffs. Only one major piece was missing, Matt Calvert, one of the heart and soul players of this Avalanche team was forced to sit out with an upper body injury.
For those that don't follow the team regularly, Calvert isn't like Nathan MacKinnon. He isn't the generational talent that MacKinnon is, but he means just as much to the Avalanche. Calvert is always the hardest-working player on the ice. He puts his body on the line for his team, taking and giving hits to make plays.
With Calvert out in Game 3, there was an obvious hole in Colorado's play. It seemed as though few players were willing to take the hit to make a play. The Avalanche got away from their normal style of play, getting pucks deep and using their speed to get in behind the Sharks defenders.
The mistakes trickled all the way down to the Avalanche blue liners. They looked exhausted, as San Jose threw Colorado's style of play right back in their faces. They got the puck deep and pressured Colorado from the moment they gained possession. Defenders like Erik Johnson, a longtime rock, made simple mistakes exiting their own zone.
"It was tough," Calvert said after an optional skate on Wednesday. "Obviously watching the game from home is no fun."
Calvert's vacant roster spot was filled by Sven Andrighetto. The Swiss born forward made is fourth playoff appearance in Tuesday night's game. "Ghetto" as he is known around the Avalanche locker room, didn't make an impact in Game 3, and also didn't fill Calvert's role as everyone would have hoped.
Wednesday afternoon, however, things began to look up for the Avalanche as Calvert skated in a regular practice jersey and was listed as day-to-day.
But his possible return poses a question: What lineup changes should the Avalanche make prior to Game 4 on Thursday night?
As avid Avalanche fans will remember, when captain Gabriel Landeskog and Mikko Rantanen were forced out of the roster with injuries during the last half of the regular season, Colorado shifted to a unconventional 11 forward, 7 defenseman lineup.
Even with the potential of Calvert getting back in the lineup, the Colorado Avalanche need to go back to that same style roster.
The defense have looked overwhelmed for two of the three games this series against the Sharks. Games 1 and 3 looked eerily similar: Colorado didn't get pucks deep and failed to exit their own defensive zone.
When they were successful however, the Colorado defensemen controlled the game. Tyson Barrie, Sam Girard and Cale Makar used their speed to spread the ice and make plays. Meanwhile Nikita Zadorov, Ian Cole and Johnson stood tall defensively and made it hard for the Sharks playmakers to make plays.
Game 3 proved that Colorado needs more of a defensive presence to enable Barrie and his fellow offensive-defenseman to be successful, which is where the proposed lineup change will help this team.
Patrik Nemeth has been a staple on this team the whole season. The addition of rookie phenom Cale Makar forced coach Jared Bednar to make a tough decision and move Nemeth to the healthy scratch list. With Makar on the ice and Nemeth in the stands, the Avalanche lost a valuable stay-at-home defenseman.
Reinserting him to the lineup would provide a valuable reprieve for Cole, Zadorov and Johnson. Bednar can cycle his offensive-minded defenseman through those four guys, as well as ensuring that Barrie, Girard and Makar don't have to see time on the penalty kill.
The other thing this does is force the Avalanche stars to see more ice time. During that period in the regular season when Rantanen and Landeskog were injured, Nathan MacKinnon saw more ice time and took his game to another level.
With the fourth line containing only two players, MacKinnon or Rantanen can rotate back to that spot. As was apparent in the first period on Tuesday night, when MacKinnon does not lead the team in ice time, Colorado is less likely to be successful. When his ice time is increased, as it was in the final two periods in Game 3, the Avalanche play with a different type of ferocity.
With Calvert day-to-day, no official roster announcements have been made. While these changes might not be the most conventional solution to the problem or the favorite among some fans, it is the best way to match the play of the Sharks in Game 4.
The Avalanche look to even the series at 2-2 on Thursday night in Game 4. Puck drop is set for 8:00 PM MST from Pepsi Center in Denver, Colo.