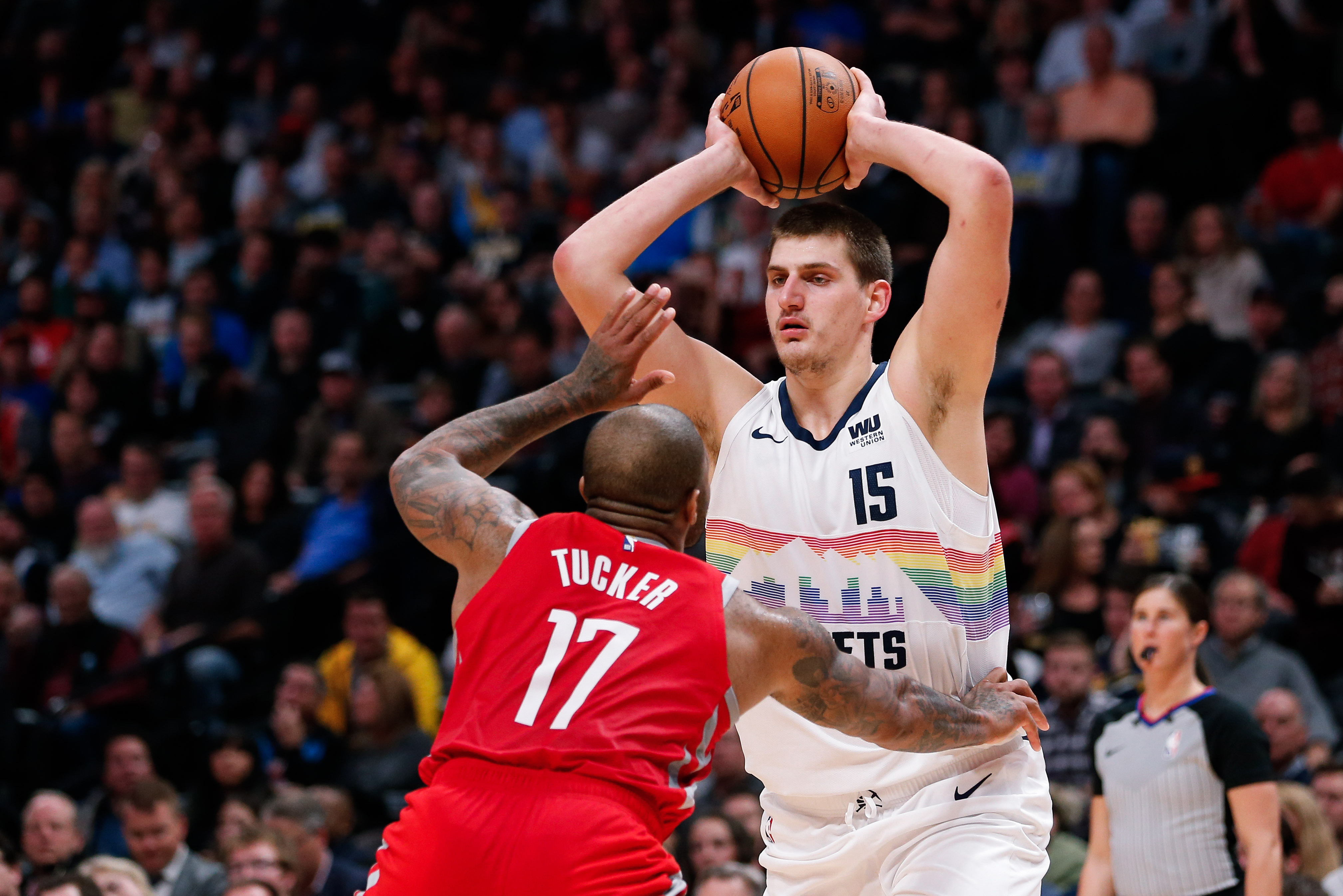 Look good, feel good, play good.
The Denver Nuggets (10-6) have gotten off to a hot start this season and have looked sharp in the process. After announcing its rebrand over the offseason, hoops fans have now had the opportunity to see all four of Denver's Nike uniforms. Glancing around the league, there is a strong argument that the Nuggets have the best uniform rotation in the NBA.
First and foremost, Denver's 'City Edition' with the rainbow skyline is one of the coolest looks in all of sports. The modernized design was a great take on the classic skyline uniforms from the 80's, and from a branding perspective this was a no-brainer for the Nuggets.
If the Minnesota Timberwolves had not released Prince themed jerseys, I would say that there isn't even an argument about who has the best threads in the NBA. But as much as I love the rainbows, even I have to admit that honoring the Prince of Funk was a phenomenal decision by the T-Wolves.
MILE HIGH CITY pic.twitter.com/g4HZtVz6Yf

— Denver Stiffs (@denverstiffs) June 7, 2018
Denver's 'Statement' uniforms, which are royal blue and have Mile High City on the front in an old school font, have been a massive success too. Coloradans love to show their state pride and these skyline blue threads with sunshine yellow numbers and flatirons red trim allow local hoops fans to honor the state colors while cheering on their team.
Finally, the 'Association' and 'Icon' combinations are simple, but they are certainly a significant upgrade from the previous powder blue uniforms. The color combination is sleeker and more fashionable for merchandise, but what I really like is how the Nuggets paid homage to Colorado with the specific color choices like flatirons red and sunshine yellow.
As a native Coloradan and long-time observer of the Nuggets, I will openly admit that my views are skewed. I have been campaigning for Denver to bring back the rainbow skyline for over a decade and I will buy almost anything that is Colorado flag themed, so these new uniforms were pretty much catering to locals like myself.
Considering the national love that the uniforms have gotten this season though, I think it is safe to assume that the rebrand has been a success.