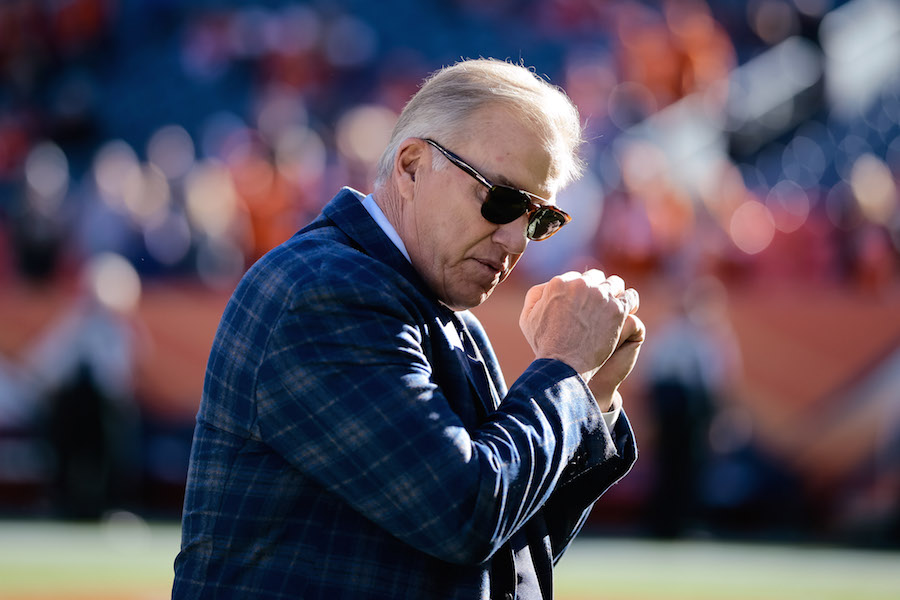 You couldn't miss John Elway, sitting there on the glass at Game 6 of the Avalanche-Predators playoff series. If Elway is attending a sporting event in Denver, the guy operating the jumbotron cam will find him. For Elway, there's no escaping that.
Maybe it was the fact that things weren't going well for the Avs, but the normally raucous greeting for Elway was missing. Sure, there was a cheer, but it didn't feel the same. Elway can fire up a home crowd in Denver like nobody else, yet, on Sunday night it felt more like a golf clap. Elway himself was subdued, subtly acknowledging that he was suddenly on the huge monitor overhead instead of offering an attempt to fire up the Avs crowd. That's not his job whatsoever, and it should be noted he was gracious, but something just felt off.
Was it just me?
Call me crazy, but it almost felt like an uneasy tension filled The Can. It felt like Colorado Rockies Trevor Story and Charlie Blackmon, who were also in attendance, received slightly larger (warmer?) welcomes.
Were Avs fans so depressed or so focused on cutting the doomsday deficit on the scoreboard, that even the Duke of Denver couldn't get them going? Or was it something else? Does Thursday's NFL Draft and the Broncos' No. 5 pick loom so large that sports fans in Denver are beginning to clam up? The Broncos have missed the playoffs for two straight seasons now; the Avs made the playoffs for the first time since 2014. Fair or not, there's just a different standard. The young Avs making the postseason was pure fun. The Broncos missing? Not acceptable. When the Broncos miss more than once in a row, Denver gets down, way down.
How about Elway himself? Is he feeling the pressure? How couldn't he?
This is a can't miss draft.
Even the great John Elway knows that.
The best draft class Elway has assembled in Denver? That would be seven years ago. The Class of 2011: Von Miller, Orlando Franklin and Julius Thomas. Not too shabby, although Franklin and Thomas both have moved on.
Since then, however, there hasn't been a single draft class that's been overly notable. Yes, Elway has indeed drafted some very solid players – Derek Wolfe (2012), Malik Jackson (2012), Bradley Roby (2014), Matt Paradis (2014), Shane Ray (2015), Justin Simmons (2016) and (possibly) Garett Bolles (2017) – but none have made the Pro Bowl as Broncos (Jackson did last season with Jacksonville).
To be fair, far more football players drafted into the NFL fizzle out than truly make it. To be fair, the Broncos, outside of the past two seasons, have been pretty damn good, so it's not like they've enjoyed high picks of late. Remember, Von Miller was the second overall pick – in other words, a can't miss pick.
No. 5 is a can't miss pick, too. And Elway, can… not… miss.
You know what kind of player seems to be a miss the most?
Quarterbacks.
The intangibles make them just so tough to measure. Arm strength is great, but smarts, moxie and leadership are almost impossible to predict at the very highest level. Surely it's easier to look at a running back, linebacker or pass-rusher and conclude that, at the very least, they'll be able to contribute.
To think that Paxton Lynch, a first-rounder, may never truly ever contribute, is mind boggling. To think that Dak Prescott, who was taken 109 slots later than Lynch, was the class of that class, is also mind boggling. How can so many miss so badly on two guys who play the same position?
There are examples at every position – that's impossible to ignore – but quarterback seems to be the biggest headscratcher. It's also the one position that GMs simply can't afford to miss on – if that plan gets derailed, it's time to scramble.
So what's a guy like Elway to do?
Don't miss.
The safest way not to miss? Don't gamble on a quarterback. Find out if Case Keenum can really play. If he can't, find another one, another way, as fast as possible.
If Elway wants to make a pick that won't miss, he should look at purest of athletes within the class: Penn State running back Saquon Barkley, North Carolina edge rusher Bradley Chubb, Notre Dame guard Quenton Nelson. These feel like can't-miss players; they just do.
The quarterbacks are all risky. Look at the countless (and silly) mock drafts across the internet. There's no such thing as a consensus on which quarterback is the best. Sam Darnold, Josh Rosen, Josh Allen and Baker Mayfield are all over all the boards. In a nutshell, that spells a lack of confidence in each of them. Not one of them tops the consensus prospect grade of Barkley, Chubb or Nelson. That doesn't mean none of the quarterbacks will be great. One or more might be. But there's an even larger risk that any of them could be a bust, too.
The Broncos can't have another bust at the quarterback position. Drafting a bust there would be crippling for years to come.
Trading down is another option, but it reeks of sweeping up a bunch of also-rans. Yes, Elway could accumulate volume and value and depth, or maybe in more than just this draft. Still, it seems like a good way to wind up with a lot of what Denver has drafted of late – some good players scattered amongst average or below-average picks, not a great one in sight. It seems like a great way to irritate an anxious fan base.
It's tense in Denver.
John Elway can't miss.
Take a can't-miss, and take a nearly guaranteed step forward. There's no room, or time, for a step back.
Not in Denver.