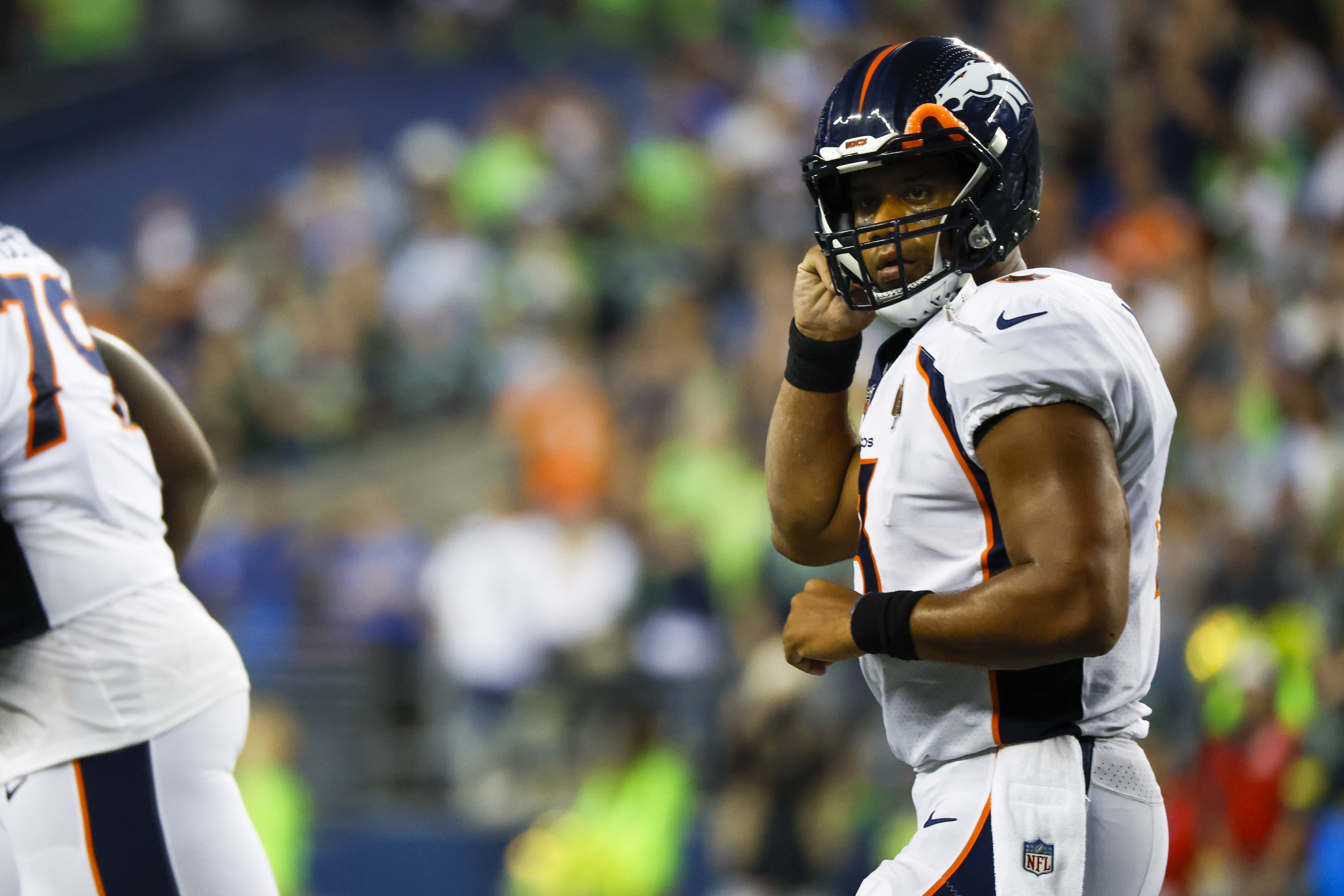 Broncos Country wants desperately to love new head coach Nathaniel Hackett.
But with 15 seconds left on the game clock inside Seattle's Lumen Field on Monday night, and in the words of every parent scolding their beloved youngster at some point, Broncos Country didn't like him much at that point.
You want a grade for Hackett's first game as a head coach?
Why just one? Let's go with three.
W. T. F.
In case you missed it, here's what went down in the final 1:11 of the game: Down 17-16, 3rd-and-14 from the Denver 45, Russell Wilson hit Javonte Williams for a nine-yard gain down to the Seattle 46. Between the play, the time it took to spot the ball and what appeared to be indecision, the Broncos called the first of their three timeouts with just 20 seconds left on the clock. As Broncos Country anxiously awaited a creative play – maybe a bootleg, maybe a strike to Jerry Jeudy, maybe another effective shot to a tight end – the wait came to an abrupt halt. Rather than Wilson, out trotted kicker Brandon McManus, who would be asked to hit a 64-yard field goal – the second-longest in NFL history – for the win.
The kick sailed left. Broncos lose.
Fangio-esque clock management followed by a 64-yard field goal attempt to win rather than putting the ball in the hands of Wilson?
Coach, W.T.F?
After the game, Wilson defended Hackett, saying the Broncos had the best field goal kicker in the game – which isn't untrue.
Also after the game, Hall-of-Fame quarterback Troy Aikman, who called the action alongside Joe Buck from the booth, said, "(Hackett) trusted McManus' leg more than he trusted Russell Wilson being able to convert on fourth down. And that will be heavily dissected as we move throughout the week…and it will not sit well with Russell Wilson."
Buck, who never played in the NFL, fairly pointed out: "This is why you make a deal to get Russell Wilson."
Great point, Joe. Fans in Denver have longed for a franchise quarterback since the moment Peyton Manning retired. In Wilson, they've got one. Whether he picked up the first down or not, there's not a soul who would have questioned putting the ball in Wilson's hands. That's what would have happened when John Elway was the quarterback. That's what would have happened when Manning was the quarterback (unless you're John Fox, but that's an old story that doesn't need rehashed).
It should have happened on Monday night. It should have been the kind of story that only happens in sports: Wilson returns to the franchise who traded them, amidst jeers and boos, has a chance to remind them who quarterbacked them all the way to the organization's only Vince Lombardi Trophy – and wins. Wilson has 24 fourth-quarter comeback wins (seven away from Elway's total) and 32 game-winning drives in his career, fourth-most among active quarterbacks. Wilson should have had No. 25 and No. 33 respectively. It should have been Rudy, Remember the Titans, Waterboy type stuff.
Instead, it was a storybook finish with the last page ripped out. It was a song missing the final verse, a haiku that stopped of a syllable or two.
But here's the deal: It's one game. It's a coach's first game. It's a future Hall-of-Famer's first game with his new team. Nobody wants to lose, but the Broncos were the better team on Monday night. They shot themselves in the foot time and time again. If there's real criticism of Hackett this week, it's that his team was sloppy – between critical turnovers (two fumbles from the 1-yard line) and penalties (12 for 106 yards) it was almost like they didn't play in the preseason.
You know what else? The Broncos were fun to watch. Russell Wilson, who doesn't give up on plays – particularly on third down – is fun to watch. Even Nathaniel Hackett is fun to watch, fun to root for.
The Broncos lost because of rookie mistakes, one big one you'll be hearing about non-stop for the next six days.
But is there a resident of Broncos Country who would trade this 0-1 team for last year's 1-0 team?
Didn't think so.