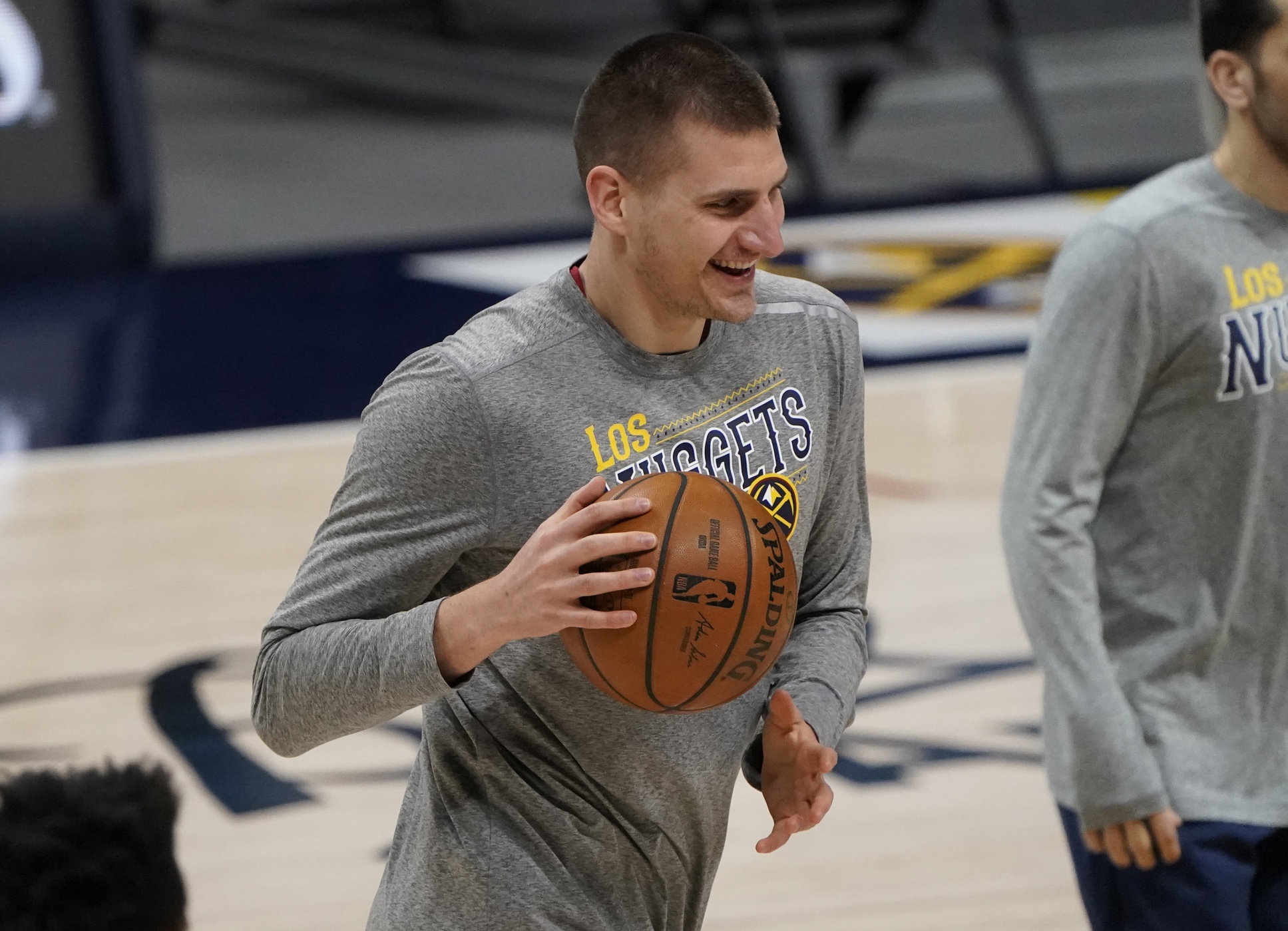 My neighbor just won the NBA's Most Valuable Player Award.
No joke; just the other day, I saw The Joker hop off the elevator.
"What's up?" said Denver Nuggets center Nikola Jokic, as neighbors do, looking like a slightly taller version of some guy I'd borrow a cup of flour from, if I ever needed one, if I ever baked anything.
Presumably, he was scurrying off to practice. From the looks of it, he goes to practice – right down the street at Ball Arena, I suppose – quite a bit. And all that practice must have paid off – you see, my neighbor has just become (officially) the most valuable player in the entire National Basketball Association. Of course, we in the neighborhood have thought that for quite some time, but to have folks from near and far finally acknowledge this as fact is pretty special.
Of the 101 possible first place votes, my neighbor got a whopping 91 of them. It wasn't even close.
Sometime during the pandemic – call it late spring or so – long before the NBA resumed its play in the Bubble, basketball's brightest star strolled the outer loop at Wash Park in broad daylight. At that time, that's just what people 'round here did – get outside, get some exercise, some fresh air. Nikola Jokic was no different – correction: Nikola Jokic isno different, then or now. Looking like a guy that needed a haircut (just like everyone else at the time), along with his fiancé and brother, he just sauntered around the park. My dog and I were a ways behind, and from the time I noticed it was him to the time we hopped off the path, I'd venture to guess that only four of the hundreds of people who crossed him going the other way did so much as a double-take.  Extrapolating my very unscientific study, I'd venture to say in the entire 2.3-mile track, only seven or eight people realized they were sharing a stroll with the greatest basketball player on the planet.
And this, in a nutshell, is what I love about Nikola Jokic.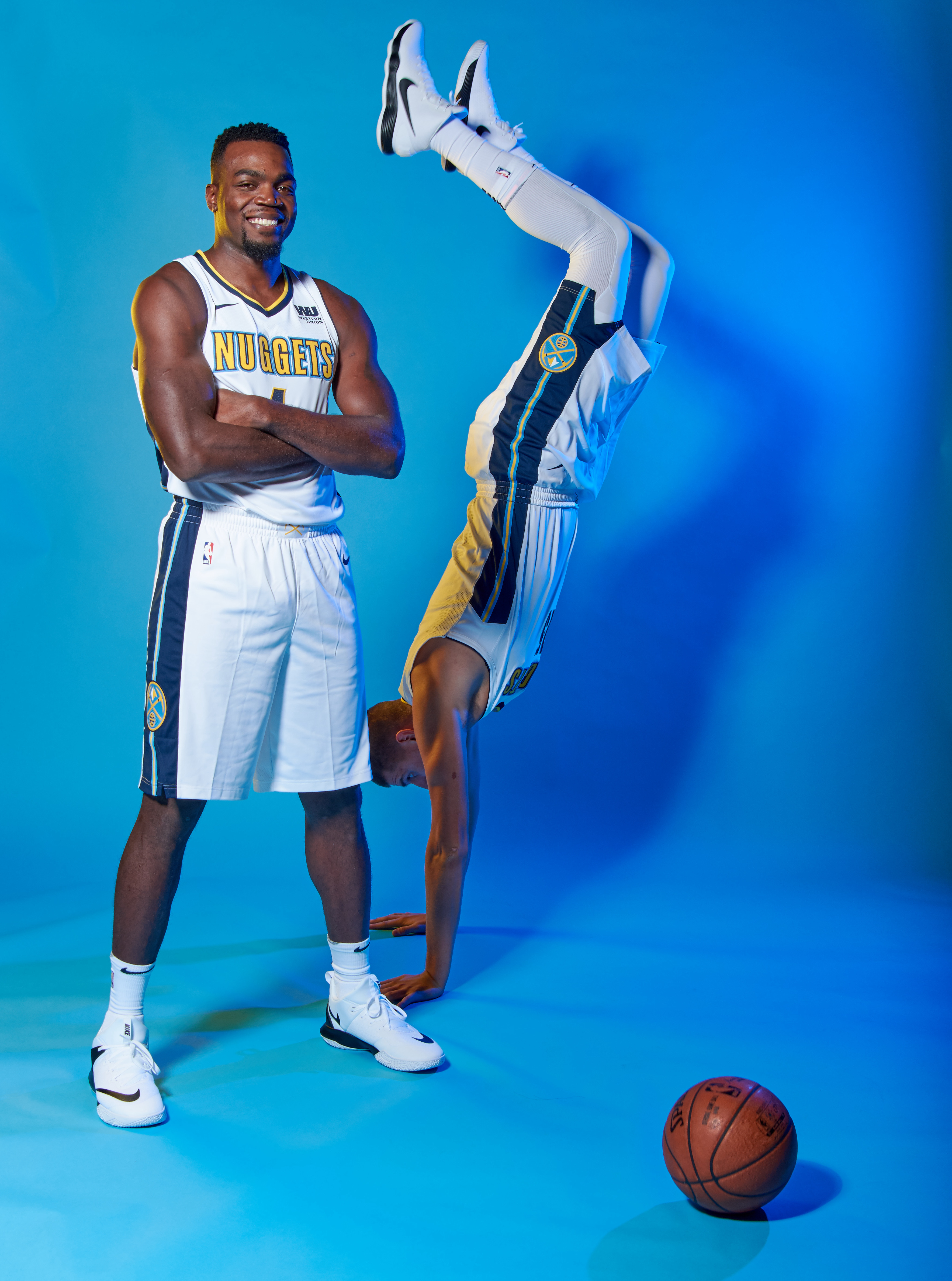 He's one of us. He lives here. He wants to be here. He happily and humbly does what he does best here.
We cannot relate to LeBron James, whose godlike figure performs acrobatics that defy the laws of gravity several feet above Dr. Naismith's 10-foot peach basket. We certainly don't understand why he'd rather live in L.A. than Denver, Colorado. None of us can fathom being as long and strong and athletic as Giannis Antetokounmpo or as deftly accurate at a halfcourt shot as Steph Curry or Dame Lillard.
But when we watch Nikola Jokic drain his signature Sombor Shuffle shot from the top of the key, we think, "Hey, that's a shot I made once in a game of P-I-G."
The difference, obviously, is that we're joking around, lucky to hit such a shot every now and then. The Joker drains this in the face of the NBA's greatest defenders when the game is on the line. In fact, he's perfected this type of maneuver, and others like it, to the tune of 26.4 points per game this season. While we're just messing around in the driveway, Joker messed around and got a triple-double – 16 of them, to be exact. Heck, he averaged a double-double (with 10.8 rebounds) this season and almost averaged a triple-double, adding 8.3 assists. He does it all.
Perhaps what's most amazing is that it's all so effortless. In the best way imaginable, what Jokic does is so unimpressive. It just happens. Night after night after night. You (and everyone else until now) hardly notice. The Joker does not need a nightly highlight on SportsCenter to win the NBA's most prestigious individual honor.
While James Harden falsely and arrogantly proclaims himself to be the MVP, and LeBron James foolishly and unsuccessfully petitions for someone else to be voted the MVP, Nikola Jokic couldn't care less and actually goes out and wins the MVP.
The Joker is his own man. He's not showy. He can be goofy. He can be serious. He is not a typical superstar.
But it's all so much more than that.
He's ours.
It's not always easy being a Nuggets fan. There have been plenty of downs to go with a handful of ups. This honor, the first of its kind in Nuggets franchise history, is not only about Nikola Jokic, it's about us. Though we had nothing more than a hearty cheer to do with it, it somehow feels like it's ours. Nikola Jokic – the M-V-freaking-P! – is suddenly a feather in our cap that was never there before. He just gave us bragging rights, a reason to puff out our chest.
I think of all the people I know who love the Nuggets, many of whom swapped texts and well-wishes upon hearing the news. This is for them; it's been a longtime coming. I think of loyal fans like Andrew Feinstein, who's bled Nuggets Blue for as long as I've known him. Or Helen Ottewill, whose held onto her season tickets since 1993, sometimes "only because of Rocky," the greatest mascot in all of sports. I think of my dad Bob who tried out for Alex Hannum's Rockets in 1971 and still records every game he can in 2021. This is for all the Nuggets ball boys (now old men) I know: Vic Lombardi (yes, that one), Fish, Coach Linder up in Wyoming and Randall Peterson. I think of the Merilatt Boys nextdoor, who played out countless make-believe Nuggets season in their basement and kept pretend stats for everyone from T.R. Dunn and Danny Schayes to Fat Lever and Alex English. I'm happy for the guys who were there along the way – media directors Tim Gelt and Nick O'Hayre, writers like Mike Monroe who was on press row back when there was a press row, photographers like Jathan Campbell and Garrett Ellwood who seemingly captured every magical moment, broadcasters like the late, great Irv Brown who would have been so proud.
A Denver Nugget? One of our guys? Winning the NBA's Most Valuable Player?
Get out.
Congratulations to Nikola Jokic. And perhaps of equal importance, thank you.
Photo in story is from our cover photoshoot with Paul Millsap and Nikola Jokic for the November 2017 issue of Mile High Sports Magazine, courtesy of Randy Parietti.