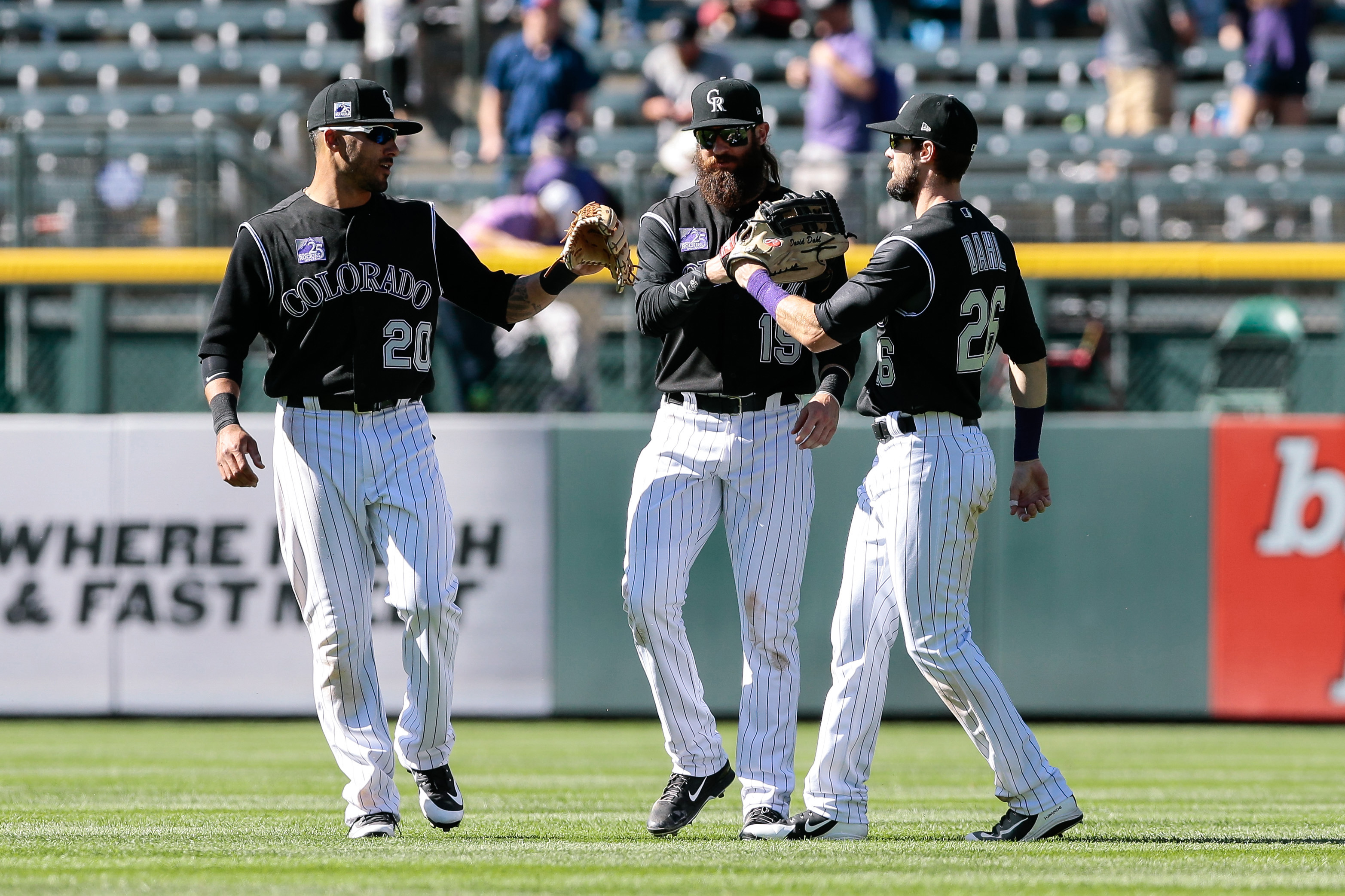 According to Patrick Saunders of the Denver Post, Charlie Blackmon will be moving from center to right field this season. The veteran outfielder will be helping the Colorado Rockies replace the hole left by Carlos Gonzalez and creating an opportunity for David Dahl to enter the starting lineup.
In 10+ years with the Rockies, Gonzalez played a total of 640 games in right field, including 117 last season alone. Despite recent conversations about a potential return to Colorado, Gonzalez' days as a starter appear to behind him, even if he ultimately chooses to re-sign.
For Blackmon, the move will certainly be a change of scenery as he has pretty much exclusively spent the last four seasons in center field. The 32-year old outfielder does have some experience in the corners though. Between 2013-14, Blackmon played 131 games in left field.
With Blackmon shifting to right field, Dahl will be starting in left and Ian Desmond will be transitioning to center field. Desmond signed a five-year deal prior to the 2017 season with the intention of playing first base, but after struggling defensively over the last two seasons, the move allows him to play a position that is more conducive to his athleticism.
While the new outfield alignment will take some getting used to, it has potential to be a good thing for all parties involved.
Blackmon will now have a lesser load defensively, which should free him up to focus on hitting. Considering 'Chuck Nazty' was already one of the best leadoff men in the MLB, this move should only mean good things for the Rockies offense in 2019.
What did new #Rockies right fielder Charlie Blackmon, who moves while Ian Desmond takes over in center, learn from longtime RF Carlos Gonzalez? He tells @nickgroke pic.twitter.com/08J1Zns6em

— Thomas Harding (@harding_at_mlb) February 18, 2019
Moving Desmond to the outfield should also help the Rockies defensively. Desmond's speed in center field can be a big factor when it comes to defending balls hit in the gaps. Contrary to popular belief, what makes Coors Field such a dangerous park to pitch in is not the amount of home runs given up, but the amount of singles that get turned into doubles and doubles turned to triples in Colorado's massive outfield.
Desmond is just two seasons removed from being all-star outfielder for the Texas Rangers. During that 2016 season, Desmond played 130-of-156 games in center field and posted a career-high fielding percentage (.966). Rockies manager Bud Black will be hoping that Desmond finds a similar comfort level in center field this season.
Finally, slotting Dahl in left field is the best move for his success. Even though the 24-year old is going to be in the lineup for his bat, putting him in the position he has spent the most time in makes quite a bit of sense. In his big league career, Dahl has made 121 career starts and 88 of them have been in left field (72 percent). During those games, Dahl has a fielding percentage of .985.
Aside from the starters, other guys that could make an impact in the outfield for the Rockies this season are Raimel Tapia and Noel Cuevas. Each will likely compete for a spot on the Opening Day roster, especially if Gonzalez does not return to the Rockies.
The Rockies officially kicked off Spring Training with the entire roster on Monday. Colorado will open the preseason slate against the Diamondbacks on February 23 and the regular season begins in Miami on March 28.