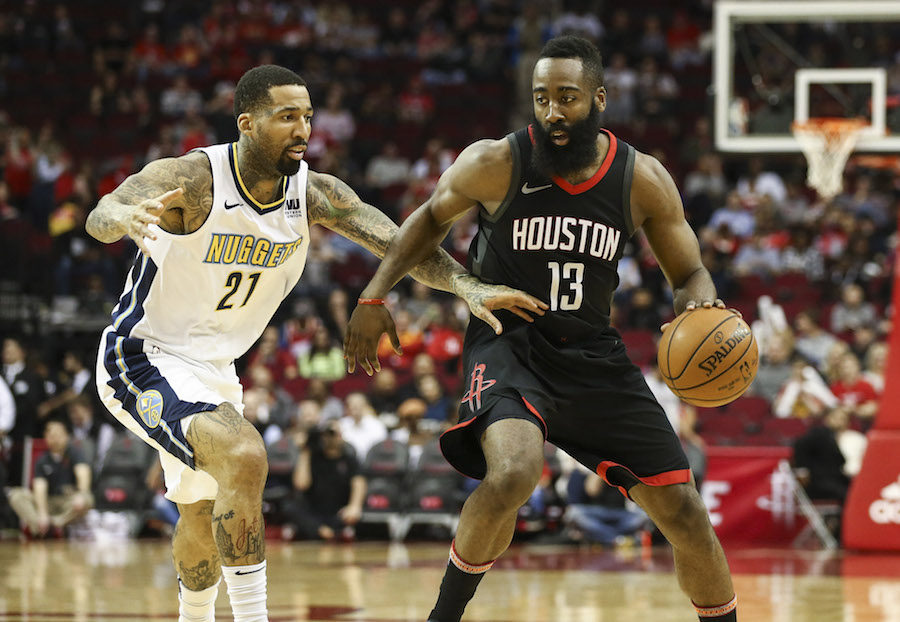 The future of the Denver Nuggets depends on Nikola Jokic, Gary Harris and Jamal Murray.
The present sits squarely on the shoulders of Wilson Chandler.
That might sound funny, considering that Chandler has been anything but a key cog for the Nuggets this season. In fact, for the most part and among the starters, he's been the weak link. After averaging 15.7 points in 71 games for the Nuggets last season — respectively his highest and fourth highest marks since he began his NBA career in 2007 — Chandler has simply laid an egg this season. At present, Chandler averages 9.1 points in 30.4 minutes per game. He's been the subject of steady criticism and was linked to multiple attempted trades at last week's trade deadline.
The deadline came and went, and — much to the chagrin of Nuggets fans and probably the Nuggets organization — Chandler (and his $12 million salary) stayed put.
So, there he was on Friday and Saturday night. The unwanted starter, starting for a team that more than likely hoped he'd have been long gone.
In Houston on Friday the entire team was off, but Chandler was decent. He was 4-for-8, scoring 11 points in 23 minutes. To be fair, the ball doesn't go through Chandler these days like it used to (as it shouldn't), and he's been cast more as one of the team's most consistent defenders. His personal performance was of little consequence Friday, however, as Houston scored 130 points and cruised to a lopsided win.
But on Saturday against the Suns, it was as if Chandler was reborn. As if he took all those trade rumors personally. As if he — for the first time this year — was ticked off and decided to put his God-given talents to work. He poured in 26 points on an impressive 11-for-15 from the floor, 3-for-4 from beyond the arc. Best yet was the fact that he drained big shots down the stretch.
After the game, Chandler called his performance a "throwback."
Michael Malone said Chandler was "aggressive."
There's little debating that Chandler was aggressive. He's been so passive this season the contrast was stark. Perhaps one of the most physically gifted players on Denver's roster (or in the NBA for that matter), Chandler stands at 6-foot-9 and tips the scales at 225 pounds. He is the closest thing to LeBron James the Nuggets have to offer. Yet, all season, he's played as if he's six-two, a buck-eighty-five and unsure if he's a shooter or a slasher.
Of all the Nuggets, Chandler might be the most physically capable of being great. But in terms of having killer instinct, he's typically been the furthest thing from King James in the Association. He's a frustrating player: It's all there, but at the same time, it is rarely summoned.
So, how does this grab you?
As goes Wilson Chandler, so go the Nuggets.
As Denver awaits the day when Murray becomes a bona fide star — for now, he's shown flashes, but at 20 years old is also inconsistent — or even the day when Paul Millsap returns from injury, the quickest and most obvious way to climb higher in the playoff seeding is sitting right there in front of us. He's already a starter, and the best part is that the Nuggets don't even need him to score 26 points every night (he's only crossed 20 twice this season).
They just need Wilson Chandler to be decent. No two-point games (he's had six this season, in three of which he played 30-plus minutes). No shooting south of 30 percent (he's had nine of those games this season).
Just.
Decent.
Chandler has somehow managed to score 9 points or fewer in 32 games. But get this: When he does score in double digits, the Nuggets are an impressive 12-6.
Seems like a simple formula, doesn't it?
Chandler is not Denver's star. He's not the player for which the opposition plans. Guys like Murray, Jokic and Harris rightfully fill that role. But, the Nuggets could ascend to the fifth seed in the Western Conference playoff picture if Chandler can just contribute. It's right there for the taking.
If Chandler plays well down the stretch, not only will the Nuggets climb in the standings, but they'll also be more able to move him in the offseason, presumably something they'll try to do.
Who'd have thought the Nuggets season rests on the shoulders of Wilson Chandler? In an odd sort of way, it really does.