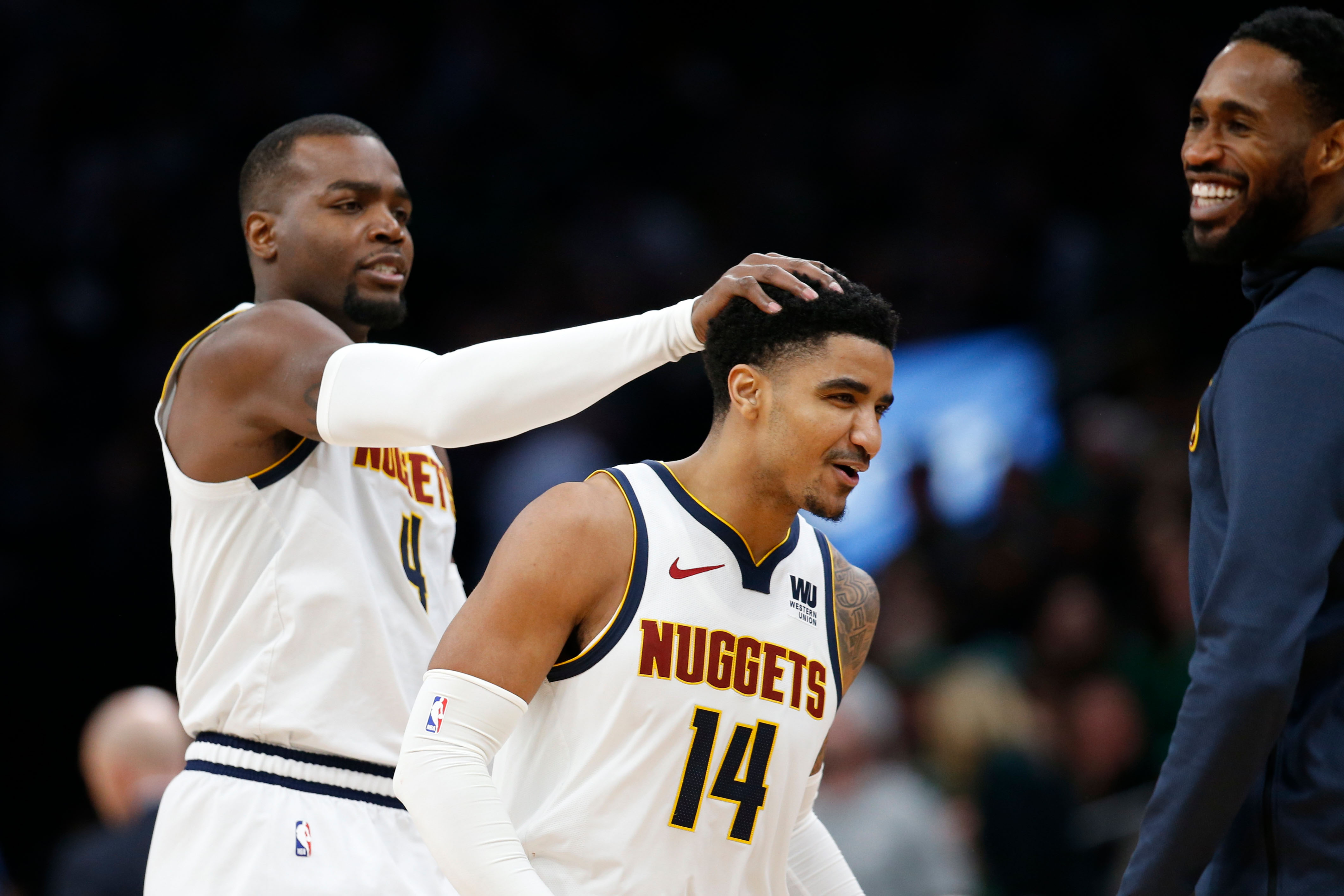 April 12th, 2018 seems like a distant memory at this point, but that is the moment that the Denver Nuggets became the lethal and dangerous team they are today.
That morning — just hours after failing to secure a playoff spot in game 82 versus the Minnesota Timberwolves — the Denver Nuggets sluggishly brought themselves back to the Pepsi Center for the ceremonial exit interviews and to clean out their lockers instead of heading off to Houston to take on the Rockets in a first-round playoff series.
As expected, most players were frustrated. Denver had just won six-straight games against playoff-caliber opponents just to give themselves an opportunity to make the playoffs. For that dream to be destroyed in overtime during the final game of the season at the hands of the team that is going to the postseason instead of them almost felt cruel, but instead of feeling sorry for themselves, the young Nuggets roster and coaching staff made a vow to never put themselves in that position again.
"We can't drop games that we should win," Torrey Craig explained the morning after the deflating overtime loss in Minnesota. "All those games that we lost to teams that we should have beat really came back to haunt us at the end. Losing to Phoenix at home, Atlanta at home, Memphis on the road; those are games that we should have won that eventually came back to effect us in the end."
Frustration was an emotion that was felt by the entirety of the roster which made it an obvious and unavoidable talking point on the excruciatingly long flight back to Denver from Minnesota after being eliminated from the playoffs. No, those conversations were not enjoyable, but they were necessary to Denver taking the next step towards contention.
"A few of us guys talked about it after the game," Gary Harris explained during his exit interview. "If we played like that the whole season I don't even feel like we would have been in that position; especially dropping a few games that we know we should not have dropped that came back to haunt us; especially at the end of the season. We just have to come into next year more locked in and ready to play how we did the last seven games of the season."
With 2017-18 now in the rear-view mirror, the Nuggets have attacked the 2018-19 season with reckless abandon and have made good on their vow. On Monday night, against the surging Boston Celtics, the Nuggets managed to escape with a gutsy road win; their 47th win of the season which also locked Denver into the Western Conference playoff picture for the first time in six years.
"It is a great feeling," Nuggets head coach Michael Malone said. "It is four years in the making; two years in a row of coming up just shy, one game short, and using that as a motivation for tonight's moment. I am so happy for our guys who put a lot of time and work into this, but we still have a lot of work to do."
The Nuggets' journey back to the playoffs has not been easy and has required a lot of self-reflection by the coaching staff and roster, but they have taken all of the pain and suffering of failure over the past two seasons and have converted it into fuel.
"We have been in the same situation two years in a row. We missed the playoffs by one game (in 2016-17) as well," Malone explained during his own exit interview. "Obviously, this one felt different because we won 46 games going 8-3 in the final 11 games and 6-1 in the last seven games, but, at some point — you see it with teams and you've seen it with some great NBA players throughout history — it is that pain and that disappointment that drives guys. That gives them a motivation, a hunger, a passion to come back and not find themselves in that same situation again."
That fuel is what Denver has used to rocket themselves all the way to the top of the Western Conference standings; a spot that they are currently sharing with the Golden State Warriors who are sporting a identical 47-22 record after 69 games.
"I think every great player and every great team goes through that journey of the failure kind of drives you and motivates you," Malone explained after beating the Celtics. "That is what we have used all offseason into this season."
Now, the Nuggets are sticking with that same vow of taking every game, every quarter, and every possession seriously and are applying it to not just making the playoffs, but to every obstacle that remains in their path.
"Going into this season, it was just make the playoffs," Malone explained. "Now, let's fight for a number one seed. Let's fight for homecourt advantage and see where that can take us.
"We still have a lot of very difficult games left, but one game at a time. I love the mindset of our players right now. No one is satisfied with just being a playoff team. We have seen what we are capable and we are going to hold ourselves to the highest standard possible."
No longer are the Nuggets just trying to make the playoffs — that goal has already been accomplished. Now, Denver wants homecourt advantage in the playoffs. Once they reach that goal, they will turn their focus to securing the first seed in the death gauntlet that is the Western Conference for the first time since the the ABA and NBA merger. Then, Denver will turn its attention to getting as deep into the playoffs as possible.
Simply stated, the Nuggets no longer want what is given. Instead, they are looking to take what they view as theirs. This Nuggets roster has a collective chip on their shoulder and they look forward to showing the rest of the league just how special this group of men can be.
"We are not satisfied with just making the playoffs," Malone explained. "I think we realized early on in the season that we have a chance to be a special team and that remains the case. So let's continue to fight, try to win as many games as we can, and see where we wind up."
"We are focused on the bigger picture right now," Mason Plumlee said. "We have a chance to do something special and I think that is what is on everyones' mind."