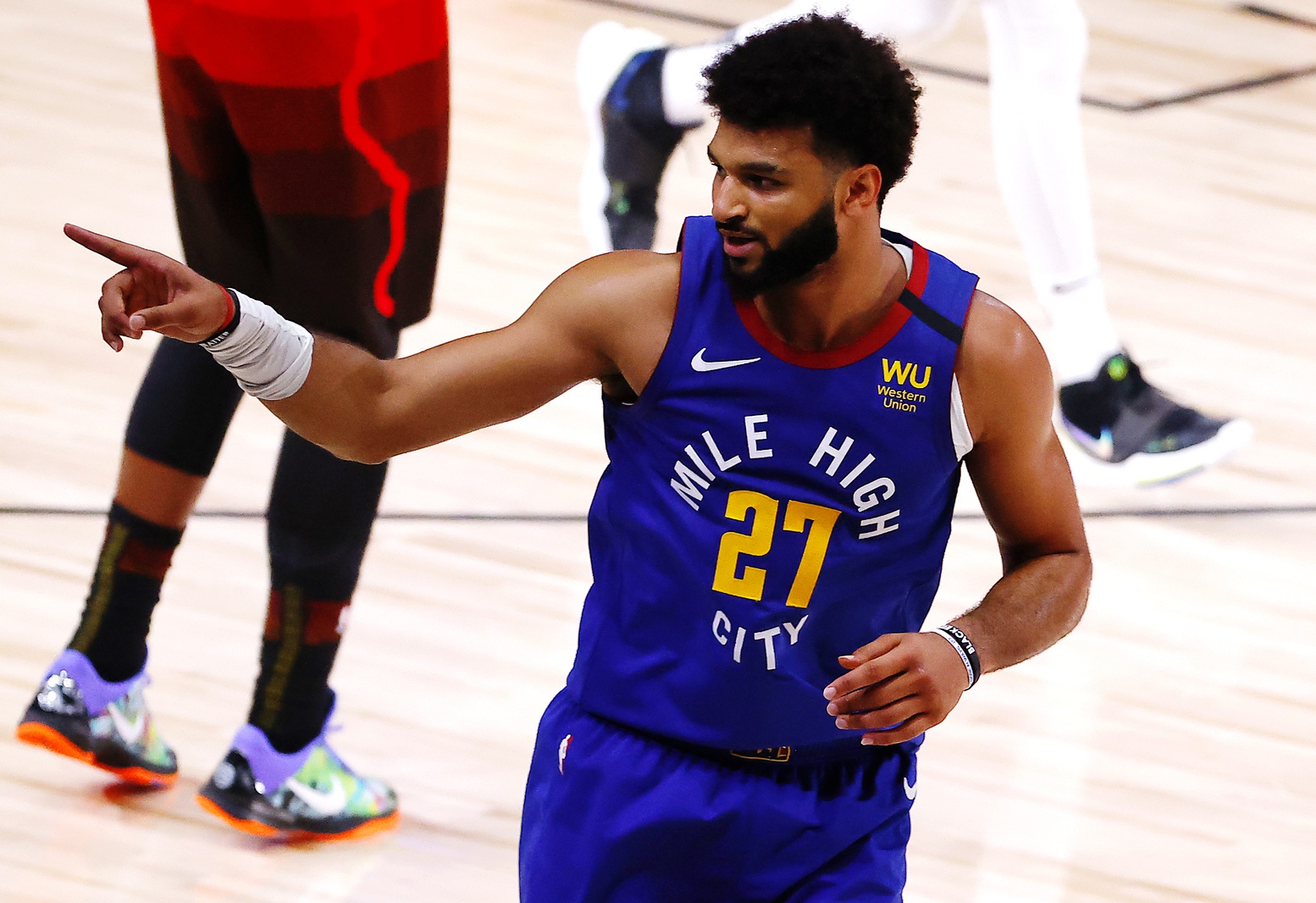 Every dark cloud has its silver lining.
The list of negatives tied to the great pandemic of 2020 is too long to possibly pen, but there's at least one undeniable positive percolating from the NBA Bubble in Orlando. And from a couch in Denver, Colo., the good vibes appear to be specifically swirling around the Denver Nuggets.
The Nuggets were good before the NBA shut things down, the first of many dominoes that saw the Coronavirus shutting down the country for most of spring and summer. A team doesn't climb to 43-22 and to third place in the loaded Western Conference without at least being good. In fact, the Nuggets have been good for at least two seasons now.
Just before the Association stopped play, whether or not the Nuggets were getting, or had gotten, better was a topic for debate. In the 11 games leading up to the shutdown, the Nuggets were gripping, go an uninspiring 5-6.
Furthermore, the drama – or at least the perceived drama – that surrounded intriguing rookie (potential) star Michael Porter Jr. seemed to be intensifying. In that same 12 game sample, Porter Jr. didn't play at all twice, and in the games he did play, his role and minutes were wildly inconsistent; he averaged just over 11 minutes of playing time (logging 22:29 at the most, and 4:44 at least), and a measly 4.7 points per game. It also felt like he was made the scapegoat for an ugly home loss to a depleted Golden State team. While he didn't shine in that game – scoring three points, grabbing two rebounds and posting a -7 plus/minus in 13 minutes – his contributions weren't any more or less notable than plenty of other Nuggets. No Nuggets registered a positive plus/minus, and veteran starters Jamal Murray, Gary Harris, Will Barton, Nikola Jokic and Paul Millsap all offered similar if not worse results, tallying plus/minus lines of -9, -10, -9, -10 and -9 respectively.
Two nights later against an equally crappy Charlotte team, Porter Jr. logged a DNP and was seemingly punished by Malone, while not much changed for the rest of the Nuggets – who barely squeaked out a 2-point win.
In a ugly loss to the Mavericks in Dallas – a game that ultimately concluded the "normal" season for the Nuggets – Porter Jr. played 4:44 and didn't score.
And then the pandemic hit.
Thank goodness.
Whatever happened between March 11 in Dallas and Aug. 1 in Orlando we may never know. But whatever took place was good – call it great – for Michael Porter Jr. Perhaps more importantly, it was great for the Nuggets, who have been the beneficiary of the young star's performance.
Was there a closed-door meeting between Malone and Tim Connelly, discussing the use and future of Porter Jr.? Was it finally time to see if Malone's "tough love" approach to Porter Jr. produced the desired results? Or was the four-month break, and a comeback that has yet to feature the services of Gary Harris or Will Barton, simply blind luck? Did the bizarre situation effectively force Malone's hand into playing – consistently – his young star, something he had a propensity not to do before?
In Orlando, Porter Jr. has shined in a starting role. In five games (and five starts), he's averaging over 36 minutes of playing time, 25.6 points and 10.2 rebounds. Not only is he averaging a double-double, he's posted four consecutive double-doubles heading into Monday night's showdown with the Lakers.
But it was Saturday's double-overtime win that provided a glimpse of the Nuggets future – a bright one when it includes Porter Jr.
If you subscribe to the theory that most NBA championship teams have three superstars, it's been tough to make an argument that the Nuggets have what it takes to win it all. Jokic is undeniable star while Murray, it's often said, has the mindset and talent to become one.
From there, however, it's a series of maybe's and not-quite's. Gary Harris has almost taken steps back since signing a longterm contract with the team; he's been inconsistent at best. Paul Millsap is a quality veteran, but he's also aging; he might be too old by the time the rest of the Nuggets mature to a championship level. Will Barton is more naturally suited to be a sixth man, and Jerami Grant and Torrey Craig are excellent in their (primarily defensive) roles, but will always get their points and boards from hustle and athleticism rather than anything drawn up in a timeout.
And then there's Porter Jr., who, up until now, has played the role of the tempting but frustrating young talent. And heisn't necessarily the root of the frustration – that comes courtesy of Malone.
But on Saturday, with Murray finally healthy enough to play, Nuggets fans – and hopefully their coach – could vividly imagine the three-star future that finally feels like a reality in Denver at the moment. Who the three stars were, and will be, was as crystal clear as their boxscore, a glorious set of numbers that showed Jokic, Murray and Porter Jr. all contributing double-doubles (Jokic: 30 pts, 11 rebounds; Murray: 23 pts, 12 rebounds; Porter Jr.: 23 pts, 11 rebounds). Better yet, they each took over various parts of a game that looked more like a heavyweight title bout, a thriller in which both teams' stars landed haymakers from bell to bell.
Winning it all for the Nuggets this year is probably still unlikely. But how they'll win it eventually, and who they'll win it with, has been revealed in the Bubble. Call it luck, addition by subtraction or the result of a mysteriously frustrating master plan, but the Nuggets have struck gold.
For better or worse, it took a pandemic for the Nuggets to finally figure out what they've got in Michael Porter Jr. Credit COVID-19 for a discovery that will ultimately lead to boasting a true "big three" and, consequently, an NBA title.
Now, it's on the coach and management not to screw it up.