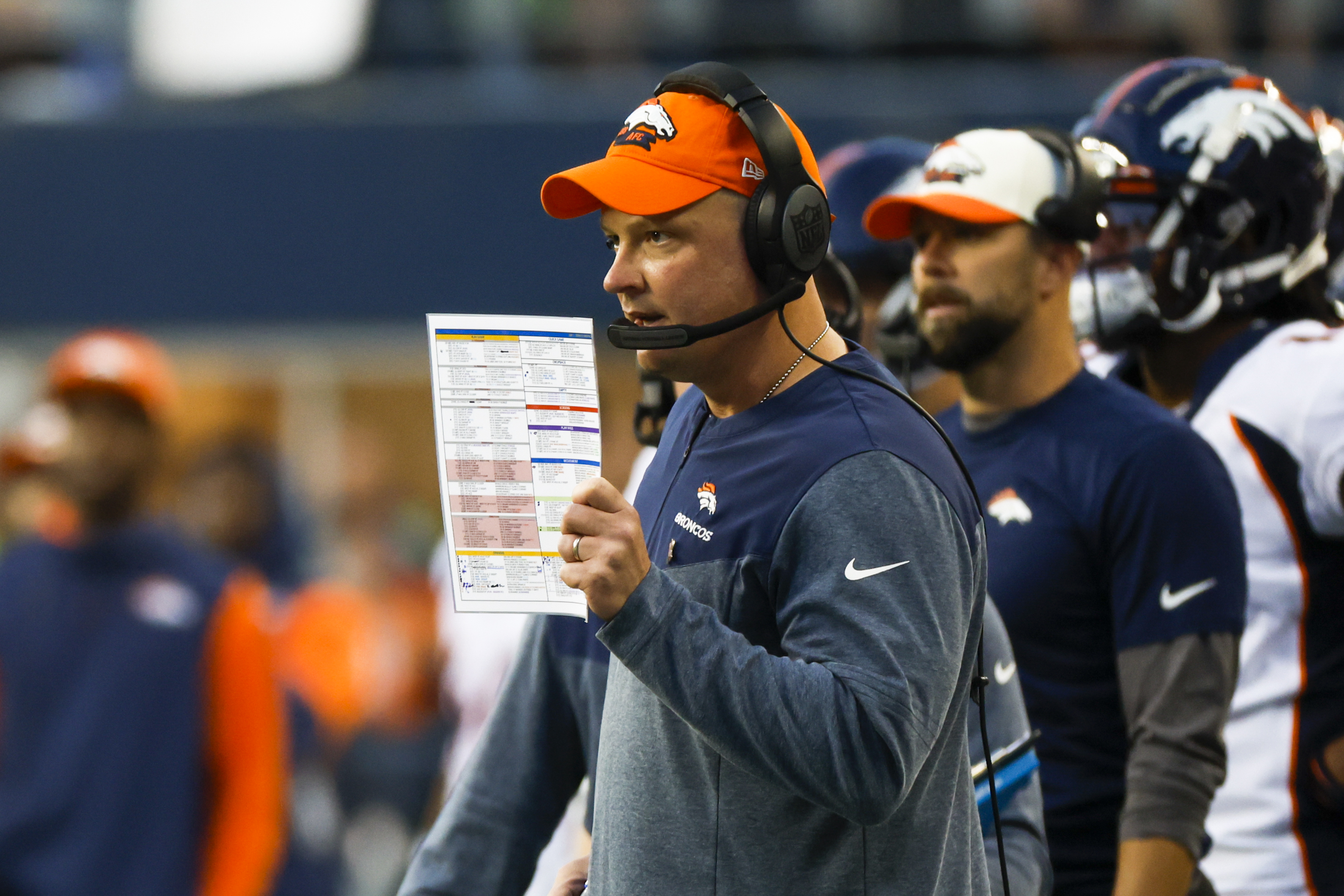 The Denver Broncos pointed a double-barreled shotgun at their toes and then gladly pulled both triggers on Monday Night Football in Week 1.
However, despite the demoralizing ending, there were some strong performances that stood out.
Which performances were the most impressive and which raised the most questions heading into Week 2? Let's take a look in this edition of the Denver Broncos stock report.
Who's rising for the Denver Broncos?
Russell Wilson
In his first game in orange and blue, Russell Wilson had a really strong game.
It might've not been perfection, but Wilson moved the offense up and down the field, completing just over 69 percent of his passes at an efficient clip of 8.1 yards per attempt. That's efficiency that would've been unreasonable to expect in his first game in the offense, playing with players he's never played with before.
Russell Wilson & Jerry Jeudy (67-yd TD)

🔹 Completion Probability: 29.7%
🔹 Yards After Catch: 43
🔹 YAC Over Expected: +39

Since 2016, Wilson leads the NFL in completions (183) and TD passes (66) on passes over 20 air yards.#DENvsSEA | Powered by @awscloud pic.twitter.com/IvL5gberHF

— Next Gen Stats (@NextGenStats) September 13, 2022
He also avoided turnovers, while notching a touchdown for the Broncos offense. He also came mere inches — thanks to Albert Okwuegbunam coming up just short on one passing play, and Eric Tomlinson being just barely out of bounds on another — shy of tossing three touchdowns on the day.
Denver's offense moved with an efficiency that hasn't been seen since 2014. That should be incredibly promising, for what many expected to be a rusty debut. The lack of redzone production was a problem, but one would be hardpressed to place that blame squarely on Wilson.
Hopefully we see more explosive shot and less dinking-and-dunking over time, but those downfield shots require more chemistry from the quarterback and pass-catchers, so it's understandable that aspect of the offense wasn't fully unleashed this week.
Jerry Jeudy & Courtland Sutton
This is another case where the performances weren't flawless, but the Denver Broncos have to be excited with what they saw from Courtland Sutton and Jerry Jeudy against the Seattle Seahawks.
Jeudy lit the fuse on the offensive powderkeg with his remarkable 67-yard touchdown, which showcased the top-15 talent Broncos Country has spent the past two years clamoring for.
Russell Wilson to Jeudy for his 1st Broncos TD pic.twitter.com/e45aSGUWDX

— alex (@highlghtheaven) September 13, 2022
Jeudy ran a phantasmal route that left the cornerback in the dirt — searching for his ankles as if they were Velma Dinkley's glasses — and then climbed vertically for what should've been an easy touchdown, had Wilson properly placed the ball. Jeudy made a terrific adjustment to reel in the difficult catch, and then accelerated away from multiple Seahawks defenders to score the touchdown and swing the momentum back Denver's way.
It wasn't just that one play though, as Jeudy showcased his high-end talent every time he had the ball in his hands.
Jeudy did suffer a critical drop, that was quickly erased by Albert Okwuegbunam, but ultimately, he led the team in receiving yards and scored the team's only offensive touchdown and there were far more positives than negatives to his outing.
A Jeudy breakout season feels more real than ever now.
Meanwhile, Courtland Sutton was also terrific, despite not quite having the same impact on the game that Jeudy did. Sutton made multiple plays after the catch, which was very exciting to see for the Denver Broncos after that facet of his game seemed to have vanished in 2021.
Also, it'll likely go unmentioned, but Sutton's additions as a blocker were super valuable on Monday night. It was critical to sparking the run game, while that run game was forced to operate in a brand new offensive scheme. He deserves some amount of credit for the strong nights of Javonte Williams and Melvin Gordon too.
For the first time since the 2020 offseason, Broncos fans can be really excited about the tandem of Sutton and Jeudy with little-to-no reservations.
Bradley Chubb & Randy Gregory
The Denver Broncos edge rush is the biggest x-factor on this team, as it is relying heavily on two super-talented players with major injury and reliability concerns, and two other super-talented players that haven't played the position at the NFL level before.
The ceiling is very high and the floor is very low.
Fortunately for Broncos Country, the result seems to be trending toward the ceiling after one game.
Bradley Chubb registered two sacks, including a forced fumble that took a wildly lucky bounce into the arms of left tackle Charles Cross. Chubb's second sack was also very valuable, as it came on a crucial third down that helped keep Denver's comeback hopes alive.
Broncos defense comes up BIG as Bradley Chubb gets the sack to force a 3-and-out 👀🔥 pic.twitter.com/WCupSbDNhQ

— The Draft Network (@TheDraftNetwork) September 13, 2022
Randy Gregory wasn't quite at that level, but his forced fumble showcased his hustle and gave Denver their lone takeaway of the game. It just hurts they couldn't take advantage of it.
Randy Gregory forces a fumble in his first game with the Broncos 😤pic.twitter.com/bBsikksqvp

— BetMGM 🦁 (@BetMGM) September 13, 2022
Right after that forced fumble, Gregory was involved on back-to-back pressures of Geno Smith to open the next drive, forcing the Seahawks into a 3rd-and-8.
Even Baron Browning got involved with a splashy tackle of D.K. Metcalf in the backfield, forcing an eight-yard loss.
The Denver Broncos' edge group looks promising.
Honorable Mentions: Javonte Williams, Albert Okwuegbunam & Andrew Beck
Each of these three players had an impact on the passing game larger than expected and looked good doing so.
Hopefully, you had Javonte Williams on your PPR fantasy team, as he was Wilson's favorite target by a mile. The screen pass to him — which was very productive early on in the game — waned in its effectiveness by the game's end but still resulted in him tallying 65 yards on 11 receptions in total, which was third-most and most on the team, respectively.
The lost fumble was fairly ugly and is definitely worthy of criticism, but that plays more on the offensive line and Graham Glasgow's miscommunication.
On Javonte Williams fumble where he first ran into Graham Glasgow backside, Glasgow said it was pass play changed to run. Only he didn't get audible to run and he set up for pass block. Williams tried to fight for space but was stripped. Crowd noise makes a difference. #9sports

— Mike Klis (@mikeklis) September 13, 2022
Williams also averaged over six yards per carry on the ground, which one would like to see the Broncos lean into more in future weeks, as he only carried the ball seven times despite how effective he was.
Albert Okwuegbunam faced a lot of concern and scrutiny after he was seen playing deep into the fourth quarter of the preseason, but he put much of that worry to bed tonight. He was second on the team in receptions, with five, and gained 33 yards, including a remarkable second-effort to pick up a vital conversion.
Albert O – Playmaker pic.twitter.com/LeBLpCWexJ

— PlayerProfiler NFL (@Profiler_NFL) September 13, 2022
Lastly, Andrew Beck made catches of 26 and 27 yards to help spark the Broncos' offense, and in doing so, showed more receiving ability than most anybody thought he had.
OKAY, BECK!

📺: ESPN pic.twitter.com/56Gt6iJhxV

— Denver Broncos (@Broncos) September 13, 2022
Who's Falling for the Denver Broncos?
Denver Broncos Coaching Staff
Wow.
There is no series of words that can properly encapsulate just how mind-bogglingly bad much of the coaching staff's Week 1 performance was.
Let's get ahead of the pushback to this section though, before we go on a lengthy string of complaints. Yes, it's only the coaching staff's first game, it's only one game, and things could certainly improve. That said, this was about as bad a note for their tenures to start on.
Now, we have to start with the obvious.
At the end of Monday night's game, the coaching staff somehow arrived at the conclusion that a 64-yard field goal — which if made would be the second-longest made kick in NFL history — with a kicker that is 0-for-6 from 62-plus yards out was a more preferable answer than trying to convert a 4th-and-5.
That is insane, not only because of what the Denver Broncos gave up to acquire Wilson but also because of how well the offense was moving the ball that game.
The offense was gaining 6.8 yards per play, Wilson was averaging 7.9 yards per dropback and both running backs were averaging at least 5.0 yards per touch.
It's not overdramatic to say the Broncos traded for Wilson literally for moments like this. The fact he wasn't utilized during such a moment is befuddling.
The penalties were also a serious problem and one that reflects poorly on this coaching staff too. With 12 penalties for 106 yards, the Denver Broncos were the league's most penalized team from a yardage perspective and the second-most penalized team from a quantity perspective (Jacksonville Jaguars edge them out with 13).
Lastly, the offense also got the play call in too late on a regular basis, leading to two delay-of-game penalties and a lot of unnecessary offensive chaos. Considering Hackett was managing head coaching duties for the first time ever, while also managing play calls for the first time since 2018, it's understandable that things were a little clunky, but it still has to improve moving forward.
Redzone Offense
This one also ties back into the coaching staff, as performances in redzone and third- and fourth-down situations is often the result of coaching.
Against the Seattle Seahawks on Monday night, the Denver Broncos had five redzone possessions, and yet, only produced nine points.
At one point, they went for it on fourth and goal and were blown up short of the goal line. The play was punctuated by a Melvin Gordon fumble, but whether or not he fumbled the ball there was inconsequential to the play's failure.
At another aforementioned point, the line was blown up and Seattle's defense was able to immediately force a fumble on Javonte Williams, which skittered into the lap of the defense, robbing Denver of more points.
One field goal on either of those possessions wouldn't have changed the narrative that the redzone offense needed to improve, but it could've changed the game for the Broncos, and given them a win, ultimately changing their 2022 season.
The Broncos' offense was rolling on Monday night, and it didn't even matter, because the redzone offense was so putrid.
Denver Broncos Secondary
Lastly, the Denver Broncos' secondary deserves some criticism.
This is the NFL's most expensive secondary, and it's fully healthy, and yet, they were absolutely shredded by Geno Smith.
Geno Smith.
Geno Smith had a half of football in which he was 17-for-18 for 164 yards and two touchdowns against the NFL's most expensive secondary, at full strength.
Denver's pricy secondary made Smith look like Prime Joe Montana for half the game.
That's unacceptable.
Kareem Jackson looked dreadful in the first half, and could easily be blamed for both of Smith's touchdowns during the half. In the second half, the team leaned on Caden Sterns more, and it's far from a coincidence that the defense was much better that half.
Patrick Surtain II had a complicated game, as he was consistently targeted and consistently allowed completions, but he also made D.K. Metcalf an inefficient target for Smith and showed off remarkable tackling skills all night long. That said, expectations were perilously high for Surtain this season, and he came up just short.