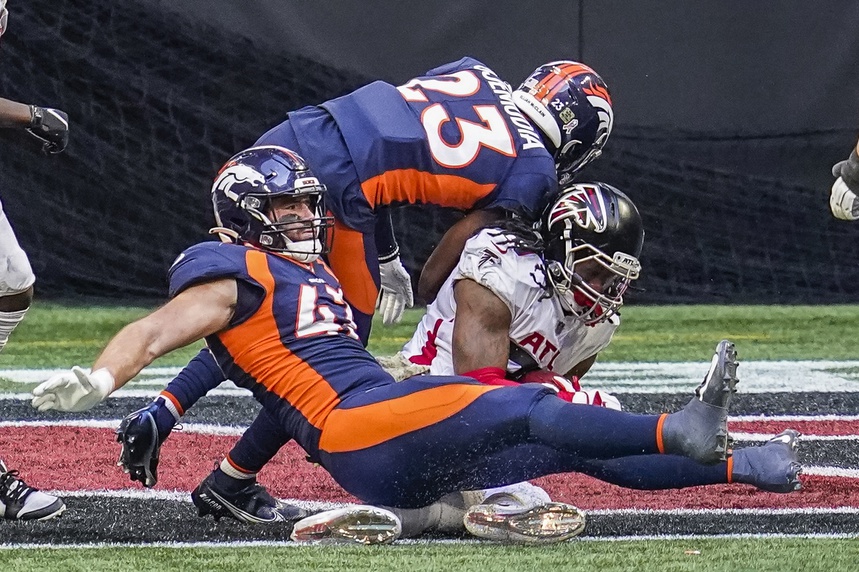 The Broncos' first-half woes have been well documented. It's no surprise they've spent the past three weeks trying to mount late-game comebacks. They were successful against the Chargers, nearly made a comeback against the Falcons but fell short by a touchdown, and faltered against the high-flying Chiefs.
For offensive coordinator Pat Shurmer, the answer is not a change in mindset or gameplan. Rather it's a few plays in each game that could've gone a little differently.
We moved the ball well. We had a third-down throw in the end zone that in my opinion — whoever saw it didn't see it the right way — it was a beautiful throw that could have been a touchdown," Shurmur said. "So we're talking about a different thing. It also could have been pass interference. I think a lot of people saw that arm get grabbed, so that's the margin for error on some of this stuff."
The Broncos trailed the Falcons 20-3 at the half before scoring three touchdowns in the fourth quarter to pull within seven points of Atlanta. The margin of defeat was a single touchdown and Shurmur's thoughts on some of the plays in the first half could have been the difference.
"That's seven points. That's sort of where we're at right now and when you hit those early. It was the same thing in the Patriots game. Drew Lock made some really nice throws early in the game. One was called a pass interference, another one was a ball we just didn't connect on," Shurmur said. "Those scores early in the game are huge and we still have to keep giving our guys opportunities. We need to be aggressive."
The Broncos' ability to take control offensively in the fourth quarter has been a bright spot in recent weeks. But a lot of what's leading to large deficits in the early going have to do with Denver's inability to execute an effective run game in the first half.
"I think it's fair to say we need to get more out of our running game early," Shurmur said." That helps you. I ran a lot of nakeds and keeps, which Drew executed well. I think he throws the ball well on the run and there are teams that allow you to do that. To score early in the game, we just have to be on point and be better. I think we've developed a pretty good system for doing it later in the game, whether it's two minutes or you're just trying to play faster, no-huddle, and we do that well."