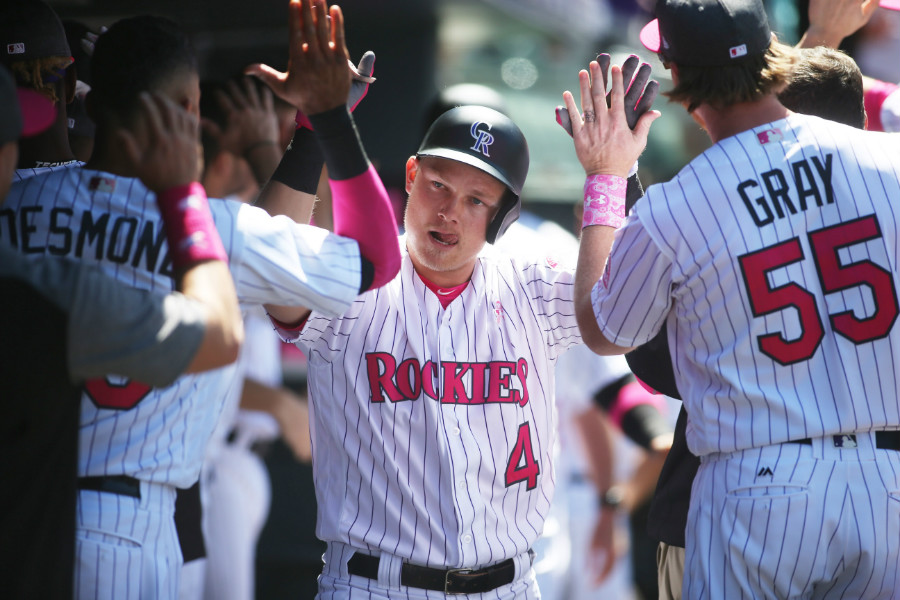 When Trevor Story was placed on the disabled list with inflammation in his left shoulder retroactive to May 10, the Colorado Rockies tabbed rookie Pat Valaika as the team's everyday shortstop. The task, a big one, has seemed like a breeze for Valaika who has managed to step out his his utility role and done a superb job in his newfound role as a starter.
Since Story went down, Valaika has started every game at shortstop and made his impact known both in the field and at the plate. So far, Valaika is error free at short and has hit a steady .296 in eight games as a starter.
His ability to hold the fort down while Story heals has been critical in the team's recent success. In the club's final game of their four-game series versus the Los Angeles Dodgers, Valaika belted two home runs en route to the Rockies 9-6 victory. From a rookie utility player to a hero of the game, Pat Valika is taking full advantage of his increased playing time.
"It's nice to get out there consistently just to get into the flow of the game more regularly," Valaika said after Sunday's big win. "It's been good getting out there and getting consistent at-bats."
Valaika is another prime example of the Rockies' roster depth. Already this season, Colorado has promoted and used Valaika, Raimel Tapia, Jeff Hoffman, and Ryan Hanigan. The Rockies' bench has helped propel the club this season. If the big guns like Carlos Gonzalez or Nolan Arenado do not produce, or players like Ian Desmond or Story go down win injury, guys like Mark Reynolds and Valaika have stepped up to take their place.
"Pat has been given an opportunity here this week, and he's responded," manager Bud Black said of Valaika. "It's great to see. Does it surprise me? No, this guy's a good player. This guy has a good heartbeat; he's got I think a competitive head on his shoulders, he's a clear thinker, doesn't rattle, gives you good at-bats. So, that doesn't surprise me."
With Story still sidelined, Valaika will continue to get more opportunities to earn his keep with the club. As it stands, the Rockies are playing their best baseball in nearly a decade and they are off to a franchise-best 24-15 start. Currently, they are tied for the most wins in the National League.
Valaika's contributions to the club may fly a bit under the radar due to the Rockies plethora of household names, but nevertheless, he's going to show up and produce while he has the chance.
"Coming off the bench is tough, everyone knows that. Playing every day, it's nice to get consistent at-bats," Valaika said Sunday.
"[I'm] just trying to take advantage of it while I can."