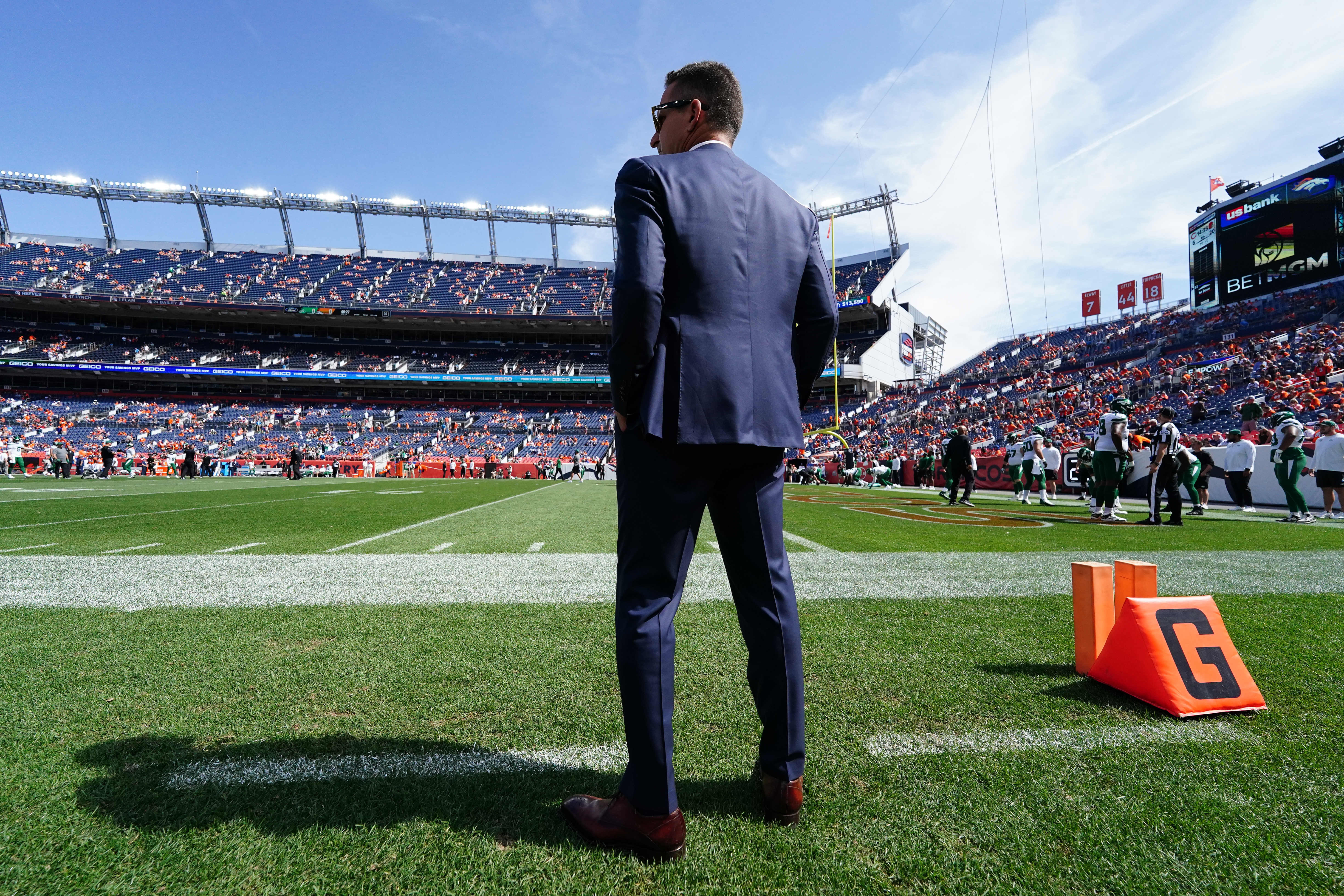 Contrary to popular belief, the Denver Broncos have a clear direction. Fans and media members alike may not see it because they are looking in the wrong direction.
Sections of fans and media are focusing on what was missed in terms of the draft and blockbuster deals. Instead, there is a lot to like about the Broncos future.
Yet, the temperature of the fan base is red hot. Hope is dwindling and apathy seems to be setting in.
So, how did we get here?
George Paton arrived in Denver in January of 2021 with a 6-year contract. Paton's deal is the longest contract given to a Broncos general manager since Lou Saban in the late 1960s.
Paton cut his teeth as a scout and earned the job by presenting a clear plan for success centered around the draft and development of young talent.
Having the security of a long, guaranteed contract and the task of developing a deep roster, Paton had the luxury of playing the long game. Paton decided to keep respected defensive mind Vic Fangio. Additionally, his familiarity with Pat Shurmur and their success together in Minnesota, he decided to keep the band together. The coaching staff was given a playoff-or-bust expectation. This leaves the door open for Paton in how he sees the trajectory of the organization, and who would be best to lead it.
Having little time to build a staff and going through the entire offseason with unfamiliar resources, Paton went to work on the 2021 free agency began. Utilizing short-term urgency he was still able to plan his resources for long-term flexibility, making several big splashes with varying results.
Like all general managers, some moves are home runs, and some are strikeouts.
The beauty of the Broncos' future is flexibility.
Denver currently sits as a .500 team amid a playoff run in late November. Additionally, the team has a projected 2022 salary cap space of more than $60 million according to Over The Cap after re-signing Tim Patrick.
Meaning, the team has put together a competitive roster while having flexibility moving forward.
Every team's 2021 win% and 2022 cap space. Some teams like the Bengals are doing well this season and have a ton of money next year. Other teams like the Giants went all in this year, have struggled, and now have negative cap space for the next free agency pic.twitter.com/m3bwPSyvFe

— Arjun Menon (@arjunmenon100) November 4, 2021
Most teams in the NFL are unsuccessful at doing both. Either an organization goes all in and dumps their resources into a short-term window, or they tear it down and hope to rebuild. In essence, Denver has an opportunity to play in the postseason while in the middle of their rebuild.
In 2022, Denver has players such as Justin Simmons, Shelby Harris, Dre'Mont Jones, Garett Bolles, and freshly rewarded Patrick along with promising 2020 and 2021 draft classes. Additionally, moving Von Miller at the deadline earned Denver two additional picks in the 2022 draft from the Rams.
Armed with a war chest of draft capital and plenty of cap space the Broncos are going into the 2022 offseason primed and ready to add this one of the league's most talented rosters.
Addressing Denver's most glaring need, quarterback
Acquiring Los Angeles' 2nd and 3rd-round picks gives Paton five selections in the top 100. This gives Denver the flexibility to move up to select a quarterback if they desire. They also can show patience, stay put, and further add to a deep roster. Or Paton could make a blockbuster trade for a veteran such as Aaron Rodgers, Russell Wilson, or Matt Ryan.
Doubt and complaints have arisen about the QB class of 2021 and how Paton whiffed at not selecting one. While the jury is out on Trevor Lawerence, Zach Wilson, Trey Lance, Justin Fields, and Mac Jones, none have a QBR higher than 50.0 (league average). Now, trends show that at least a few of 2021's heralded quarterback classes will improve, but none of these highly regarded prospects have taken the league by storm.
Yet, fans continue to clam for what could have been. The point is, digs taken at the unknown commodity seem to be premature.
It is almost certain the Broncos will remain in purgatory at quarterback. Some believe the 2022 class to be "historically bad." Thus, leaving Denver with no answer for yet another season.
However, the "historically bad" statement is hyperbole should be challenged.
For instance, scouting reports for Patrick Mahomes were not glowing, to say the least. "He will have to prove he can operate with better anticipation and be willing to take what the defense gives him to win from the pocket," NFL.com NFL analyst Lance Zierlein wrote in his scouting report. "Mahomes will be a work in progress, but he's a high ceiling, low floor prospect." Zierlein grade for Mahomes grade for a day two prospect.
Again, Justin Herbert was compared to Blane Gabbert by the well-regarded Matt Miller (then at Bleacher Report).
To cap it off, top prospect Matt Corral is comparable to a quarterback from the 2021 class and a familiar foe per Daniel Jeremiah of NFL.com. "Wilson," Jeremiah stated when asked who Corral reminds him of. "Their situations are very similar. However, from a pure skill-set standpoint, I see Derek Carr as the better comparison for Corral."
Similar to the 2021 class, players from this year's class will likely develop into above-average NFL starters. The future of the Broncos has yet to be written. The potential of the 2022 offseason should excite Broncos fans. Denver undoubtedly will add talent to its quarterback room. With veterans likely available by trade and a plethora of moldable talent in the draft.
Overall, the Broncos have set themselves up nicely heading into next season. The team can pitch a competitive core to free agents and prospective coaches. Additionally, Paton has the draft assets to make big moves.
It may not feel like it now, but brighter days are ahead for the Denver Broncos and their fans.