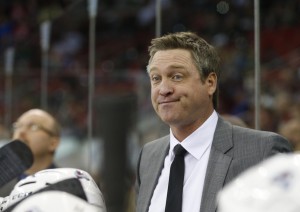 It doesn't matter if it's Game 1 or Game 50, a crushing defeat is a crushing defeat, and the Avs' opening night loss to the Minnesota Wild was just that.
In a game they led 4-1 heading into the third period, the Avs let their first win of the season slip through their grasp as the Wild scored four goals in the final 15 minutes to hand Colorado a 5-4 loss.
It was brutal, and it clearly had an effect on the team. The question, though, was whether it would drive them to improve or push them towards an early-season collapse.
And after falling behind 3-1 to the Dallas Stars on Saturday, it was looking more like the latter would be true, but then things changed; the Avs turned the tables on the Stars, scoring five straight goals to end the game and securing their first win of the season.
But this was much more than a notch in the win column; it was a turning point in a very young Avs season.
"It was a very exciting game," head coach Patrick Roy said, via The Denver Post. "There was everything in this game. Fighting, blocked shots. A lot of scoring. Power play got going. It showed a lot of character. That was important for me. It was a big night for our guys."
To think that the second game of an 82-game season would hold this kind of importance to any team is a little surprising, but from their post-game reactions, the Avalanche obviously needed to prove something to themselves.
"You never want to go 0-2 in your first two games, especially at home," Francois Beauchemin said. "That was a big key for us to win that one."
Still, the NHL season is a long one, and the Avs are only hurting themselves if they get this high or low after each game. Yes, Thursday's loss was crushing and Saturday's win was spectacular, but at the end of the day, the Avs are just 1-1. When it comes down to it, nobody will care how they got there.