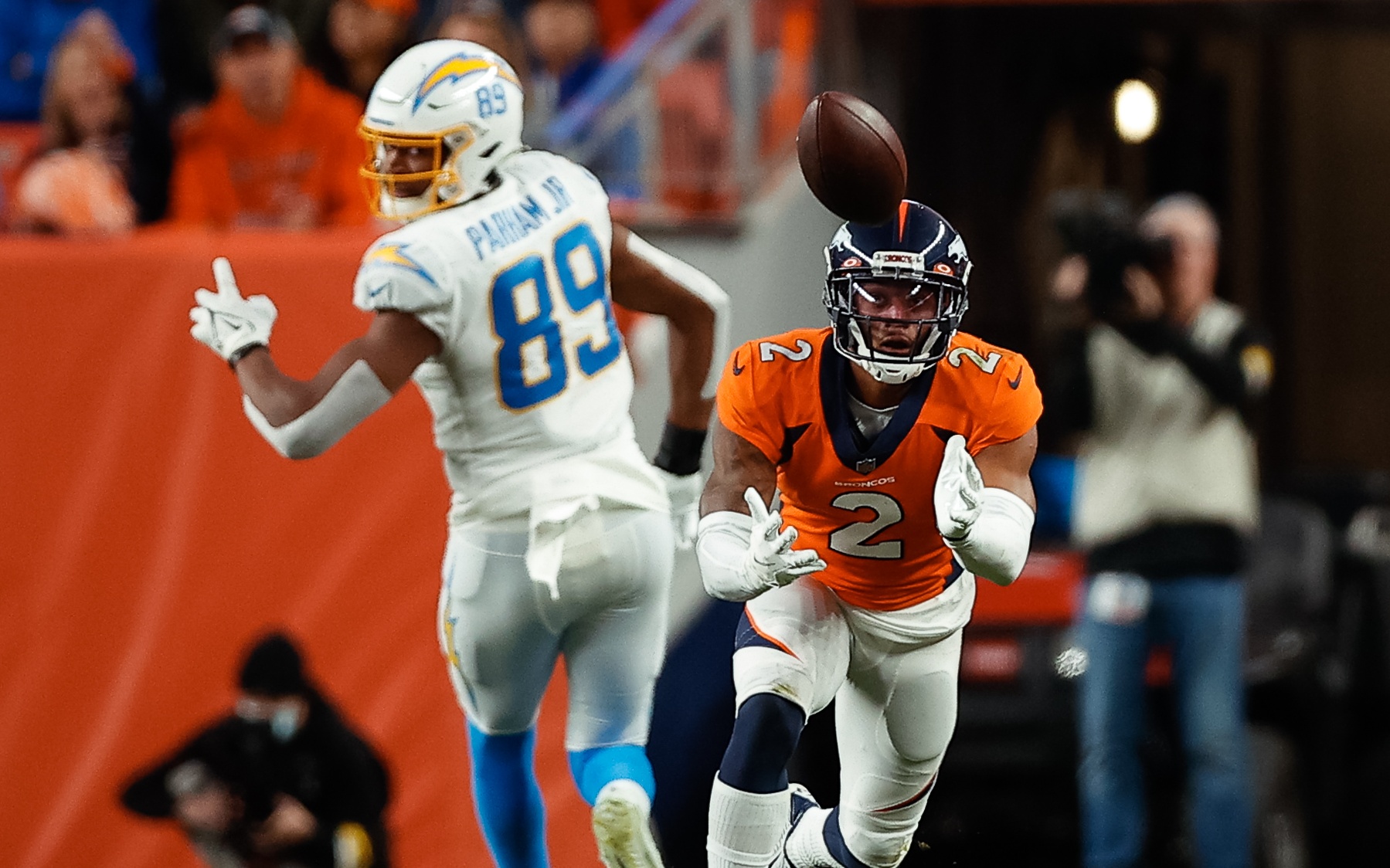 The Denver Broncos hit a home run when they selected Patrick Surtain II ninth overall in the 2021 NFL Draft.
It's remarkable when a rookie cornerback can even be 'okay', as it has one of the most difficult transitions from the college game to the pro game of any position. Superstars like Jalen Ramsey, Jaire Alexander, and A.J. Terrell were the rare outliers that played decent as rookies, and now they're All-Pro cornerbacks.
What's so exciting about Surtain, is that he had an even better rookie season than all those elite talents. He wasn't just 'okay', he was one of the best cornerbacks in the sport, and that's reflected in the opinions of his peers.
This week, ESPN's Jeremy Fowler polled over 50 league executives, scouts, coaches, and players to make a consensus list of the NFL's top 10 cornerbacks, and Surtain ranked seventh among the NFL's best players at the position.
Not only that, but based on what Fowler wrote to explain Surtain's ranking, he could have — or should have — ranked even higher, if not for the fact that some of the people penalized him for his youth.
"Surtain could be even higher," Fowler wrote. "Some voters don't love pushing second-year players into the top five, but the skill set will get him there soon enough. And multiple high-ranking execs had no problem placing Surtain No. 1 overall."
Fowler also quoted one unamed NFL personnel evaluator labeling Surtain a star already.
That praise from highly respected NFL scouts and talent evaluators should not be slept on by Broncos Country.
Remember at the start of this article when we discussed how promising it was to even be decent your rookie year at cornerback? Surtain was "a star" and was in fact viewed by some as the very best player in the league at the position. That is unheard of.
The data backs up the league's perception of Surtain though.
"As a rookie, Surtain gave up 45 catches for 495 yards when targeted 89 times as the nearest defender (NFL Next Gen Stats), an impressive clip against the backdrop of his four interceptions," Fowler wrote.
Surtain also earned a noteworthy compliment from an unnamed source Fowler describes as, 'a veteran NFL personnel evaluator.'
"Dude's legit — he's been good all of his life," the source told Fowler. "A unicorn in the sense that he's supremely talented, has great football IQ and works hard. The trifecta."
Broncos Country might have just found the next face of their defense, as Surtain projects to be a supreme talent that should be in Denver for a very long time.