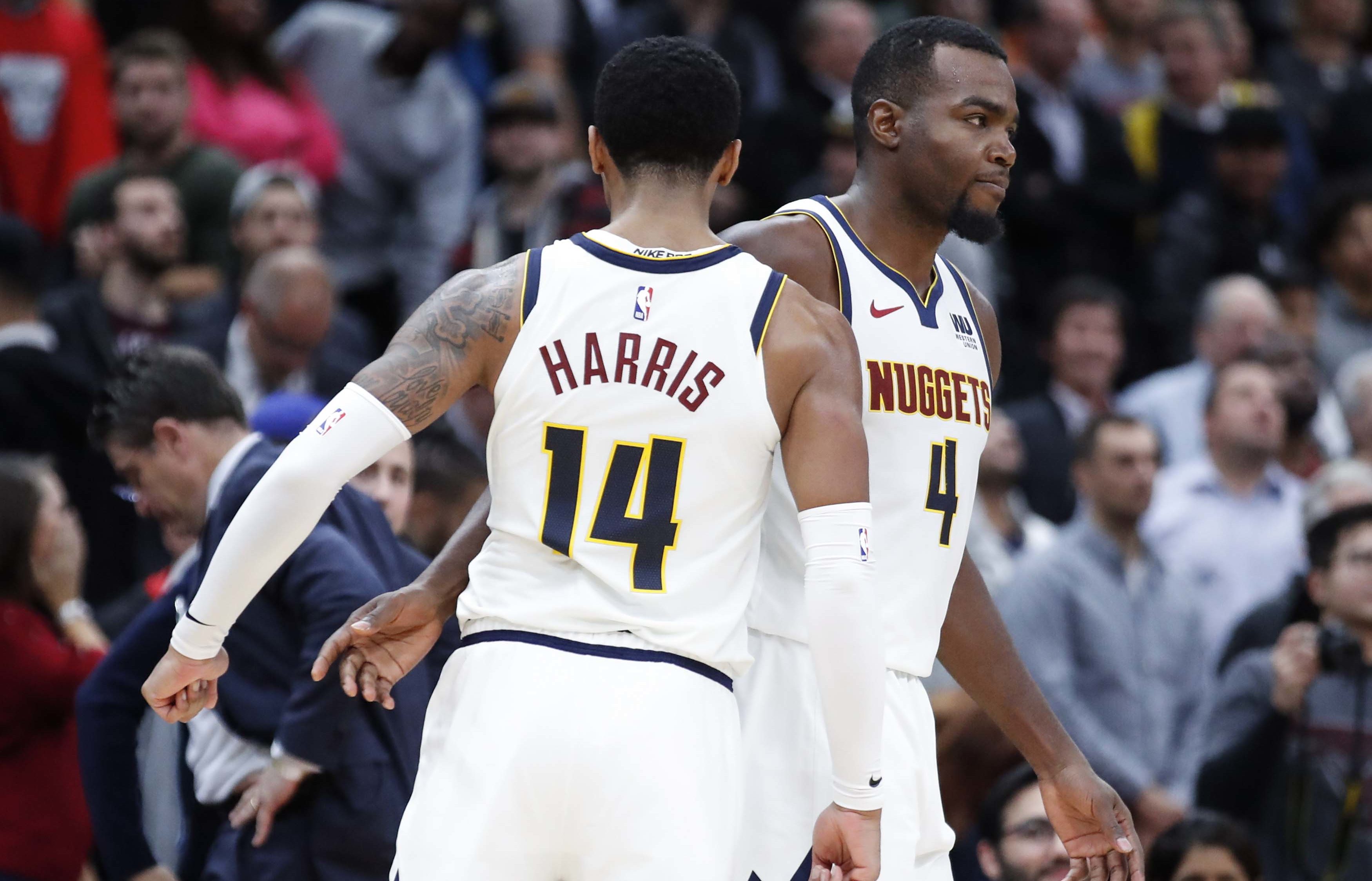 After missing three starters for the past seven games, it seems more and more likely that the Denver Nuggets will be getting both Gary Harris and Paul Millsap in the very near future.
Neither of them will play on Friday night against the San Antonio Spurs, but that does not change the excitement that is surrounding their return to the hardwood. The Nuggets have been staying afloat without them, but there is no doubting how much more dangerous of a team Denver is with both in the fold.
After practice on Thursday, both Harris and Millsap spoke to the media for the first time since their respective injuries and explained where they are in their rehabilitation process.
Gary Harris
Of all six Nuggets players who are hurt, Harris seems to be on track to be the first to return to the hardwood.
Harris — who originally sustained his ambiguous right hip injury on December 3rd against the Toronto Raptors — has been out for 23 days. His original timetable was set as 3-to-4 weeks and he seems to be on track to return within that window. Even better than the fact that Harris has actually progressed throughout his rehabilitation process quicker than expected.
"I have been just taking it day by day," Harris explained. "It has been feeling good so they have been able to progress me a little bit faster than normal. So far, so good and I will just continue to take it one day at a time."
Now, Harris is in the experimentation phase. He is ramping up the amount of work he is putting in so that the Nuggets training staff can monitor how his body reacts to the increased workload. On Thursday, Harris went through his first full-court scrimmage with contact.
"I am just getting back in the flow of things and seeing what I am comfortable with and what I am not comfortable with," Harris explained when asked what hurdles he has to climb before returning. "Just seeing how my body responds to certain things. So far, like I said, it has been great."
Regardless of how fast Harris has progressed and how badly Denver needs him back, the goal is still much more so about getting him back to 100 percent healthy instead of rushing him back onto the floor.
"I think the main goal is for us to get healthy," Harris said when asked if there was any thoughts about rushing back considering all of the injuries the Nuggets are dealing with. "It is a long season. Guys are playing really well right now so there is no point in rushing back and prolonging the injury or maybe not coming back healthy and tweaking something again. I think the main focus for all of us is to make sure we are 100 percent healthy."
Now, Harris is keeping his sights on the future. He is very much so ready to get back on the floor with his teammates instead of, as he put it, being "isolated" as he continues to work his way back from his hip injury.
"I am looking forward to it," Harris explained when asked about how excited he is to finally be close to getting back on the court. "I am definitely doing more now so it is good to finally start getting back out there with the guys instead of just being isolated doing my rehab."
There is still no official date for when Harris will return for the Nuggets, but all signs point to him being back within the next week.
"No I don't," Harris said when asked if he had a specific date that he wanted to return by. "But we will see. We will take it — like I said — one day at a time. Hopefully sooner rather than later."
Paul Millsap
Harris seems like he will be the first player to return from injury for the Nuggets, but that does not mean that he is the only player nearing a return to the floor.
Millsap — who broke his big toe on his right foot back on December 7th against the Charlotte Hornets — originally had a 4-to-6 week recovery time, which would have placed his return date sometime between January 4th and January 18th.
Surprisingly — on Thursday, December 27th — Millsap went through his first scrimmage since breaking his toe. He has already been cleared to return to practice with contact and seems to be progressing quicker than originally anticipated.
"This is the first time I have been up and down in live action," Millsap said. "I am just taking it one day at a time. Step by step."
After his first practice, Millsap spoke to the media about how wonderful it felt to be back playing basketball again.
"It was great. It was great," Millsap said emphatically. "We got a little 3-on-3 action and some 4-on-4. I am getting my rhythm back and my wind back and making sure I am comfortable for when I get out there. I am just taking it a day at a time now."
Even though Millsap seems to be ahead of schedule, there are still some obstacles he needs to overcome to make his long awaited return. First off, Millsap needs to feel comfortable playing again. Secondly, as it usually the case with broken toes, the toughest part will be managing the pain Millsap will be feeling.
"Comfortability and there is still some pain there," Millsap said when asked what is holding him back from returning to the court. "There is probably going to be some pain so there is going to be a pain tolerance situation. Hopefully it heals faster to where the pain is decreased and I can get out there and do what I do."
Just like Harris, Millsap's main focus is coming back completely healthy; especially after he rushed himself back last year after having to get his wrist surgically repaired. Millsap feels no rush to return early this time around.
"I am taking my time and being patient," Millsap explained. "I think that is the main thing. I may have forced it a little bit last year coming back. I was not 100 percent. This time around just make sure I am doing it right. I am making sure I am feeling good and that I am at a good level to go out there and play my game."
The most important step remaining for Millsap is seeing how his body responds to the increased workload he has put on his injured toe. If is body responds well, Millsap will be well on his way to returning sooner than anticipated.
"It is a pain tolerance, day-to-day situation," Millsap said when asked if there was a particular date that he wanted to return by. "We will see what happens in the next few days. Like I said, I am not going to rush it. I have complete confidence in our group of guys that they can go out there and perform and get the job done without me. I will take my time and be patient with it."